Remember Design Team Member Laura Carson's Perfumes & Purses & Shoes from a few week's ago? That was the third post of a series.
Today's project is the fourth of many that will roll out over the next few months… all leading to building a group of miniature Parisian shops: The Streets of Paris. There will be a chocolate shop, a cafe, clothing boutique, flower shop, bookstore & pharmacy. I can't wait to see all the details! More info here.
So, on to today's project: Building the Structure to House the Shops.
And the new products and techniques can be used on all sort of projects (whether making miniature buildings or not)!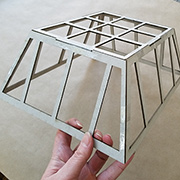 Oooh! Love that stucco texture Laura painted on her buildings! Lucky for you: Laura shares all in her tutorial video!
There are 2 new roofs today, both sized to fit on the 2-Story Room Box French Quarter. Laura uses one with open panels in the center of her shops (mini mall?) and two of the shorter roofs on either end.
From her blog post:
I wanted the height and style of each structure to vary which I accomplished by using the new French Quarter Short Roof on each side of the structure and the new French Quarter Open Roof in the middle.
And as it's Laura, everything is finished "just so": the Scalloped Gingerbread Trim Strips works out quite well as roof trim (and burnished with Copper Gilders Paste).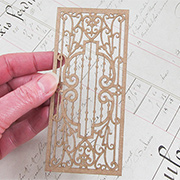 And the printed "tiles" from Laura's Architectural Trims Set look great either peaking out just a bit around the edges of the 2 solid roofs, or more visible through the center open roof (note: the top of the room box is normally solid, but Laura cut a hole for a future elevator (!)).
Laura used one of the Folding Screen Fretwork Inserts as a fancy door (bottom center) and she is giving away her design for the colorful faux stained glass piece above it on her blog post!
See everything Laura used (inside and out… I haven't even mentioned the "wallpaper" on the inside rooms!) in her supply list. And come back after enjoying her tutorial video for new items, a new sale, new FREE gift, and a related Giveaway!


New Sale and New FREE Gift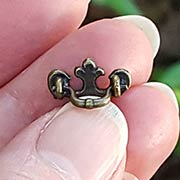 Everything in the 1:12 Scale Building Materials section is on sale! The sale ends MONDAY night, April 30th 2018 (goodbye, April). That includes both of the new miniature hardware being announced today!
Over 90 items! Go check out the sale!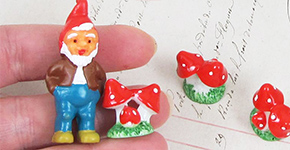 And there's a new FREE Gift with ALL Orders!
I don't know… it was one of those "one thing led to another" things… I was looking for 1:12 scale foliage or other things that could be used with buildings (and I did find some, above). Then I happened on the mushrooms! Not at all related to a French boutique, but soooo cute! So ALL ORDERS now through Monday, April 30th will get one of the new Tiny Group of Red Resin Mushrooms FREE!
Plus, if you spend $50 or more, you'll also receive one of the 2 Inch Gnomes FREE. They're just perfect together!


Hooray for the Eclectic Giveaway!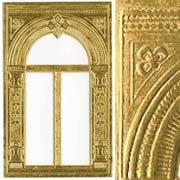 I didn't know where to start… Laura's boutique is a bit large to be mailing you buildings. And unknown if you can make use of a digital set of images. So i picked out a mix of things that caught my eye (most from Laura's supply list):
– Small Gold Dresden Shrines or Arched Windows Back in Stock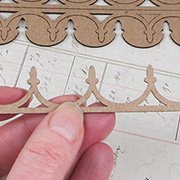 – Scalloped Gingerbread Trim Strips
– Folding Screen Fretwork Inserts
– Remnants Scrapbook Paper – Bloomsbury
– 12×12 Clear Plastic for Windows
– Set of 4 Bushy Plants New
– Tiny Group of Red Resin Mushrooms New
– 2 Inch Gnome
To enter the Eclectic Giveaway drawing all you have to do is leave a comment BELOW on this blog post TODAY or TOMORROW (the deadline is 11:59 pm PST, Friday Night, April 27, 2018).
AND tell me: With such a mixed group of goodies… what catches your eye first? Have you already thought up a project to use some of these in?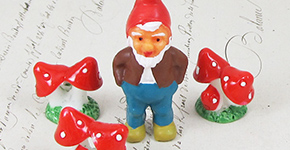 Don't forget to leave your (hello! correct) email address, too, so I can contact the winner; your email address does not need to be made public. Note: I'm offering free shipping, too, but only within the USA. International shipping will still apply.
Please be patient! Spammers try to post crap here a lot so comments are moderated. So if you don't see your post in the comments section, be patient and check back in a few hours before re-posting it, please!
After midnight, I'll randomly pick the winner (via Random.org).
Hey, who won the Many Happy Hours Giveaway from Sunday's newsletter? That would be Blair! Congrats! Check your email for info.

Posted by Leslie, April 26th, 2018