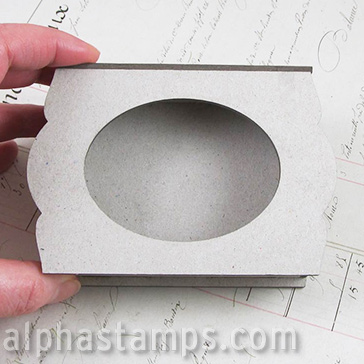 What a sweet trinket box (ATC gift box?) Design Team Member Kristin Batsel has created with the new ATC Scalloped Trinket Box! Kristin made one new ATC for her project (that top one showing through the cover, from the Easter Bunnies Collage Sheet), then she repurposed some earlier ATCs.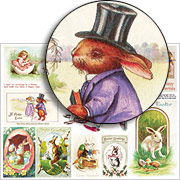 This is such a pretty project… I think it would make a good Mother's Day gift.
I love all the details:
– Lining the box with Leafy Sprigs Scrapbook Paper (another photo showing the inside of the box is down in the Giveaway section)
– Covering the lid (inside and out) with the script side of the Garden Tools Scrapbook Paper
– Using the Cavalier Fleur Scrapbook Paper around the sides
– Finishing the sides with half-round white Dresden
AND: the flowers (pink and white) and leaf ribbon on top! Oh, and little brass box feet, too.
Here's a link to everything Kristin used (including a few items on the ATCs inside…more on those below).
And between here and the Giveaway, don't forget to check out the new items (with a teal theme today) AND the sale and free gift both ending tomorrow night!

Highlights from New Goodies! – ALL on Sale!

Ending TOMORROW: New Sale and FREE Gift —
Both Related to the Picnic Basket from Thursday's Newsletter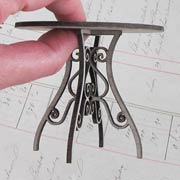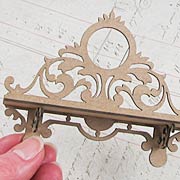 We just did a little rearranging, and made a new category in the Dollhouse Miniatures section called Chipboard Kits for Miniatures! It's "just" the 1:12 scale chipboard kits (to keep it lean I left the 1:24 scale items and room boxes in their own sections).
This is the section that the new Mini Picnic Basket is in. AND everything in this new section is on sale! The sale ends MONDAY night, April 16th 2018.
Over 100 options! Also including the Small Chipboard Victorian Wall Shelf and Wrought Iron Patio Table shown at left and right. Go check it out!
And there's a new Tiny China Plates FREE Gift Kit!! I've been meaning to make a little collage sheet with miniature Willow Ware designs for awhile… and Teri's picnic basket inspired me! You'll receive one of the Tiny China Plates Mini Collage Sheets shown below at left (a mix of 3/4″ and 7/8″ diameter plates in blue and red vintage willow patterns) AND one set of 3 (one placesetting) from the Mini Silverware – Set of 12..
AND just ONE of the following (chosen randomly):
– Resin French Bread – 30mm
– Grape Jelly Mini Resin Jar
– Red Jam Mini Resin Jar
– Ghoulish Green Mini Resin Jar
– Mini Clear Resin Honey Jar
– Orange Marmalade Mini Resin Jar
A little mix perfect for adding to your own picnic basket. FREE with ALL orders, now through Monday night, April 16 (2018)!

Hooray for the Trinket Box & ATCs Giveaway!
Beside EVERYTHING I mentioned above (the new Trinket Box, scrapbook papers, collage sheet, white Dresden, box feet, leaf ribbon & flowers!), I'm going to include some extras from Kristin's additional ATCs in the Giveaway (working from left to right):
– I'm pretty sure that lady in the fancy hat is from the La Belle Epoque Collage Sheet
– Butterflies Collage Sheet
– The tyke in the hat is from the Little Darlings Collage Sheet (hat added by Kristin)
And an extra set not used in Kristin's project: Water Media ATC Cards – Set of 20 — that should get you started on lots of projects!
To enter the Trinket Box & ATCs Giveaway drawing all you have to do is leave a comment BELOW on this blog post TODAY or TOMORROW (the deadline is 11:59 pm PST, Monday Night, April 16, 2018).
AND tell me: What plans do you have for that ATC Scalloped Trinket Box? And there is a broad range of collage sheets included… which will you use first?
Don't forget to leave your (hello!) correct email address, too, so I can contact the winner; your email address does not need to be made public. Note: I'm offering free shipping, too, but only within the USA. International shipping will still apply.
Please be patient! Spammers try to post crap here a lot so comments are moderated. So if you don't see your post in the comments section, be patient and check back in a few hours before re-posting it, please!
After midnight, I'll randomly pick the winner (via Random.org).
Hey, who won the Picnic on the Lawn Giveaway from Thursday's newsletter? That would be Denise Bryant! Congrats! Check your email for info.

Posted by Leslie, April 15th, 2018