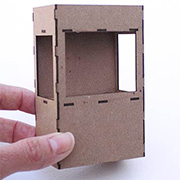 This little project by Design Team Member Kristin Batsel started with the new Half Scale Punch & Judy Theatre: an even smaller version of the original Punch & Judy Theatre (the original one is shown at right, this new one is just 4″ tall). It includes the 2 facades and the set of doors that are sold separately with the larger theatre!

From Kristin's post:
I'm not sure I can tell you how much fun I had making this new tiny paper theater I got from Alpha Stamps last week. I was obsessed! If there's one thing I love, it's working tiny. Plus, all the bright colors on the (new) accompanying collage sheet just stole my circus-loving heart.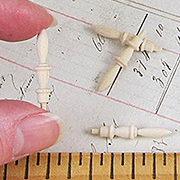 Wooden spindles and finials (colored with a gold Sharpie) add dimension. The top curtains and columns are raised as well. To achieve this, I used two copies of the same collage sheet, and layered some parts using foam glue dots.
Kristin's blog post also includes lots of photos with callouts, and tips about how she made her little theatre. I picked out one in the photo below (step-by-step showing how she made little stands for the characters using Mini Pin Stands and round bases punched out of Wood Flooring Scrapbook Paper, to match the same paper used as the floorboards).

Nice job, Kristin!!
Here's a link to all the supplies Kristin used (and see the Giveaway below for another photo and for a chance to win everything in Kristin's supply list)!

Highlights from the New Goodies! – ALL on Sale!

Ending TOMORROW: Clay & Molds Section Sale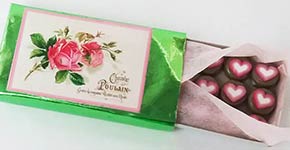 Everything in the Clay & Molds section is on sale at 25% off — the sale ends MONDAY night, March 19th 2018.
That section includes lots of silicone molds and polymer clay canes Laura Carson used in her Miniature Chocolates, Pastries, Tarts, Cakes and Candy Tutorial last Thursday — including new ones! Over 40 options!

Hooray for the Tiny Punch & Judy Theatre Giveaway!
Yes, I said it! EVERYTHING in Kristin's Tiny Paper Theater Supply List is included in today's Giveaway!
I'm only highlighting a few of the TEN spiffy items in the supply list/Giveaway:
– New Half Scale Punch & Judy Theatre
– New Half Scale P&J Theatre Collage Sheet
– Dazzles Gold Thin Lines Stickers
– ALL THREE sizes of Wooden spindles and finials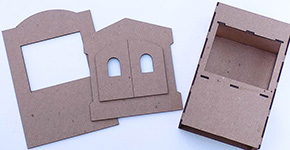 Just click on this Supply List link for photos and links to everything in Kristin's artwork, which is also all of the Giveaway items!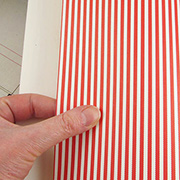 To enter the Tiny Punch & Judy Theatre Giveaway drawing all you have to do is leave a comment BELOW on this blog post TODAY or TOMORROW (the deadline is 11:59 pm PST, Monday Night, March 19, 2018).
AND tell me: What will you make? A similar circus-themed theatre? There are mini versions of the Theatre Mecanique and Marionnette Theatre and Pink Childrens Theatre facades on the new collage sheet, so you could make a more romantic ballet theatre, like this earlier one by Rhonda.
Don't forget to leave your (hello!) correct email address, too, so I can contact the winner; your email address does not need to be made public. Note: I'm offering free shipping, too, but only within the USA. International shipping will still apply.
Please be patient! Spammers try to post crap here a lot so comments are moderated. So if you don't see your post in the comments section, be patient and check back in a few hours before re-posting it, please!
After midnight, I'll randomly pick the winner (via Random.org).
Hey, who won the Chocolate Boxes Giveaway from Thursday's newsletter? That would be Margaret Jarratt! Congrats! Check your email for info.
AND, who won A Set of Miniature Sweets made by Laura Carson also announced in Thursday's newsletter? That would be Jean Missor! Congrats! And thanks again to Laura for generously offering some of her hand-made creations!
Posted by Leslie, March 18th, 2018