It's all about Glass Microscope Slides today. From simple projects like a pendant or faux stained glass (using just one slide)… to more complicated projects like Laura Carson's pastry display shelves (and many different styles of them, too)!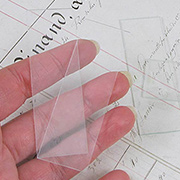 And as we have 2 sizes of glass (and slide mailers) back in stock, there's also a special new FREE Gift Kit, too (more on that and the related new sale are below).
Before we dive into Laura's project for today, a bit of background: today's project is the first of many that will roll out over the next few months… all leading to building a group of miniature Parisian shops. There will be a chocolate shop, a cafe, clothing boutique, flower shop, bookstore & pharmacy. I can't wait to see all the details! More info here.
So, beginning with the first project: Streets of Paris Display Cases. Laura has done a great job at showing a variety of sizes and shapes… shelves that are fairly small and constructed mainly from slide glass, up to larger cabinets that would rival the fanciest department store.

And if you're not ready to build shelving yourself, there are also 3 new wooden display cabinets that are pre-built; and the little details like sliding doors on the back (to get tiny pastries into your tiny cabinet!) are so cute. See the bottom left of the next wide photo for a glimpse of the sliding doors.
And Laura is giving away the Chocolatier signage (digital images) on her blog post! (That signage is shown on the pastry cabinet below.)

In future weeks Laura will be showing us how to make the pastries (and hats, shoes & purses) that she has displayed in the new shelves, but today is about making the shelves themselves.
Note: there's a new Store Cabinet Base today that Laura uses upright (it's just the right size to use slide glass as shelves inside) and Laura also uses it as a base on 2 examples… the Double Tier Glass Case (at left) shows it sitting on the back in stock Ornate Brass Box Feet. (And that pretty trim around the sides is from the Romantique 6×6 Paper Pad.)
Read more (and see a video tutorial) in Laura's blog post. You can see the full supply list for all of the cases, or see smaller lists for each case on Laura's blog post.

And what's this? Laura is giving away a finished Fancy Pastry Display Case!? That case at left (using 4 glass slides) is one of the "Fancy Cases" — Nice!
All orders over $50 placed Thursday through Saturday (March 1-3, 2018) will automatically be entered in the drawing.
Note: There is a second drawing below (that everyone can enter, whether or not you place an order). Both winners will be announced in Sunday's newsletter.


Long Store Display Case – White


White Store Display Case – Angled Sides


Small White Store Display Case


Slide Mailers – for 2 Slides Back in Stock

New Sale and New FREE Gift Kit
Everything in the Game Pieces and Miscellaneous Section is on sale for 25% off — the sale ends MONDAY night, March 5th. (That includes the glass slides and the slide mailers, plus tons of odds and ends from jingle bells to alphabet beads. Over 80 items!)
And a Slide Glass & Mailer FREE Gift Kit!! All orders over $20.00 (before tax or shipping) now through Monday night (March 5, 2018) will receive this special gift:
– one of the Slide Mailers – for 1 Slide (a single slide mailer — the sets for sale include 2 per package), plus:
– a Glass Microscope Slide (just one… shipped in the little niche in the slide mailer)
AND a special mini collage sheet (with 7 images that fit the glass slides). There are lots of collage sheets with images sized for the microscope slides and I've picked out a few for this free sheet!
Enough goodies to make a little slide mailer project like the Cinderella one featured on the Slide Mailers page!


Hooray for the Tiny Accordion Fold Book Giveaway!
I decided to revisit an earlier project that Laura made with glass for today's Giveaway: a Tiny Accordion Fold Book using the 1×2 Inch Rectangular Slide Glass.
Isn't it pretty? Laura used images from her Butterflies & Moths and Floral Panels collage sheets and made a hinged booklet that can sit on a windowsill and looks beautiful when backlit in the sunshine.

Everything in Laura's Tiny Accordion Fold Book Supply List is included in today's Giveaway!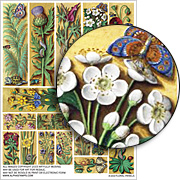 Bonus: One of the Slide Glass & Mailer Gift Kits!
To enter the Tiny Accordion Fold Book Giveaway drawing all you have to do is leave a comment BELOW on this blog post TODAY or TOMORROW (the deadline is 11:59 pm PST, Friday Night, March 2, 2018).
AND tell me: Will you try a hinged glass booklet? And/or what will you make with the Slide Glass & Mailer Gift Kit?
Don't forget to leave your (hello! correct) email address, too, so I can contact the winner; your email address does not need to be made public. Note: I'm offering free shipping, too, but only within the USA. International shipping will still apply.
Please be patient! Spammers try to post crap here a lot so comments are moderated. So if you don't see your post in the comments section, be patient and check back in a few hours before re-posting it, please!
After midnight, I'll randomly pick the winner (via Random.org).
Hey, who won the Shakespeare Theater Supplies Giveaway from Sunday's newsletter? That would be Nancy E! Congrats! Check your email for info.
AND, who won Laura's Shakespeare Theater Giveaway also announced in Sunday's newsletter? That would be Mary McCarthy! Congrats! And thanks again to Laura Carson for offering her theatre!
Posted by Leslie, March 1st, 2018