Awww… Isn't this the cutest little Alice book you've ever seen!?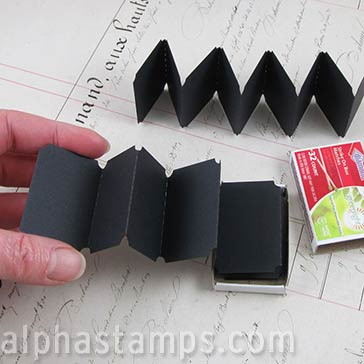 These are a breeze to create. The new Matchbox Ticket Journal is such a small size that you'll be making up multiples of these for friends. (or ornaments? or pendants for necklaces? or…?)
And since they fit in a standard Diamond brand matchbox, they're inexpensive, too.
Shannon made her Alice in a Matchbox book into a pop-up book! See the wide photo below for 2 page spreads! (And she provides a tutorial with photos so it's easy to follow.)
My little matchbox is pretty simplistic and an easy enough project to do in an afternoon.
The inside of the matchbox was covered with a page from an old copy of Alice in Wonderland.
And the book opens to reveal four pop-up pages.
[Note: Shannon chose to use one side of the long, accordion-folded ticket strip; you could decorate both sides if you'd like. Since Shannon added 2 layers to each "page" (the background and the silhouetted image that "pops up") you probably would not add pop-ups to both sides of your long tickets strip, as it would be too thick to close and fit in the matchbox.]
Read more (and see those tutorial photos) in Shannon's blog post. And see all the collage sheets where she found her Alice images in her supply list.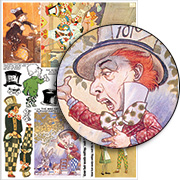 SPEAKING OF ALICE COLLAGE SHEETS: I just put ALL of them on sale! Woohoo! They haven't been on sale in many months (and there are tons to go wander through). The sale ends Monday night, February 26th 2018. See all of the Alice Collage Sheets.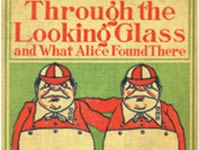 Psst! There's new Tiny Alice Book Covers Collage Sheet made just for these Ticket Journals! With lots of cover images to make your booklet look like a vintage Alice in Wonderland book (and some more options for wide pop-ups). And this new sheet is included in the sale, too!

AND speaking of the new collage sheet, let's talk about the Mini Alice Accordion Book FREE Gift Kit! All orders over $20.00 (before tax or shipping) now through Monday night (February 26, 2018… and don't ask me where this month has gone) will receive this special gift:
– ONE of the new Matchbox Ticket Journals (a single ticket journal — the sets for sale include 2 per package), plus:
– a 1/2 Inch Flat-Back Clock
– a 1 Inch Bronze Key
– a Silver Drink Me Bottle Charm
AND a special mini version of the new collage sheet (with 8 mini covers and some little images of Alice). Very nice, indeed!

More New Goodies! – ALL on Sale!

Hooray for the Tiny Alice Giveaway!
First off: EVERYTHING in Shannon's Alice in a Matchbox Supply List is included in today's Giveaway!
I'm only highlighting a couple of the EIGHT items in the supply list/Giveaway:
– New Matchbox Ticket Journal – Black (that will give you TWO scored, accordion-fold tickets to make tiny blank books)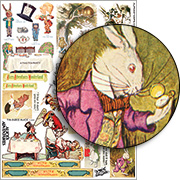 – Tin-Sized Alice Collage Sheet
– Black Zig Zag Dresden Borders
Just click on this Supply List link for photos and links to everything in Shannon's artwork, which are also all included in the Giveaway!

Bonus #1: The Tiny Alice Book Covers Collage Sheet!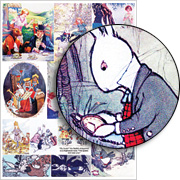 Bonus #2: Your choice: one more Alice Collage Sheet! That Wonderland Rabbits and Hares Collage Sheet at right is just an idea… go check out all the SALE options and tell me which one you would pick if you win!
To enter the Tiny Alice Giveawayy drawing all you have to do is leave a comment BELOW on this blog post TODAY or TOMORROW (the deadline is 11:59 pm PST, Friday Night, February 23, 2018).
AND tell me: What kind of booklet will you make? Will you try a pop-up book like Shannon's? And don't forget to tell me which extra Alice collage sheet you would like if you win!
Don't forget to leave your (hello! correct) email address, too, so I can contact the winner; your email address does not need to be made public. Note: I'm offering free shipping, too, but only within the USA. International shipping will still apply.
Please be patient! Spammers try to post crap here a lot so comments are moderated. So if you don't see your post in the comments section, be patient and check back in a few hours before re-posting it, please!
After midnight, I'll randomly pick the winner (via Random.org).
Hey, who won the Vampire Theatre Giveaway from Sunday's newsletter? That would be Lana! Congrats! Check your email for info.
Posted by Leslie, February 22nd, 2018