Cupid Matchmaking Vampires?…It must be Opera by Lora Mahaffey
Bwaa… Haa… Haa… Design Team Member Lora Mahaffey has made a delightful paper theatre called Cupid Matchmaking Vampires?…It must be Opera from the Marionnette Theatre Collage Sheet and Arch Top Theatre Facade (backed with 2 shadowboxes made for this facade — an option for a shallower stage than the full Punch & Judy Theatre).

AND (beside Lora's witty text — and a tutorial on putting the piece together) Lora has also provided a free pdf so you can make your own speech bubbles and title for the top (and a tiny coffin template)! Just click on the small image of the pdf file at right to download the hi-res version.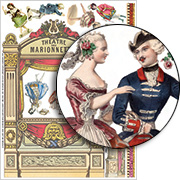 Lora has bumped up the (already bright colors) on all the collage sheet images with Copic markers and colored pencils. I love the curtains she added to the sides of the stage (there were already curtains in the Marionnette Theatre image, but she replaced them with curtains from the Gatefold Square Shrine Curtains Collage Sheet (and added extra color and Stickles glitter). You can see some of the curtains on the right side of the photo below (with the girl whose full quote says "I must find a way to make him mine!!").
Beside all the characters on stage having fangs, Lora also added fangs to the mascaron (you can just see part of him in the lower right corner of the larger image above).

Well done! I love all the color and the whole inspired idea!
See more in Lora's blog post, her supply list, and another photo (with another feature highlighted) down in the Giveaway!
Plus all colorful tassels that are new today would be another option to add color to a paper theatre!


Hooray for the Vampire Theatre Giveaway
Oooh! Ahh! Another highlight from this theatre! I love the color Lora added to that wide image from the Mini French Ballet Costumes Collage Sheet (with the woman in the center and the garlands of flowers).
And there's that cute butterfly-winged cherub (let's say he's Cupid as he has a bow) from the Pink Children's Theatre Collage Sheet! Plus the Fancy Scalloped Gold Dresden Borders used throughout looks smashing!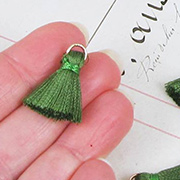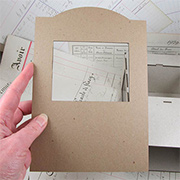 I'm including everything from Lora's supply list in today's Giveaway!
Extra: I'm adding a set of the NEW 20mm Silky Green Tassels (yes, there are even more colors that the 8 shown above… and this green looks great with the colors in the theatre).
AND I'm including one of the A Little Birdie/Happy Accident Gift Kits announced in last Thursday's newsletter — and that FREE gift is still on offer! More info

To enter the Vampire Theatre Giveaway drawing all you have to do is leave a comment BELOW on this blog post TODAY or TOMORROW (the deadline is 11:59 pm PST, Monday Night, February 19, 2018).
AND tell me: A Vampire Theatre? What would you make from this group of goodies?
Don't forget to leave your (hello! correct) email address, too, so I can contact the winner; your email address does not need to be made public. Note: I'm offering free shipping, too, but only within the USA. International shipping will still apply.
Please be patient! Spammers try to post crap here a lot so comments are moderated. So if you don't see your post in the comments section, be patient and check back in a few hours before re-posting it, please!
After midnight, I'll randomly pick the winner (via Random.org).
Hey, who won the Forest Bathing Giveaway from Thursday's newsletter? That would be Barb Trumbo! Congrats! Check your email for info.
Posted by Leslie, February 18th, 2018