Pink Valentine Theatre Kit
Oh, this is fun! Not only a new kit (with lots of color and pretty papers) but tons of new collage sheets — and paper theatres to play with!
There is a new Punch & Judy Theatre being announced today (not in the kit, but everything in the kit coordinates with that new theatre). The chipboard facade in the kit can be used alone or with the new theatre (and wait till you see the fabulous artwork today)!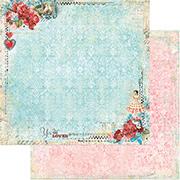 There are THREE beautiful (big, 12″ x 12″) scrapbook papers in the kit. Lovely patterns that work well as backgrounds, plus each sheet has a focal that could be the center of a card or a collage. Nice, heavy sheets, too.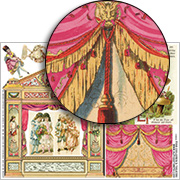 New collage sheets! One of FIVE new collage sheets designed for making paper theatres is included in this kit! Pink Children's Theatre includes a big facade image, curtains, and a few characters… all sized to fit the Punch & Judy Theatre (the characters are each approx. 2-1/2″ tall). The facade image is sized to fit the entire front of the Peaked Roof Theatre Facade (which is also included in the kit).
This kit is bursting with embellishments, too! Beside those rhinestone hearts and stars (in my hand in the photo above), see below for a better photo of all the Dresden borders! 2 styles in 3 colors = 6 different borders!.
More info about the new kit is on the Pink Valentine Theatre Kit page. And remember to scroll down to the Giveaway on this page for a chance to win a kit plus lots of extras! Plus between here and there, a big bunch of pretty coordinating trims!


Artwork! The first of TWO amazing projects today is by Design Team Member Rhonda Secrist Thomas! (Scroll down just a bit to see a big image with multiple photos.)
Behind Closed Doors is a miniature French ballet theatre that Rhonda made using the kit, the new theatre, and some extras (like chipboard doors, a vintage street scene at the back of her stage, and box feet).
I love that image from the Love Song Serenade paper that's on the back of the theatre (in bottom right of the photos). That paper is included in the kit, too!
See how Rhonda's characters are moveable? (Standing in front of the theatre at far left, and inside the stage at top right.) Rhonda shows how to mount the collage sheet images (those are from the Theatre Mecanique Collage Sheet) on the heavy scrapbook paper from the kit and make stands for them (that also blend into the patterned paper on the stage floor).
More info and photos in Rhonda's blog post, and here's a link to see all her supplies.
Note: Scroll down to the Giveaway on this page for the second art project!

Highlights from the New Goodies! – ALL on Sale!


Blush Scrapbook Paper – Devoted

Ending TOMORROW: Red & Pink FREE Gift Kit and Fairy Garden Sale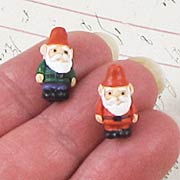 First: a free gift with all orders, using all the patterns in the Red, Ivory & Pink Patterns Scrapbook Paper Set!
I added a few snips of coordinating ribbons (about a foot of each, and all from sold out items, save one: 1/8 Inch Red Satin Ribbon — note: that one is on sale). You'll have enough goodies to make a tiny Valentine!
ALL ORDERS through Monday, February 5th (2018) will receive one of these Red & Pink Gift Kits FREE!
ALL Fairy Garden Miniatures AND Fairy Garden Charms on sale! A big mix of items, including some foliage and things that could work well for Spring/Easter projects.
(Yes, a few beads have wandered into that charms section, like those cute gnomes!)
The sale ends Monday night, February 5th 2017, but some are in limited quantities so catch 'em quick!

Hooray for the Pink Valentine Theatre Kit Giveaway
Oh my… Teri Calia has merged her (hm… obsession?) love of cats with the new kit to make this Pussy Cat Theatre!
In addtion to the overall cuteness (and putting cat heads on the figures on either side of the stage!), I'd like to point out the lights: See the bottom right of the photos for how Teri hid a Mini String of Fairy Lights in the recessed area behind the facade.
More info and photos in Teri's blog post, and here's a link to see all her supplies.
Drag yourself away from her blog for a minute though, 'cause there's a Giveaway below!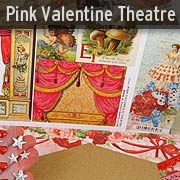 Beside one of the Pink Valentine Theatre Kits (that includes TWELVE items all by itself!), this Giveaway also includes:
A Punch & Judy Theatre (well, of course!) As Rhonda and Teri both used the new theatre in today's art, I just had to include one! But I'd also like to point out: the new Window Shadowbox for Punch & Judy Facades is an alternative (to make a shallower shadowbox with either of the new facades).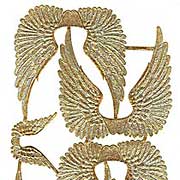 More new and old collage sheets, all with characters that fit the new theatre:
– Fairy Ballerinas Collage Sheet
– Mini French Ballet Costumes Collage Sheet
– Marionnette Theatre Collage Sheet
– Theatre Mecanique Collage Sheet (including dancers in both Teri and Rhonda's artwork)
– Small Cinderella Paper Dolls Collage Sheet (surprise!)
– Note: the Pink Children's Theatre Collage Sheet is already in the kit, but it also includes more characters.
and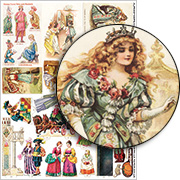 A few more items from Teri's supply list:
– Sheet of Gold Dresden Wings (the gold wings on the heart medallion at top center)
– Mini String of Fairy Lights
– Mesh Rhinestone Ribbon – Gold (some of this bling is on both of today's theatres)
– 1/8 Inch Wooden Dowels (see Teri's blog post for how she used dowels as stands for all of her characters and scenery)
To enter the Pink Valentine Theatre Kit Giveaway drawing all you have to do is leave a comment BELOW on this blog post TODAY or TOMORROW (the deadline is 11:59 pm PST, Monday Night, February 5, 2018).
AND tell me: What kind of theatre will you make? I've included collage sheets with a big bunch of options for characters that could be used… though you may want to add your own.
Don't forget to leave your (hello! correct) email address, too, so I can contact the winner; your email address does not need to be made public. Note: I'm offering free shipping, too, but only within the USA. International shipping will still apply.
Please be patient! Spammers try to post crap here a lot so comments are moderated. So if you don't see your post in the comments section, be patient and check back in a few hours before re-posting it, please!
After midnight, I'll randomly pick the winner (via Random.org).
Hey, who won the Romantic Stationery Caddy Giveaway, 2018 Edition from Thursday's newsletter? That would be Jean Marmo! Congrats! Check your email for info.

| | | | |
| --- | --- | --- | --- |
| Heartland Scrapbook Paper – Red Rose Ball | | | |
Posted by Leslie, February 4th, 2018