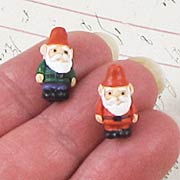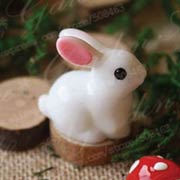 Before we get to the pretty artwork, new FREE gift and new supplies, a new sale!
I just put ALL Fairy Garden Miniatures AND Fairy Garden Charms on sale! A big mix of items, including some foliage and things that could work well for Spring/Easter projects.
(Yes, a few beads have wandered into that charms section, like those cute gnomes!)
The sale will continue through Monday night, February 5th 2018, but some are in limited quantities so catch 'em quick!

A Valentine for You by
Design Team Member Laura Carson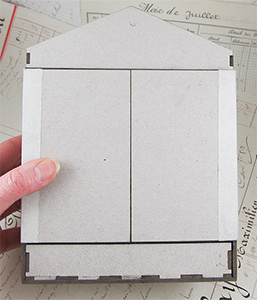 We are revisiting a fab project that Laura made for Valentine's Day last year. And a couple items in it are back in stock.
Do you remember Laura's Romantic Stationery Caddy?
Every once in a while I like to make something that is both lovely and functional. When I saw this House Shrine with Doors kit, I thought it would make a great stationery caddy that you could keep for yourself or gift to a loved one or a special friend.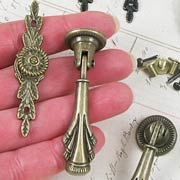 Back in stock:
– House Shrine with Doors – Medium
and
– Chambrey Antique Drawer Pulls Set.
Plus the scrapbook papers (on sale!) and the collage sheets (and most of the hardware) are still available, too.
Note: you can see more photos and read more in the blog. And check the Giveaway below for lots of supplies from this project you can win!


New Red & Pink FREE Gift Kit
Wow. We have a new free gift with all orders starting today, using all the patterns in the new Red, Ivory & Pink Patterns Scrapbook Paper Set!
I added a few snips of coordinating ribbons (about a foot of each, and all from sold out items). You'll have enough goodies to make a tiny Valentine!
ALL ORDERS on Thursday through Monday, February 1 ‒ 5 (2018) will receive one of these Red & Pink Gift Kits FREE!

Hooray for the Romantic Stationery Caddy Giveaway, 2018 Edition

Woohoo! There's some more pictures of this pretty project!
Here are all the goodies in the Giveaway: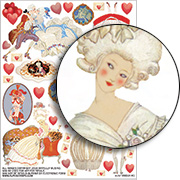 – Both of Laura's Amour Collage Sheets
– Plus the Romantic Faux Postage Half Sheet
– House Shrine with Doors – Medium
– All FIVE of the Amour Scrapbook Papers
– 2 different styles of knobs (4 of each!)
– Crowned Crest Filigree – Gold (at the top of Laura's caddy)
– Antique Square Open Fleur Filigree (2 pieces; they're bent and used on the top corners of Laura's caddy)
Plus a bonus: one of the Red & Pink Gift Kits.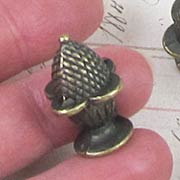 To enter the Romantic Stationery Caddy Giveaway, 2018 Edition drawing all you have to do is leave a comment BELOW on this blog post TODAY or TOMORROW (the deadline is 11:59 pm PST, Friday Night, February 5, 2018).
AND tell me: What will you make from these supplies? Will you make a stationery caddy? Maybe you'll use the house shrine as a storage cabinet for art supplies? Or make a shadowbox (or shrine)?

Don't forget to leave your (hello! correct) email address, too, so I can contact the winner; your email address does not need to be made public. Note: I'm offering free shipping, too, but only within the USA. International shipping will still apply.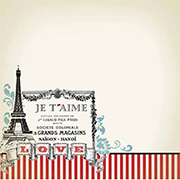 Please be patient! Spammers try to post crap here a lot so comments are moderated. So if you don't see your post in the comments section, be patient and check back in a few hours before re-posting it, please!
After midnight, I'll randomly pick the winner (via Random.org).
Hey, who won the Happy Accident Giveaway from Sunday's newsletter? That would be Arminta! Congrats! Check your email for info.
Posted by Leslie, February 1st, 2018