Note: most of the links on this post no longer work, as we moved to a new Web site in 2018. But you can try searching on the same names (as links below) on the new site.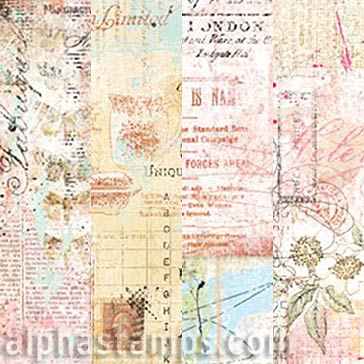 Beside the name of a pretty set of new papers, I'm going with Happy Accident for this past week (and the bits and bobs being announced today).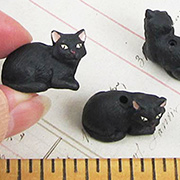 They're an odd group, but there's something for everyone:
– A black cat (how can you go wrong?)
– A ridiculously fun little alligator
– An unfinished wooden side table (good for a tight spot… and not sure how it didn't get announced till now)
– The return of bling! Not only silver (with white or black mesh background), but new gold and red. (And those 2 silver ones are fun to dye with alcohol ink… see that snippet below of one dyed purple.)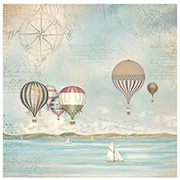 – Printed rice paper… ooh, this is fun. Tear it, cut it, glue it… it will dissolve into whatever you glue it to. And printed in a lovely hot air balloon design.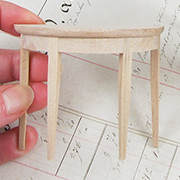 Back to that Happy Accident… what an inspired collection! (See the large image at right for an overview.)
A nice mix of moody (not dark) distressed patterns with ephemera images mixed in (receipts, advertising, children's book illustrations, etc.). 4 papers from this line are in this set.
Note that 2 include mini versions on the back (like 6×6 paper pad size, but on the back of the full 12×12 sheet).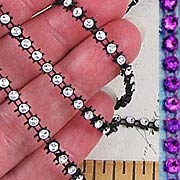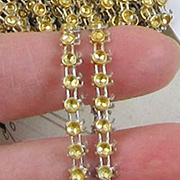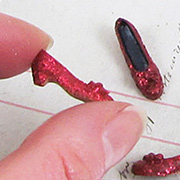 Oh, one more blingy thing: the Mini Ruby Slippers are back in stock! Yay! These are so cute (and well made, like the soles painted like tan leather). The importer (sadly) ran out right when I was ordering a big bunch to restock. But they're here now!

Reminder: FREE Gift Kit with all orders ends Tomorrow Night: Acrylic Heart Mix!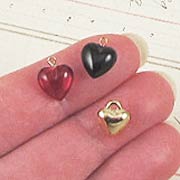 There are tiny heart charms (with a brass loop — and on sale), mixed color matte hearts (also on sale), new flat-back hearts in multiple shades of pink (and red) — some are faceted and some are flat. But everything is acrylic (and heart shaped).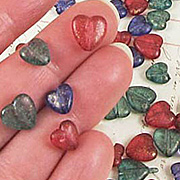 More info in Thursday's newsletter.
ALL ORDERS through Monday, January 29 (2018) will receive one of these Acrylic Heart Mix Gift Kits FREE!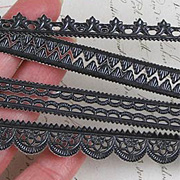 What?! More Dresden on Sale??
Yes, I've heard you pleading! In addition to the color and white Dresden sale announced on Thursday, I've added the Black Dresden section to the sale!
Never too early to start on Halloween projects (and the black trims are just generally cool, too)!
I decided to revisit a couple past projects by the uber-talented Design Team (and guest designers) using Dresden: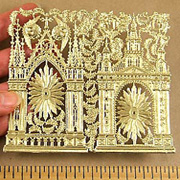 – Angel Shrine by Teri Calia (at right)
That Gold Dresden Altar Set really makes this piece. In addition, Teri used an image from the Bouguereau #4 (Angels) Collage Sheet, and some tiny red paper roses (and mini red rose buds – variegated). Note: this Mini Shadowbox is a good size substitute for recreating this shrine. And (though not quite the same size) these Fancy Gold Dresden Rosettes would be good for a big halo at the top. Teri antiqued the gold dresden with some black ink. Easy and looks great!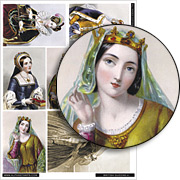 – Dragonfly Shrine by Wendy Anderson (see below for a photo)
So lovely! Wendy used an image from the British Queens #1 Collage Sheet as the central image. And the entire piece is surrounded by Thin Fleur Dresden Borders – Turquoise (and she painted flat-back pearls to match). See my query below (in the Giveaway info) for more info about the dragonfly paper.
Reminder: All the color (and white) Dresden trims AND Black Dresden trims are on sale at 25% off! The sale will continue through Monday night, January 29th (TOMORROW). Some are in limited quantities so catch 'em quick!

Hooray for the Happy Accident Giveaway!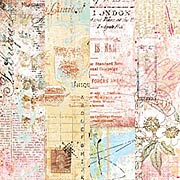 First off, I'm including a set of the new Happy Accident Scrapbook Paper Set in this Giveaway!
AND everything I mentioned above regarding the 2 Dresden projects (!):
First from Teri's Angel Shrine:
– Gold Dresden Altar Set
– Bouguereau #4 (Angels) Collage Sheet
– Tiny red paper roses
– Mini red rose buds – variegated
– Mini Shadowbox (2×3)
– Fancy Gold Dresden Rosettes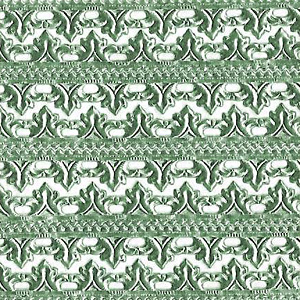 Then from Wendy's Dragonfly Shrine:
– British Queens #1 Collage Sheet
– Thin Fleur Dresden Borders – Turquoise
– Mixed size flat-back pearls

To enter the Happy Accident Giveaway drawing all you have to do is leave a comment BELOW on this blog post TODAY or TOMORROW (the deadline is 11:59 pm PST, Monday Night, January 29, 2018).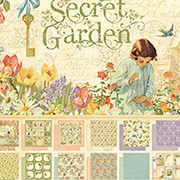 AND tell me: Would you buy the Botanicabella Collector's Edition? The dragonfly paper Wendy used as the background for her artwork is from the (now sold out) Botanicabella Collection. That collection has been re-released in a "Collector's Edition" (see this Secret Garden 12×12 Paper Pad – Deluxe Collector's Edition as an example of the size and price of a Collector's Edition). So: Would you buy the Botanicabella Collector's Edition?
Don't forget to leave your (hello! correct) email address, too, so I can contact the winner; your email address does not need to be made public. Note: I'm offering free shipping, too, but only within the USA. International shipping will still apply.
Please be patient! Spammers try to post crap here a lot so comments are moderated. So if you don't see your post in the comments section, be patient and check back in a few hours before re-posting it, please!
After midnight, I'll randomly pick the winner (via Random.org).
Hey, who won the Very Pink Giveaway from Thursday's newsletter? That would be Susan M L! Congrats! Check your email for info.
Posted by Leslie, January 28th, 2018