Note: most of the links on this post no longer work, as we moved to a new Web site in 2018. However, you can see the supply list items from Teri's
Spring
or
Summer
projects that are still available on the new site.
Four Seasons Spinner by Teri Calia!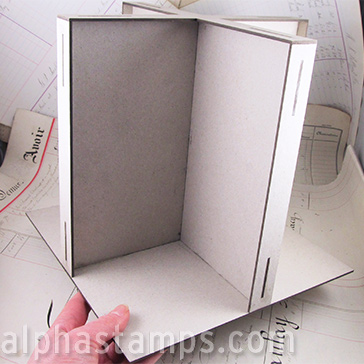 Oooo! This project has been bubbling on a back burner for awhile, but well worth the wait.
Starting with the new Rotating 4 Scene Room Box: A fun way to display 4 scenes (small scenes, but does fit 1:12 scale furniture). Could be 4 seasons… or holidays? Includes a metal "lazy susan" turntable and has a double-thick base.
Teri has given us 2 of the 4 rooms now (Spring and Summer) and we'll all look forward to 2 more later in the year. ("Summer" is shown in the first wide photo below; "Spring" is shown down in the Giveaway section — and you could win everything in her Spring supply list!)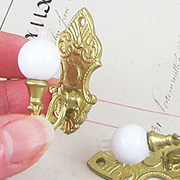 I've been collecting miniatures since I was a child. Way back then the miniatures were all different scales and mostly cheap things bought at the local five and dime store. I still have a bunch of those old miniatures in my collection and now they are considered kitschy vintage, lol. About ten years ago I started going to miniature shows (such as the Good Sam Showcase of Miniatures) and my collecting turned to artist made miniatures and higher end commercially made miniatures.
Miniatures are perfect for collecting because they don't take up much space to keep and display… until your collection out grows your space and you can't display everything. This is a huge problem because I want to see and enjoy my collection daily, not just store them in a box. So in my search for a better way to use my allotted display space I came upon a labor intensive, hand crafted, four room display box attached to a turn table (lazy Susan). I thought the idea was brilliant and rushed off to beg Leslie to have a kit made to sell through Alpha Stamps. And that is how the 4 Season Spinner was born. Of course my name was vetoed in favor of calling it the Rotating 4 Scene Room Box but no biggie, as I still got to make the first one for myself.
Psst! Teri has incorporated her Unfinished Wooden Dresser from a past project (and it looks perfect in this summer scene). More info on the dresser.
Read more in Teri's blog post and/or see everything from her Summer supply list.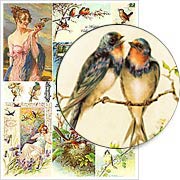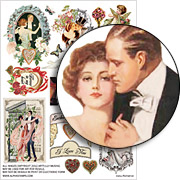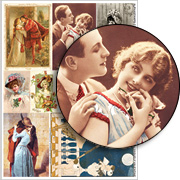 Reminder: ALL Valentines & Romance Collage Sheets are on Sale at 50% Off!
Over 40 to choose from! Like the Romance, Vaguely Valentine and Blue Birds, shown from left to right.
The sale ends TOMORROW night, January 15th!

Reminder: FREE Gift Kit with all orders ends Tomorrow Night: Snowy
Laura Carson used the Winter Playground Toboggan Scrapbook Paper in her shadowbox from Thursday's newsletter; I've chosen the related Winter Playground 6×6 Paper Pad, which includes 12 different papers… you'll get 3 randomly chosen sheets! I'm showing a couple sets of 3 papers as examples in the photo at left.
ALL ORDERS through Monday, January 15 (2018) will receive one of these Snowy Gift Kit FREE! In addition to the papers, I'm adding some Silver Stitched Leaf Ribbon, Iridescent Plastic Pearls and a Clear Acrylic Snowflake (and that last is also in Laura's Snow Queen Shadowbox)!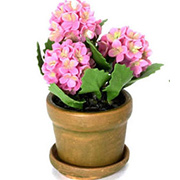 Hooray for the Spring Spinner Giveaway!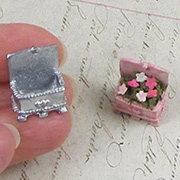 Yes, I said it! EVERYTHING in Teri's Spring Room Supply List is included in today's Giveaway! (You may be benefitting from my brain addled by cold medicine!)
I'm only highlighting a few of the SIXTEEN items in the supply list/Giveaway:
– New Rotating 4 Scene Room Box
– New Miniature Pink Hydrangeas in Flower Pot
– Tiny Metal Jewelry Box (note: there is also one of these in the Summer room — painted gold and holding letters at the top right of the dresser)
– Mini Easter Basket Kit (Wow! that's a big bunch of items all by itself!)

Just click on this Supply List link for photos and links to everything in Teri's artwork, which is also all of the Giveaway items!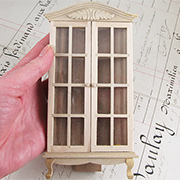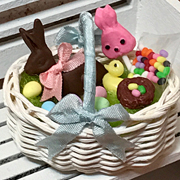 I love the new Easter Bunny wall paper, so Springy! I must admit most of the smaller stuff in this room is from my collection and is either vintage, handmade, artist-made or no longer made. Remember, decorating a room like this gives you an excuse to start collecting or to start displaying your collection.
To enter the Spring Spinner Giveaway drawing all you have to do is leave a comment BELOW on this blog post TODAY or TOMORROW (the deadline is 11:59 pm PST, Monday Night, January 15, 2018).
AND tell me: What will you make? You've got 4 rooms to plan!
Don't forget to leave your (hello! correct) email address, too, so I can contact the winner; your email address does not need to be made public. Note: I'm offering free shipping, too, but only within the USA. International shipping will still apply.
Please be patient! Spammers try to post crap here a lot so comments are moderated. So if you don't see your post in the comments section, be patient and check back in a few hours before re-posting it, please!
After midnight, I'll randomly pick the winner (via Random.org).
Hey, who won the Mysterious Shadowbox Giveaway from Thursday's newsletter? That would be Debbie S! Congrats! Check your email for info.
Posted by Leslie, January 14th, 2018