Orphanage Rd. In Winter by Design Team Member Kristin Batsel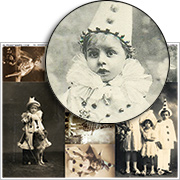 Ha! Kristin has made a whole different project from the same shadowbox lid that Nichola used last Thursday. And, in Kristin style, it involves the circus…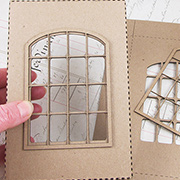 Nothing says "holiday season" like some morose orphans looking sadly out at the snow, amIrite? When I found that the next Alpha Stamps monthly kit contained a window shadowbox, for some reason, I immediately thought of circus kids. Leslie was kind enough to design a collage sheet full of vintage circus kid images for me. I chose a large image of four solemn looking waifs, gave them all bright red clown noses, and built "Orphanage Rd." to house them.
I used two collage sheets so I could cut out the girls in front and stack them for more dimension. The upper trim is a Fleur Border, painted black and then coated with glaze.
Read more in Kristin's blog post and/or see everything from her supply list. And check out the Giveaway below (for another photo showing part of her tutorial), as you could win EVERYTHING in her supplies!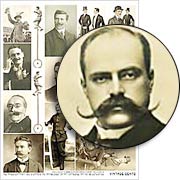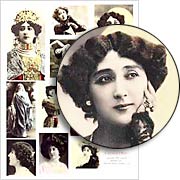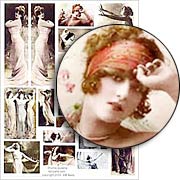 Reminder: ALL Tallulah's Collage Sheets are on Sale at 50% Off! Lots of different themes in this section, most from beautiful vintage postcards.
The sale runs through Monday night, January 8th! TOMORROW night!

Bonus: Remember Nichola Battilana's Fairy Godmother's Wardrobe? Nichola has finished her part 2 of the post: a tutorial video!
You can learn all about making books, magazines, tiny stockings, letters & postcards… all things on Nichola's Fairy Godmother's Cupboard Collage Sheet!
Go check it out; it's beautiful!

Reminder: FREE Gift Kit with all orders ends Tomorrow Night: Stars & Shells
Yes, seashells maybe be an odd choice for this time of year. But Nichola's bathing-beauty-as-a-fairy from Thursday's newsletter was a welcome splash of color when so many of you are facing a snowstorm.
ALL ORDERS through Monday night, January 8 (2018) will receive one of these Stars & Shells Gift Kits FREE!
I made a custom mix of gold stars (in numerous sizes), 5mm Clear Iridescent Star Sequins, a few other clear iridescent beads, and 1 each of the 3 colors of the new 22mm Scallop Shell Sequin Mix!

Hooray for the Orphanage Road Giveaway!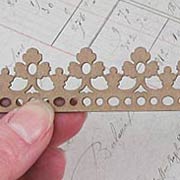 Yes, I said it! EVERYTHING in Kristin's Orphanage Rd. In Winter Supply List is included in today's Giveaway!
I'm only highlighting a couple of the NINE items in the supply list/Giveaway:
– New Vintage Circus Children Collage Sheet
– 4×6 Shadowbox
– Chipboard Fleur Border
Just click on this Supply List link for photos and links to everything in Kristin's artwork, which is also all of the Giveaway items!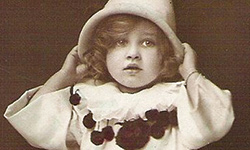 No, you're not going blind! The little girl in the "before" photo below didn't end up in the final project:
Before I covered the outside of the box, I used a Sharpie to color the inside window panes black. The outside windows were colored with a silver Sharpie. The little girl and her dog were originally considered for this piece, but they just looked too happy.
To enter the Orphanage Road Giveaway drawing all you have to do is leave a comment BELOW on this blog post TODAY or TOMORROW (the deadline is 11:59 pm PST, Monday Night, January 8, 2018).
AND tell me: What will you make? Obviously, the shadowbox with the window box lid can become many things…
Don't forget to leave your (hello! correct) email address, too, so I can contact the winner; your email address does not need to be made public. Note: I'm offering free shipping, too, but only within the USA. International shipping will still apply.
Please be patient! Spammers try to post crap here a lot so comments are moderated. So if you don't see your post in the comments section, be patient and check back in a few hours before re-posting it, please!
After midnight, I'll randomly pick the winner (via Random.org).
Hey, who won the Angels & Stars & Dresden (oh my) Giveaway from Thursday's newsletter? That would be Anne Squire! Congrats! Check your email for info.

Posted by Leslie, January 7th, 2018