It's day FIVE of this week of While the Cat's Away Sales & Giveaways! (Technically the final day of the event… but there is a "normal" first-Sunday-of-the-month KIT ANNOUNCEMENT tomorrow!)
Reminder: Half Price Shipping on ALL orders (for orders shipping to USA) now through Monday night, January 1st! Only $2.95! Plus FREE shipping on orders over $50! More info
We have a bonus today: not only a FLASH sale and a Giveaway: but also artwork by Design Team Member Nichola Battilana!
WOW! Look at how beautiful those crowns are by Nichola! (See the 3 crowns below.) She is calling them Bobby Pin Paper Crowns (to be explained in a sec) but that name belies how rich they look.
If you've followed along with my craft madness for any length of time you will know that I have a thing for crowns… paper crowns… paper crowns with glint and glitter.
I didn't make my crowns in the round. I just used the kit template as it was. I figured this would be practical for two reasons: 1) shipping. MUCH easier to ship a flat crown than a round crown. 2) I have friends who claim to have massively large and unusually small heads. I figured leaving the edges free, those friends who have hair could simply keep them in place with bobby pins.
Well, there you go! Read more in Nichola's blog post and/or see everything from her supply list.
And check out the Giveaway below, as you could win EVERYTHING in her supply list!

Back to today's FLASH sale: ALL Metallic Dresden are On Sale! (Such a fancy group, and rarely on sale! Over 30 choices, including lots used in Nichola's crowns today! See below for highlights of a few I've picked out to be included in today's Giveaway!)
Speaking of Giveaways, we have the winner to announce from yesterday's Oxidation Giveaway. The winner is Linda Blakesley!
Check your email for info about your prize package (including your custom pick: Nuvo Gilding Flakes – Radiant Gold)!

Highlights of the Scrapbook Paper Sale

Old & NEW French-Inspired Papers!


French Flea Market 12×12 Collection Kit New!

Vintage Girl 12×12 Collection Kit New!

Vintage Girl Tiny Prints Paper Kit New!

Amour I Love You Scrapbook Paper

Romantique Parisian Scrapbook Paper


Serendipity Anticipation Scrapbook Paper

Memoires Songbird Scrapbook Paper

Wild & Free Lets Be Wild Scrapbook Paper

Hooray! A French Crowns Giveaway! Wow… this one is so purdy…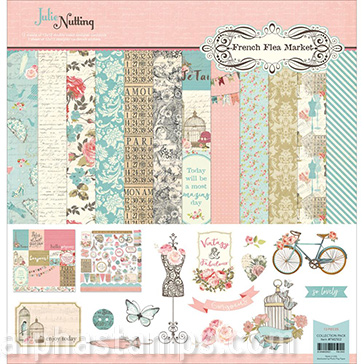 In addition to EVERYTHING in Nichola's supply list (Really… you must click on that link to see all the pretties — I picked out 4 as examples of the cuteness, see the bottom of this Giveaway section), I'm adding ALL four of the gold Dresden trims in that Metallic Dresden Sale highlight row above (I specifically picked out some NOT used by Nichola so you'll have even more options) and:
– That new French Flea Market 12×12 Collection Kit (shown at right). I went looking for something French themed (I didn't turn up anything as regal as Nichola's color palette, but there are some dang cute prints in this set… and it's on sale)!
– ALL FOUR of the 12″ x 12″ scrapbook papers in the second row of the Highlights of the Scrapbook Paper Sale section above… I know, too much to take in. So I took a screenshot of which ones I'm referring to (repeated below in miniature). Just scroll up to the "Highlights of the Scrapbook Paper Sale" subhead for more info. Note: all 4 of these are on sale, too!
Reminder: Here's how these While the Cat's Away DAILY Sales and Giveaways will work: I've gathered items around a theme and put together a Giveaway Kit that will be awarded to one lucky person.
To enter the French Crowns Giveaway drawing all you have to do is leave a comment BELOW on this blog post TODAY (December 30, 2017) by midnight (PST).


After midnight Iíll randomly pick the previous day's winner. So make sure to check back tomorrow to see who won and to see the new kit (and more artwork!) and a new Giveaway!

More info on the Holiday Closure & Giveaway Rules.
And please remember: Our offices are now closed. The whole "While the Cat's Away" theme is 'cause I'm the only one here! For more info about shipping (which will start when the staff are all back on 1/2/18) and the sale in general, please see the While the Cat's Away…" Daily Giveaways: Year 10! overview page.
A final note: Even though our offices are closed, orders for DIGITAL Collage Sheets and Digital Images are still fulfilled in real time!

Posted by Leslie, December 30th, 2017