It's day THREE of this week of While the Cat's Away Sales & Giveaways!
Reminder: Half Price Shipping on ALL orders (for orders shipping to USA) now through Monday night, January 1st! Only $2.95! Plus FREE shipping on orders over $50! More info
We have a bonus today: not only a FLASH sale and a Giveaway: but also artwork by Design Team Member Laura Carson!
Oh my… Laura has outdone herself! She has made FOUR crowns, each one in a unique style (see the wide photo below for previews of all 4). AND she includes a video tutorial on her blog post, showing how to make wearable crowns (from simpler paper crowns to more complicated wire-frame crowns).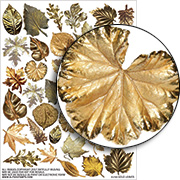 Plus Laura created 2 new collage sheets and a related set of digital image files that were used in the Golden Autumn and Ice Queen crowns (upper left lower right corners of the photo).
I'll be highlighting one of the crowns in the Giveaway below.
Read more in Laura's blog post and/or see everything from her FOUR supply lists (clockwise from upper left):
– Golden Autumn Crown
– Elegant Crown
– Ice Queen Crown
– Star Crown.
And check out the Giveaway below, as you could win tons of her supplies!

Back to today's FLASH sale: ALL Paper Flowers & Leaves are On Sale! (That's a BIG group – over 50 choices, including some new ones being announced today! See below for highlights of a few I've picked out to be included in today's Giveaway!)
Speaking of Giveaways, we have the winner to announce from yesterday's Remnants Giveaway. The winner is Rhonda Sihocky!
Check your email for info about your prize package!


Hooray! A Star Crown Giveaway! Ok… that name may be a little deceiving. Although I adore the Star Crown (see multiple views below), I've also included supplies from each of Laura's 4 crowns…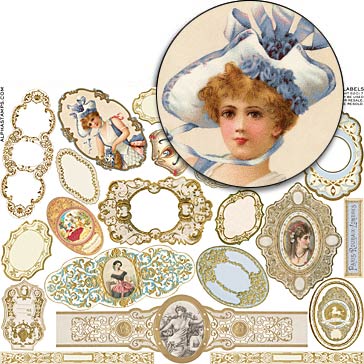 Beside ALL four of the paper flowers/leaves/stamen in that Paper Flowers & Leaves Sale highlight row above and ALL of the supplies for the Star Crown (!), I've also included these items:
– Stitched Leaf Ribbon – Silver (from the Ice Queen Crown, plus the Large Pearl Stamen – Grey in the highlight row)
– Fancy Gold Dresden Diadem or Crown (from the Elegant Crown)
– White Pearl Beaded Wire Garland (from the Golden Autumn Crown)
– Large Pearl Stamen – Gold (from the Golden Autumn Crown)

AND both of Laura's new collage sheets!
– Gold Leaves Collage Sheet
– Silver Leaves Collage Sheet
Reminder: Here's how these While the Cat's Away DAILY Sales and Giveaways will work: I've gathered items around a theme and put together a Giveaway Kit that will be awarded to one lucky person.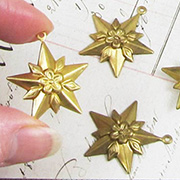 To enter the Star Crown Giveaway drawing all you have to do is leave a comment BELOW on this blog post TODAY (December 28, 2017) by midnight (PST).
After midnight Iíll randomly pick the previous day's winner. So make sure to check back tomorrow to see who won and to see what's on offer for Day 4 of the Sales & Giveaways!
More info on the Holiday Closure & Giveaway Rules.
And please remember: Our offices are now closed. The whole "While the Cat's Away" theme is 'cause I'm the only one here! For more info about shipping (which will start when the staff are all back on 1/2/18) and the sale in general, please see the While the Cat's Away…" Daily Giveaways: Year 10! overview page.
A final note: Even though our offices are closed, orders for DIGITAL Collage Sheets and Digital Images are still fulfilled in real time!

Posted by Leslie, December 28th, 2017