Note: most of the links on this post no longer work, as we moved to a new Web site in 2018. However, you can see the supply list items from Lora's and Kristin's projects that are still available on the new site.
Wow, a bit of a change of plans regarding the Free Gift Kit! You guys went crazy and ripped through 2 cases of snowglobes on Thursday! So see below for a NEW free gift with all orders!
Also see below for info on the Miniatures for Holiday Decor sale that ends tomorrow night.
And see Santa's note at left about receiving packages before Christmas? That deadline is tomorrow night. Though if you're like me, receiving a package of goodies to use for crafting after December 24th will be like Christmas morning all over again!

The Witches Deck the Halls by Lora Mahaffey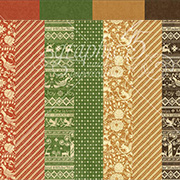 I love this project — and the whole idea! A Halloween project for Christmas!
Design Team Member Lora Mahaffey used the Large Haunted House Shadowbox and Window Trims we announced for Halloween as the structure for her house. (Plus she added some custom windowboxes, that she explains on her blog post).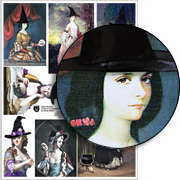 The witches have decked out their house for Christmas! It's wintery and snowy outside and very festive inside.
The ladies have the tree all decorated and stockings hung, ready for Santa.
They are dressed in their finery, have their festive hats on and have their brooms all spiffed up, ready for their midnight rounds and then it's off to the Christmas Cookie Exchange!
Read more in Lora's blog post and/or see everything from her supply list.

Sparkly Gold Crown by Kristin Batsel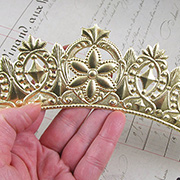 Wow! I love this crown by Design Team Member Kristin Batsel! It's so different from the 2 crowns last Sunday, but still part of our crown theme this month.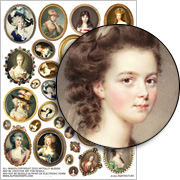 Kristin used the new Fancy Gold Dresden Diadem or Crown as the base of her (truly) sparkly crown. Plus the stick pins, pearls, rhinestones, new star picks, stitched leaf ribbon, and new brass stars… and it's soooo luxe!
Sometimes, you just need a crown to brighten up your day. I just got a lovely package of goodies from Alpha Stamps, perfect for making a sparkly gold crown. One of the items, a fancy gold Dresden Diadem, was the perfect size and shape for a crown base. All I had to do to make it regal was to add the bling! Gold on gold on gold, and lots of jewels; I feel like the queen of everything.
Read more in Kristin's blog post (including info on how to attach ribbons to make the crown adjustable) and/or see everything from her supply list.

NEW Snowflake & Gold Stars FREE Gift Kit!
As I mentioned above, we have a new free gift with all orders starting today!
ALL ORDERS on Sunday through Wednesday, December 10 – 13 (2017) will receive one of these Snowflake & Gold Stars Gift Kits FREE! I made a custom mix of gold stars (in numerous sizes), a few other embossed gold sequins, and some of the Mini Snowflake Sequin Mix — all packaged in a glassine envelope (like Lora used to make a faux frosted glass window in her front door — see more info on her blog post). I'm actually including 3 of the glassine envelopes in this mini kit!

Sale ends Tomorrow Night: Miniatures for Holiday Decor!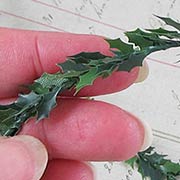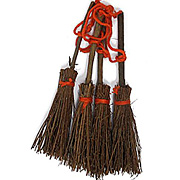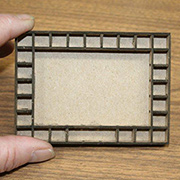 Tons of things here: from Halloween, Easter, Christmas… ALL Miniatures for Holiday Decor are on Sale for 35% off! The sale ends MONDAY night, December 11th.
Over 80 Items! Including a new one noted above — and those brooms at right are in Lora's artwork!

Hooray for the Sparkly Snowflakes & Stars Giveaway!
I couldn't decide between supplies from Lora's and Kristin's pretty samples, so I picked a few things from each — and added in some extras, too!
– Mixed Size Ivory Flat-Back Pearls (in both Lora's and Kristin's artwork)
– Gold Star Picks – New! (in Kristin's artwork)
– Fancy Brass Star Charm – New! (in Kristin's artwork)
– Large Zig Zag Gold Dresden Edging – New!
– Icicles Roof & Window Trims
– Snowflake Border
– White Glittered Snowflake Embellishments
– Star Trellis Filigree – Raw Brass (top left in the photo — grab one quickly if you like this, 'cause they are almost sold out!)
Plus a bonus: one of the Snowflake & Gold Stars Gift Kits (tucked away at bottom right of the photo — and looking right at home with this group).
To enter the Sparkly Snowflakes & Stars Giveaway drawing all you have to do is leave a comment BELOW on this blog post TODAY or TOMORROW (the deadline is 11:59 pm PST, Monday Night, December 11, 2017).
AND tell me: Stars or Snowflakes? (What will you use first from the prize?) Or do you have a plan to incorporate both?
Don't forget to leave your (hello! correct) email address, too, so I can contact the winner; your email address does not need to be made public. Note: I'm offering free shipping, too, but only within the USA. International shipping will still apply.
Please be patient! Spammers try to post crap here a lot so comments are moderated. So if you donít see your post in the comments section, be patient and check back in a few hours before re-posting it, please!
After midnight, I'll randomly pick the winner (via Random.org).
Hey, who won the Winter Wonderland Apothecary Jar Giveaway from Thursday's newsletter? That would be Kimberly! Congrats! Check your email for info.
Posted by Leslie, December 10th, 2017