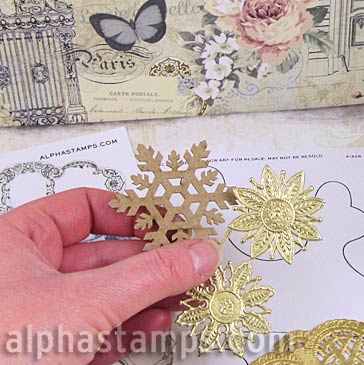 NEW Winter Crowns Kit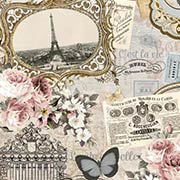 For this kit I wanted to choose a theme and colors for the Winter season, but that weren't connected to Christmas (as you may want to make a crown to wear in January or February).
That search for Winter colors lead to the new Romantique Paper Collection, with a pretty mix of soft colors, shabby wallpaper prints, and French ephemera (2 of the scrapbook papers from the collection are in this kit — plus I added a couple more scrapbook papers from other collections, for a total of FOUR 12″ x 12″ sheets in the kit).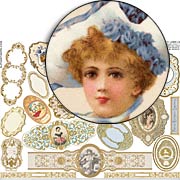 And then snowflakes and glitz! A chipboard snowflake (one from the new Chipboard Snowflake Shape Set — and see below in the Giveaway for a superb crown by Design Team Member Lora Mahaffey using the snowflake front and center!), a 4 Inch Round Gold Doily and both shapes from the new Fancy Gold Dresden Rosettes are also included.
Collage Sheets:
– New! Mini French Labels Collage Sheet (Pretty, vintage frames & French labels. Many are retinted to coordinate with the Romantique Paper Collection. All are sized small enough to use on a mini crown, and will also work well on ATCs or other small collages.)
– A template for making miniature crowns (exclusive to the kit). The template is for crowns about 3″ diameter (when finished) but both Lora and Rhonda have made variations to fit an adult. (princess? snow queen?)

Artwork! See the wide photo below for a beautiful crown by Design Team Member Rhonda Secrist Thomas! I love the colors and the romantic look. Rhonda used the back of the Romantique Parisian Scrapbook Paper as the background (part of the kit). Then she cut out one of the metallic gold frames from the new Romantique Foiled Gold Frames Scrapbook Paper to frame the portrait (that new paper is not in the kit, but is related).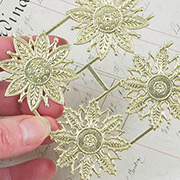 That oval portrait includes printed rhinestones and pearls around the edge, then Rhonda went back an glued tiny half-round pearls over all the pearls on the printed image.
Rhonda used a Chipboard Fleur Border around the bottom of her crown, with some flashy rhinestone chain. By the way, 2 sizes of rhinestone chain are back in stock.
More info and photos in Rhonda's blog post, and here's a link to see all her supplies. (Plus Rhonda created a second crown (larger scale) so be sure to check out that blog post.)
More info about the new kit is on the Winter Crowns Kit page. And remember to scroll down to the Giveaway on this page to see ANOTHER beautiful crown using this kit! Plus between here and there, a big bunch of pretty coordinating trims!

Hooray for the Winter Crowns Kit Giveaway!
Isn't this crown beautiful?! Lora Mahaffey's Frosty Autumn Crown is so lovely, from the colors to the pearls and stickles outlining some of the swirls on the ornate printed collage sheet image.
Note: there's another row of new items below (used in this crown and all included in the Giveaway)!
Lora gives step-by-step instructions (with lots of helpful photos) to make your own crown in her blog post.
I'm including the new kit in the Giveaway (the Faded Cream Wallpaper Scrapbook Paper and the Chipboard Snowflake from the kit are used in Lora's crown), plus these extra goodies Lora used:
– Golden Night Wired Leaves
– White Glittered Snowflake Embellishments (the 2 larger white snowflakes at the center bottom)
– Pear-Shaped Pearl Stick Pins in Gold AND White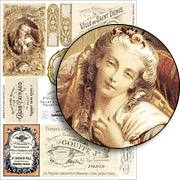 – Mixed Size Ivory Flat-Back Pearls
– Stitched Leaf Ribbon – Silver
– Vintage French Ads Collage Sheet (that large ornate image in the center, behind the glittered chipboard snowflake)
– Tinsel (in gold and silver, though Lora only used gold in this crown)

Here's a link to everything in Lora's supply list.
To enter the Winter Crowns Kit Giveaway drawing all you have to do is leave a comment BELOW on this blog post TODAY or TOMORROW (the deadline is 11:59 pm PST, Monday Night, December 4, 2017).
AND tell me: Which of these supplies will you use to decorate your crown? And/or: do you have plans for the supplies that won't be used in a crown?
Don't forget to leave your (hello! correct) email address, too, so I can contact the winner; your email address does not need to be made public. Note: I'm offering free shipping, too, but only within the USA. International shipping will still apply.
Please be patient! Spammers try to post crap here a lot so comments are moderated. So if you donÌt see your post in the comments section, be patient and check back in a few hours before re-posting it, please!
After midnight, I'll randomly pick the winner (via Random.org).
Hey, who won the Retro Christmas Shadowboxes Giveaway from Thursday's newsletter? That would be Amy! Congrats! Check your email for info.

Posted by Leslie, December 3rd, 2017