Note: most of the links on this post no longer work, as we moved to a new Web site in 2018. However, you can see the supply list items from Shannon's and Rhonda's projects that are still available on the new site.
Before new Christmas goodies (and more adorable Christmas ornaments): a new FREE gift kit!
Crystal Beads Christmas Trees FREE Gift Kit How cute are these! Sets of green glass beads (6) , head pins (2), cube beads for each tree base (2), a tiny gold bead for the top (2), plus a pair of plated steel earwires (your choice if you want to make these into a set of earrings or just a tiny tree to put in a tiny shadowbox).
I'm showing 2 sets in the large photo (in 2 different shades of green… I'll randomly pick which set you'll receive).
ALL ORDERS on Thursday through Monday, November 30 through December 4 (2017) will receive one of the Crystal Beads Christmas Trees Gift Kits FREE!
Reminder! FREE shipping on orders over $50 (for orders shipping to USA) ends SATURDAY night, December 2nd! Wow! The holiday weekend sales may have ended Monday, but you'll still get a gift! Read more about the sale weekend.

Home for the Holidays Diorama Ornament by Shannon Cooper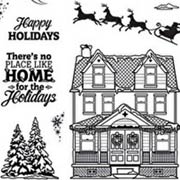 Aw… This is such a sweet ornament, made from one of the Tiny Diorama Boxes and the new Home for the Holidays Clear Stamp Set.
Beside being so cute to gaze on (below and in more photos in her blog post), Shannon provides a tutorial for how she cuts watercolor paper to make the layered scene inside the diorama box!
To make the layers inside the ornament, four pieces of watercolor paper were cut the same width as the diorama box and twice as long. Any thick paper would work, I just chose it because all of the images are colored with watercolor pencils after they were stamped.
Read more in Shannon's blog post and/or see everything from her supply list.

A Jolly Good Christmas by Rhonda Secrist Thomas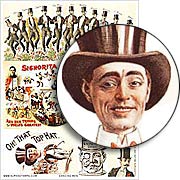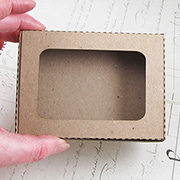 Design Team Member Rhonda Secrist Thomas used the same Tiny Diorama Box, but her ornament looks completely different than Shannon's. I love the masculine look (is plaid masculine? not sure, but that dapper dude in his top hat)!
Plus flipping the box around to portrait orientation gives it a new look, too.
Rhonda completely covered the inside and outside of the box with papers from the Tim Holtz Christmas 8×8 Paper Stash.
To add a decorative paper to the inside, use the (flat) box as a stencil to trace out the shape. After cutting, make sure to score and fold the paper so it will fit easily inside of the box.
Read more in Rhonda's blog post and/or see everything from her supply list.

A New Sale!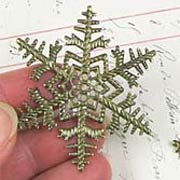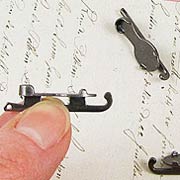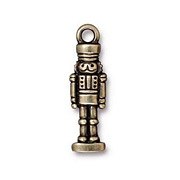 ALL Christmas & Winter Charms are on Sale for 50% off! The sale ends MONDAY night, December 4th. Snowflakes, Gingerbread Men, Reindeer, Santa Claus, Wreaths…
Hooray for the Retro Christmas Shadowboxes Giveaway!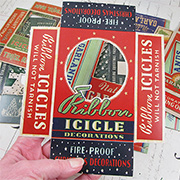 These are such cute, retro boxes! Perfect for a retro '50s-ish scene. I'm including a set of the new Tim Holtz Christmas Vignette Box Tops AND one each of all 4 new shadowboxes that the box tops fit!
To enter the Retro Christmas Shadowboxes Giveaway drawing all you have to do is leave a comment BELOW on this blog post TODAY OR TOMORROW (the deadline is 11:59 pm PST, FRIDAY, December 1, 2017)!
And tell me: What will you make with these mini shadowboxes?
Don't forget to leave your (hello! correct) email address, too, so I can contact the winner; your email address does not need to be made public. Note: I'm offering free shipping, too, but only within the USA. International shipping will still apply.
Please be patient! Spammers try to post crap here a lot so comments are moderated. So if you don't see your post in the comments section, be patient and check back in a few hours before re-posting it, please!
After midnight, I'll randomly pick the winner (via Random.org). So check your mailbox on Sunday morning to see who won and for the next Giveaway and Newsletter!
Hey, who won the Sugary Sweet Glittered Ornaments Giveaway? Emily N! Congratulations! Check your email for more info.
Posted by Leslie, November 30th, 2017