Hooray! It's the final newsletter for this holiday weekend sale! (Whew!)
Santa's Workshop Diorama by Laura Carson
Wow! Design Team Member Laura Carson has created a whole Santa's workshop village using three of the Large Haunted House Shadowboxes announced for Halloween! (Plus a bunch of chipboard trims AND miniature toys). I'm going to show a fair number of photos, but check Laura's blog post for lots more pictures and a tutorial!

There are FIVE new collage sheets today! Four are by Laura; one is by me (for making tiny pull toys of vintage circus animals) with a Small Wheeled Platform). Laura used 5 of those same wheeled platforms to make two connected "trains" for the elves to transport toys to the wrapping department or wrapped presents to Santa's sleigh.

Things are hopping at the North Pole where Santa's Workshop is in full swing pumping out toys.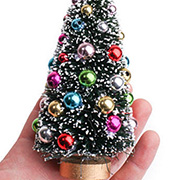 Everything in this wintry scene is covered in sparkling ice and snow. In the center is a decorated tree standing on a giant drum.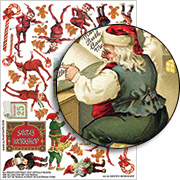 (See the left side of the photo below for that new tree and the sleigh — note: Laura includes a section in her tutorial on making and decorating the sleigh.)
If you peek in the windows you'll see lots of toys and elves at work. Santa's doing his last minute check of his list.
Note I zoomed in on that "Santa in the window" scene on the right of the wide photo below. The detail in this whole project is amazing… from the snow in the windows to the room in the little cubby behind the "glass" window panes.
Read more (and see more photos & a tutorial) in Laura's blog post and/or see everything from her supply list.

Posted by Leslie, November 26th, 2017