Hooray! It's day 2 of this holiday weekend sale! FREE shipping on orders over $50 (for orders shipping to USA) now through FRIDAY night, December 2nd! Wow! The holiday weekend sales may be over by Monday, but you'll still get a gift! Read more about the sale weekend.
Plus see below for a Special Holly & Snowflakes Gift Kit (for orders placed today only)!

Christmas Ornaments by Lora Mahaffey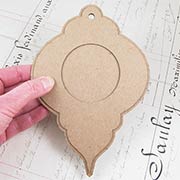 Design Team Member Lora Mahaffey has made some cheery Christmas ornaments and has provided a tutorial, including how to get snow in a shaker dome without creating a blizzard!
For a lot of us, at some time in our lives, we've made Christmas ornaments. Whether you were five and you made them from pipe cleaners or you're 55 (well, okay 56) and you're making them from a host of fancy bits and pieces, it's always fun. Here are a couple I made for the amazing Alpha Stamps folks.
They're bright and cheerful and they have snow in them. Gotta love 'em.

Since Ornament Frame Sets have been the theme this month, I designed a little Holly Trim Set to fit any of the sets. (And the smaller holly sprig from these new sets is also included as a free gift in all orders today! See more info below.)
Read more (and see more pretty photos) in Lora's blog post and/or see everything from her supply list.
Psst… See today's special FREE Gift Kit below for some trims to make your own Christmas ornaments.

FLASH Sale (ends tonight at midnight)!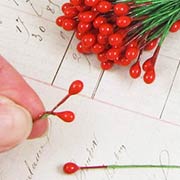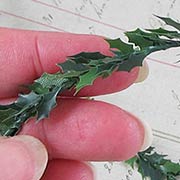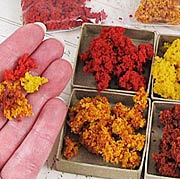 ALL Paper Flowers & Leaves are on sale at 40% off !
Over 120 items, like the Clump Foliage – Fall Mix at left, Mini Holly Leaf Garland and 1/4 Inch Red Holly Berry Stems at right, AND including some of the new items below!


Holly & Snowflakes Gift Kit!
I picked out a bunch of trims you can use to decorate ornaments (or gift boxes… or your house). PLUS I'm packaging this group in another cute gift box (a paper-wrapped chipboard box with a removeable lid).
The first 20 orders over $50.00 TODAY ONLY will get everything shown in a gift box. The only variation between the gift sets today is that some include a new Holiday Berry Pick (in the large photo below) and some will get a "pine cone, leaves & red berries" group (lower right of the photos) — more info on all the other items is below.
NOTE: every order today (November 25th) will get a free gift (still in the Holly & Snowflakes theme, but not as many items as the gift kits shown, and not packaged in a gift box).
Another note: until I run out, all of free gifts will include the smaller sprig of chipboard holly from the new Holly Trim Set (cut just for these gift kits… shown in my hand at the bottom of the photos below).
Some of the items shown are from new goodies, like the Set of Large Wooden Snowflakes, and the Snowflake Brads Assortment – Pearl Finish. Some are from items that have sold out on the site. Some are old friends, like the 1/4 Inch Red Holly Berry Stems and Fluffy Winter Snow (that last also used in Lora's artwork).

Posted by Leslie, November 25th, 2017