Note: as this is a holiday weekend here in the US: FREE shipping for orders over $50 (for orders shipping to USA) now through FRIDAY night, December 2nd! Wow! The holiday weekend sales may be over by Monday, but you'll still get a gift! Read more about the sale weekend.
Plus see below for a Special Baking-Themed Gift Kit (for orders placed today only)!

Holiday Baking Tray by Shannon Cooper
Two new trays… the larger one was designed as a display area for Shannon's (adorable!) 1:12 scale baking scene. This tray is NOT 1:12 scale… more like a little area the size of a table top to place items when you don't have the time or space to decorate a whole kitchen.
Approx. the size of an Altoids Tin (3-3/4″ x 2-1/4″).
And since trays were on my mind, there's also a tiny 1:12 scale tray in the same style. (And check the new items below for a couple more 1:12 tray options).
Moving on to Shannon's little baking scene… so cute! (See the wide photo below.) I love all the little holiday trims. Plus this kind of mini scene could be done for any holiday (or maybe a birthday cake or other celebration).
Plus Shannon provides a tutorial on making the cakes and decorating them (including making an indentation for that tiny gingerbread cookie before baking the polymer clay cake).
Read more in Shannon's blog post and/or see everything from her supply list.
Psst… holiday baking was also featured in last year's Black Friday newsletter, when we announced the 1:12 Gingerbread House (if you'd like more miniature-scale baking inspiration).

FLASH Sale (ends tonight at midnight)!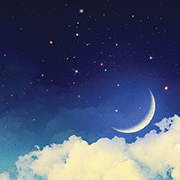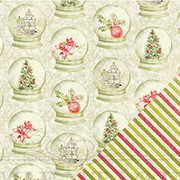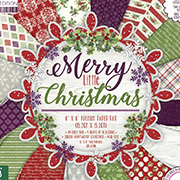 ALL scrapbook paper is on sale at 40% off !
– ALL Christmas Paper Section (pads and single sheets). Over 40 items!
– ALL Scrapbook Paper: Single Sheets . Over 200 items!
– ALL Scrapbook Paper Sets. Over 30 items!


Xmas Cookies Gift Kit!
I was inspired by Shannon's tiny baking scene, and went looking for some tiny props. PLUS I found these cute gift boxes…
The first 20 orders over $50.00 TODAY ONLY will get everything shown in one of these cute gift boxes (2 styles shown, but the contents are the same no matter which box).
NOTE: every order today (November 24th) will get a free gift (still in the Xmas Cookies theme, but not as many items as the gift kits shown, and not packaged in a gift box).
Some of the items shown are from new goodies, like the Christmas Cookie Cutter Cabochons, and the Christmas Miniatures Buttons Set (that last also used in Shannon's artwork). Some are from items that have sold out on the site. Some are old friends, like the Miniature Tea Kettle Charm or Mini Candy Canes (also used in Shannon's artwork).

Posted by Leslie, November 24th, 2017