Wow! I love the pretty fall buffet that Shannon made! From the "give thanks" banner to all the woodland creatures (stashing their food in bowls?) it's so colorful and warm. (And it has turned cold here suddenly so the warmth is perfect.)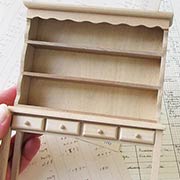 Shannon started with the Unfinished Buffet with Scalloped Top Trim. A great piece for displaying trinkets. And with the space under the 4 drawers (that open) you could put baskets of goodies. Maybe use this as a display piece in a mini antique store? But here's what Shannon thinks:
The buffet has four functioning drawers to hold bits and pieces. I'd like to think that is where the squirrels have stashed their bounty (after they tossed the silverware, of course).
Under the buffet hides a hedgehog and a gnome in an acorn cap bowl. There's also a rustic metal bucket filled with golden apples, a couple pumpkins, and polymer clay squash in a wire basket. The squash were shaped and a hole was poked in the top so after baking I could add a tiny length of toothpick for the stem. They are odd squash but that's what they look like in my head.
That Shannon is soooo talented! Check out the cornucopia she made (!). From her blog: "I followed a vintage pattern on how to weave a miniature cornucopia, and even though it came out a little wonky, I was pleasantly surprised with the results."
Hm… I see no wonkiness, just a really cute, little cornucopia!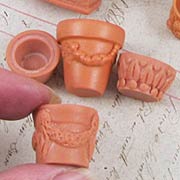 I love the vase of flowers Shannon made (see the close-up in the large photo at left — and check out her blog post for a tutorial on the flowers). That little metal vase is from her stash. I went looking for a similar one and remembered Teri Calia's earlier Marie's Boudoir project using a glass pitcher as a vase… and a found a new Glass Pitcher that's a good match for both.
Hey, in that same photo… did you recognize the bowl on the shelf above the vase? I didn't at first, it's one of the planters from the Set of Miscellaneous Flower Pots that Shannon repainted!
Read more about Shannon's buffet in her blog post and/or see everything from Shannon's supply list.

Posted by Leslie, November 5th, 2017