What? The end of the Halloween season? Say it's not so!
I love Halloween (and I bet you do, too). I had some ideas for more gifts but we'll have to be content with this last Halloween-themed gift kit: Antiqued Anatomy Tags (plus a little glass bottle filled with glitter and a snip of tiny ribbon)!
The bottle is one of the 12 Tiny Glass Bottles, and the ribbon is from the new 1/16 Inch Black Satin Ribbon!
I designed the tags with illustrations from vintage anatomy books (over grungy parchment) to be used "as is" or to be the base for more arting. And the tags are in multiple sizes so you tie one on a gift or as a tag on a tiny bottle.
The new collage sheet (AND the filled bottle & ribbon) is Free for ALL orders — through Monday night, October 30th! Note: all-digital orders will receive the collage sheet as a pdf file!


Halloween ATCs by Design Team Coordinator Miz Bella (Kimberly Ayers)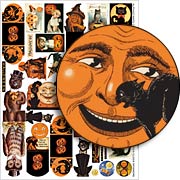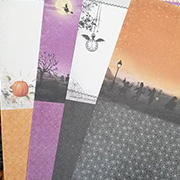 We have TWO fab projects today! First these adorable ATCs by Miz Bella!
Aw… I love the tiny prints (and the subtle Halloween palette) in The Witching Hour Mini Prints Scrapbook Paper Set (the backgrounds of all 4 of these ATCs).
Plus with the sharp contrast of the ATC frames painted black (and gussied up with some iridescent glitter)… those vintage tykes from the Halloween Clock Spinners Collage Sheet have the perfect frame.
Here's a link to Bella's supply list for quick links to all those Halloween supplies.


Hooray for the Ghoul Manor Giveaway featuring artwork by Design Team Member Shannon Cooper!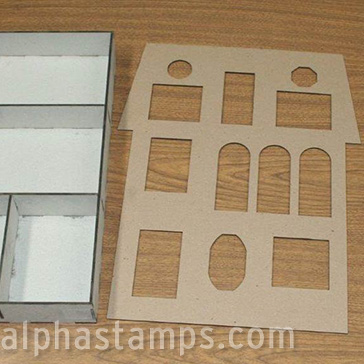 Oh my! Look at that fabulous haunted house! Love, love, love the shabby look, the roof additions Shannon added, the scalloped shingled roof over the door and window on the first floor… pretty much everything she did!
One of my favorite books as a kid was It's Halloween by Jack Prelutsky. It is a collection of short Halloween poems that I read until it nearly fell apart. It went with me when I moved out and was eventually read countless times to all of my kids. The pages are yellowed and the cover is frightful, but we still pull it out every October to read at least eight times before Halloween. In the book there is a poem about a group of ghouls having a party in a haunted house. So, when I learned of the haunted house shadowbox from Alpha Stamps, I knew how it was to be decorated.
The facade of the small haunted house shadowbox was altered a little using heavy cardstock…

I started by cutting out two roof shapes, the larger roof section being double-layered since I wanted that portion to protrude a bit more. The windows were cut out of the new large roof piece and then all of the windows were glued in place.
To make the wood siding, I cut several strips of paper in varied widths (it's Chesterville Whitford 12 x 12 and already has a nice aged look about it. I still grunged it up). The strips were glued on and more tiny scalloped shingles were put on the upper roof. The entire inside of the shadowbox was painted black before all of the little ghouls and demons were added, and I decided to give the Pumpkin Girl glowing eyes.
Head over to Shannon's blog to see more photos showing how she customized the haunted house (and how she cleverly hid the wiring for the light). Oh, and for the poem!
This Giveaway includes EVERYTHING in Shannon's supply list!
To enter the Ghoul Manor Giveaway drawing all you have to do is leave a comment BELOW on this blog post TODAY OR TOMORROW (the deadline is 11:59 pm PST, FRIDAY, October 27, 2017)!
And tell me: what part of Shannon's haunted house do you like best? (Or what detail inspires you most?) I'm torn between the addition of cardstock pieces to make dormer windows and the backlit pumpkin girl.
Don't forget to leave your (hello! correct) email address, too, so I can contact the winner; your email address does not need to be made public. Note: I'm offering free shipping, too, but only within the USA. International shipping will still apply.
Please be patient! Spammers try to post crap here a lot so comments are moderated. So if you don't see your post in the comments section, be patient and check back in a few hours before re-posting it, please!
After midnight, I'll randomly pick the winner (via Random.org). So check your mailbox on Sunday morning to see who won and for the next Giveaway and Newsletter!
Hey, who won the Haunted House Shadowbox Giveaway? Rise St Arno! Congratulations! Check your email for more info.
Posted by Leslie, October 26th, 2017