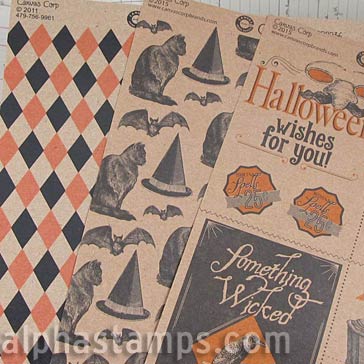 First a reminder: MONDAY, October 23rd is the deadline for artwork to be postmarked for the Little Ghouls ATC Swap! (Where has the time gone?!) And if you need some last minute spooky images to finish your project (though at this late date I'd suggest a digital file): a new sale!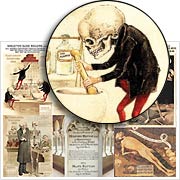 EVERYTHING in the Halloween Collage Sheets section is on sale for 50% off! BIG section to peruse: over 160 collage sheets!
The sale ends Monday night, October 23rd! Go check 'em out.
FREE GIFT through Monday Night: Haunted House Kraft 12×12 Paper Set!
Harlequin diamonds; cat, hats & bats (!); and faux vintage ads (all printed single-sided on heavy kraft cardstock). I love the tight palette plus (of course) the images!
All orders over $24 placed Thursday through TOMORROW, October 19-23 (2017) will receive one of these paper sets FREE! More info in Thursday's newsletter.

Haunted House Shadow Box by Design Team Member Nichola Battilana
Wow! This is such a great haunted house! Nice, sharp contrasts with all the orange and black (and a few extras like purple).
A little haunted house shadow box today. Inside a collection of spooky ooky bits…
I've kept the little spaces pretty simple and haven't cluttered them up too much since they'll be covered by the house exterior most of the time.
The papers I used for the background are the Tim Holtz 8×8 Kraft Paper Stash. I like them a whole bunch! The simple black and orange patterns are nice and functional and easy to coordinate.
If you know me at all, you know I'm a bit lazy when it comes to hinges. I've opted to not have hinges in this piece at all and simply use a length of ribbon that is tied around the back and hold the front of the front facade in place.
Read more in Nichola's blog post (and see the Giveaway below for some suggestions by Nichola on other haunted house variations).
Be sure to come back and enter the Giveaway, to win lots of supplies from Nichola's project! And check out the new glittery floral picks (and miniatures) below the photos of the creepy girl!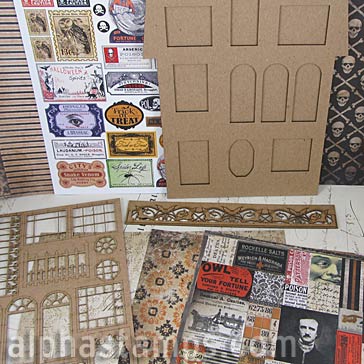 Hooray for the Haunted House Shadowbox Giveaway!
See the wide photo below with a close-up of another section of Nichola's shadowbox? I love the simplicity and the colors!
So to start off this Giveaway, all of these fab supplies from Nichola's project:
– Small Haunted House Add-On Kit (that includes not only the shadowbox and the window trims, but also the Halloween Labels Collage Sheet that Nichola used in the photo below (the purple label) — and the black & white number "31" that's at the top of the outside of her haunted house).
– Little Darlings Collage Sheet (creepy girl!)
– Tim Holtz 8×8 Kraft Paper Stash – Halloween
– Red Brick Wall Scrapbook Paper
– Baroque Dresden Borders – Black
– Thin Fleur Dresden Borders – Black
– Acrylic Black Standing Cat Cut-Out
AND a set of the Haunted House Kraft 12×12 Paper Set mentioned above! (You can never have too many black and orange diamond patterns!)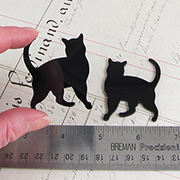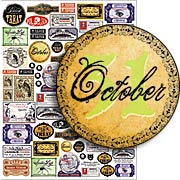 To enter the Haunted House Shadowbox Giveaway drawing all you have to do is leave a comment BELOW on this blog post TODAY or TOMORROW (the deadline is 11:59 pm PST, Monday Night, October 23, 2017).
AND tell me: What will you make? Will you follow any of Nichola's suggestions? ("Mine is filled with just a mish-mash of halloween images, but it would be a load of fun to create a themed house. A vampire abode. A monster mansion. Or maybe even include pics of your own family members in their Halloween regalia.")
Don't forget to leave your (hello! correct) email address, too, so I can contact the winner; your email address does not need to be made public. Note: I'm offering free shipping, too, but only within the USA. International shipping will still apply.
Please be patient! Spammers try to post crap here a lot so comments are moderated. So if you don't see your post in the comments section, be patient and check back in a few hours before re-posting it, please!
After midnight, I'll randomly pick the winner (via Random.org). So check your mailbox on Thursday morning to see who won and for the next Giveaway and Newsletter!
Hey, who won the Grow Where You are Planted Giveaway from Thursday's newsletter? That would be Debi H! Congrats! Check your email for info.
Posted by Leslie, October 22nd, 2017