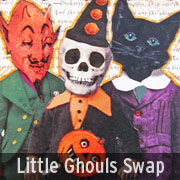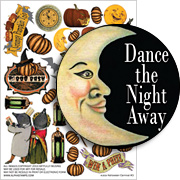 We have 2 Halloween projects today! Plus some new Christmas trims and a couple new box feet you'll love!
But first a reminder: MONDAY, October 23rd is the deadline for artwork to be postmarked for the Little Ghouls ATC Swap! (Where has the time gone?!) And if you need some last minute spooky images to finish your project (though at this late date I'd suggest a digital file): a new sale!
EVERYTHING in the Halloween Collage Sheets section is on sale for 50% off! BIG section to peruse: over 160 collage sheets!
The sale ends Monday night, October 23rd! Go check 'em out. Plus check below for a new FREE Gift with a similar Halloween theme!

Little Ghouls ATCs by Design Team Member Rhonda Secrist Thomas
Here's some more inspiration for Halloween ATCs! I love these jazzy ATCs that Rhonda made (plaid with skeletons? ahem… you'll see even more Halloween plaids later in this newsletter).
Personally, I wish it were Halloween all year long so I could keep making spooky art work.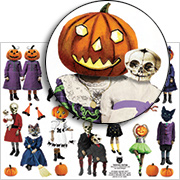 Every time I catch a glance of one of these Halloween Darlings or Little Demons I giggle and snort because they just look too perfect and their expressions are to "die" for!
So even though my cards look complicated, they were super easy to make with these fancy overlays. I can't wait to see the ATCs I receive from other artists. I already know they will be spook-tacular, creepy-ative and fright-abulous!
Here's a link to Rhonda's supply list. See more photos on her blog post.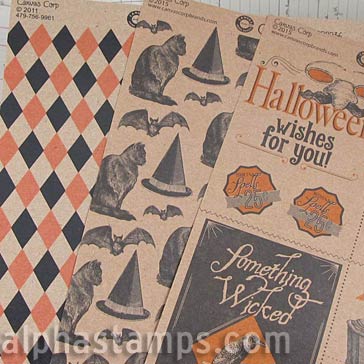 New FREE Gift:
Haunted House Kraft 12×12 Paper Set
Yes! I love this set and it was just announced 2 (or maybe 3) weeks ago! Still available to purchase, but there's enough here to give some away!
Harlequin diamonds; cat, hats & bats (!); and faux vintage ads (all printed single-sided on heavy kraft cardstock). I love the tight palette plus (of course) the images!
THREE 12" x 12" single-sided cardstock kraft sheets. More photos are on the paper set page.
All orders over $24 on Thursday through Monday, October 19-23 (2017) will receive one of these paper sets FREE!
Please note: do NOT add this paper set to your order or you will be charged for it (unless you would like to purchase an additional set). The FREE paper set will automatically be added to all qualifying orders so you do not need to do anything special.


Hooray for the Grow Where You are Planted Giveaway featuring artwork by Guest Designer Ginny Nemchek!
We are so excited to have the uber-talented Ginny Nemchek as the Guest Designer for October!
Ginny took the Little Ghouls Kit and extras from her own stash to create this spooktacular Grow Where You are Planted Halloween Decor Shadow Box (see the big, wide photo below). After Ginny created her shadowbox, she lined each cubby with assorted papers from the Bewitched 6×6 Paper Pad.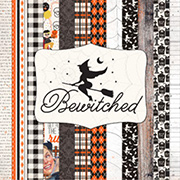 "Going with a spooky garden theme I created bat flowers growing on copper stems with itty bitty buttons and charms added. The little gardener chap has a wheelbarrow to harvest his crop and fanciful wings, altered chipboard gate, and a mossy field to plant in.
"Star garland and glittery strips add texture and brings the design out onto the front of the frame. The trick to adding layers of vintage images is to include foam spacers for depth."
Head over to Ginny's blog to find out how she made the shadowbox and to see more photos.
Psst… Ginny is selling this shadowbox in her Etsy show: Polly's Paper Studio.
This Giveaway includes EVERYTHING in Ginny's supply list for her Grow Where You are Planted Halloween Decor Shadow Box! Note: as there's a Little Ghouls Kit included in the supply list, if something is listed that's already included in the kit, I'll just include one set/item.


To enter the Grow Where You are Planted Giveaway drawing all you have to do is leave a comment BELOW on this blog post TODAY OR TOMORROW (the deadline is 11:59 pm PST, FRIDAY, October 20, 2017)!
And tell me: what part Ginny's shadowbox do you like best? (Or what detail inspires you most?) I'm quite fond of the copper wire wrapped around the black bats and coiled around the chipboard wrought iron fence (to have the bats growing in the garden — see the close-up in the top right of my big photo).
Don't forget to leave your (hello! correct) email address, too, so I can contact the winner; your email address does not need to be made public. Note: I'm offering free shipping, too, but only within the USA. International shipping will still apply.
Please be patient! Spammers try to post crap here a lot so comments are moderated. So if you don't see your post in the comments section, be patient and check back in a few hours before re-posting it, please!
After midnight, I'll randomly pick the winner (via Random.org). So check your mailbox on Sunday morning to see who won and for the next Giveaway and Newsletter!
Hey, who won the Teatime in Wonderland Giveaway? Deborah T! Congratulations! Check your email for more info.
Posted by Leslie, October 19th, 2017