Note: most of the links on this post no longer work, as we moved to a new Web site in 2018. However, you can see the supply list items from Lora's and Bella's projects that are still available on the new site.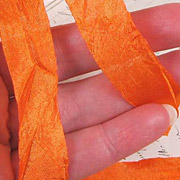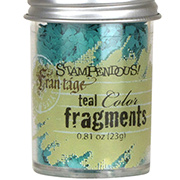 With all the glittery bats in Design Team Member Lora Mahaffey's Retro Kitty Cat Mini Halloween Bunting AND ribbons (just being a necessity for making a banner), I thought TWO SALES were in order! EVERYTHING in the Glitter, Tinsel, Rhinestones (& Misc Shiny Things) section is on sale for 30% off!
AND Solid Color Ribbons are on sale for 50% off!! Actually, some things in that section are 80% off as they're on clearance sale!
Tons of fun stuff… 145 items between the 2 sections. Both sales ends Monday night, October 9th!

Retro Kitty Cat Mini Halloween Bunting by Lora Mahaffey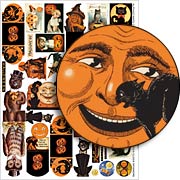 There is something so charming about bygone Halloween images. I love all of them, but I especially like the cats. They are cute as can be, but I like that some of them are a little mischievous and edgy. And maybe a wee bit scritchy-scratchy. It's wise to give cats a wide birth on Halloween. Even the cute ones!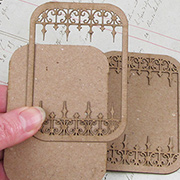 Here is a cute (and scratchy) Halloween Bunting complete with sweet little black bows and of course, sparkly green bats!
This was a fun, easy project that I enjoyed putting together. Lots of bold color and good contrast. It's small, but they pack a colorful punch!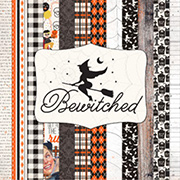 I began with three kinds of chipboard ATC card sets. I used the frames as a template to cut my papers from the Bewitched 6×6 Paper Pad and cut out my kitty images from Halloween Clock Spinners Collage Sheet. I painted all the frames black…
Read more (see more photos & a tutorial!) in Lora's blog post. And here's a link to her Retro Kitty Cat Mini Halloween Bunting supply list.
And be sure to come back and enter the Giveaway, to win lots of supplies from Lora's project!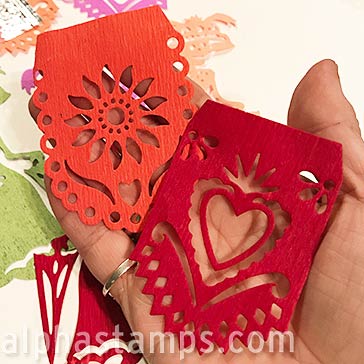 Day of the Dead Banner by Miz Bella (Kim Ayers)
Remember the Mini Pinata Ornament that Bella made a few weeks ago? Well, it's now the centerpiece of a festive (and quick!) new project:
I started decorating my house for Halloween and Dia de Los Muertos and decided that the Mini Pinata I made a couple of weeks ago needed to somehow be incorporated into a banner! Of course I have no patience and wanted something quick, and this was whipped out in less than an hour!
To make the Papel Picado flags I used the supercalifragilousinexpialidociously cute Thinlits Die Set – Banners Papel Picado and the
Heavy Crepe Paper Sampler Set. Once they were cut out, I glued some of the Wide Scalloped Dresden Border across the top of each flag. To secure the flags to the seam binding, I whipped out the 1/2″ Scor Tape (that I hoard) and applied to the back of each flag. Press the flags down onto your seam binding and there you go… flags are secured!
Here's a link to Bella's Day of the Dead Banner supply list.

FREE Mini Halloween Banners Starter Kit!
Now through Monday night, October 9th!
I was inspired by all the zingy colors in Lora's Retro Kitty Cat Mini Halloween Bunting and picked out some things for this new gift kit!
Papers in shades of green (lime!) and orange plus some black & white chevrons. Note: some of these are still available in case you'd like more:
– Halloween Spotty Orange Scrapbook Paper
– Master Detective Scrapbook Paper – Sinister Secrets
– Classic Christmas Dots & Stripes Scrapbook Paper (bet you didn't expect a Christmas in the mix)
Plus some Black Seam Binding and Orange Web Mesh Ribbon — and some sparkly green glitter! This mini kit will automatically be added to ALL orders placed on October 5th through 9th, so you do not need to do anything special.

Hooray for the Retro Kitty Cat ATC Banner Giveaway!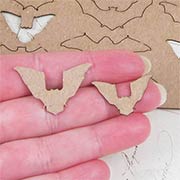 I love Lora's retro kitty cats! And each ATC card hanging from the banner is a little treasure!
Highlighting that spiffy guy at left, this Giveaway begins with:
– Halloween Clock Spinners Collage Sheet
– Bewitched 6×6 Paper Pad
– Wrought Iron ATC Card – 5 Points
– Chipboard Bats Set (New!)
– Lime Green Stickles
And I'm including the other 2 sets of ATC cards that Lora used:
– Wrought Iron ATC Card – Spider Web
and
– Wrought Iron ATC Card – Staggered Points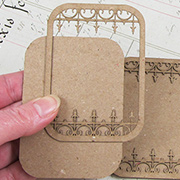 Plus I'm adding one of the Mini Halloween Banners Starter Kits! That includes a yard of Black Seam Binding, that would be a good substitute for making your own black bows… or for using to hang the cards.

Oooh! And check out that photo at left as a reminder that Lora has provided a tutorial for her banner!
To enter the Retro Kitty Cat ATC Banner Giveaway drawing all you have to do is leave a comment BELOW on this blog post TODAY OR TOMORROW (the deadline is 11:59 pm PST, FRIDAY, October 6, 2017)!
And tell me: Will you make a banner from these supplies? Or what other projects will you make?
Don't forget to leave your (hello! correct) email address, too, so I can contact the winner; your email address does not need to be made public. Note: I'm offering free shipping, too, but only within the USA. International shipping will still apply.
Please be patient! Spammers try to post crap here a lot so comments are moderated. So if you don't see your post in the comments section, be patient and check back in a few hours before re-posting it, please!
After midnight, I'll randomly pick the winner (via Random.org). So check your mailbox on Sunday morning to see who won and for the next Giveaway and Newsletter!
Hey, who won the Mini Haunted House Kit Giveaway? Gabrielle Schmidt! Congratulations! Check your email for more info.
Posted by Leslie, October 5th, 2017