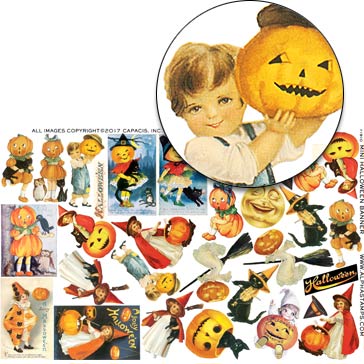 Before we dive into all the new Halloween goodies (and THREE kits): Continuing from Thursday and ENDS TOMORROW night, October 2nd: Mini Potion Bottles Banner FREE Gift Kit!
We had TWO Halloween projects by Teri Calia in Thursday's newsletter. I was inspired by Teri's bottle banner and made a little collage sheet AND a custom set of miniature chipboard potion bottles, so you could make a mini version of Teri's banner!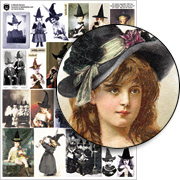 The new collage sheet AND set of mini potion bottles is Free for ALL orders — through Monday night, October 2nd! Note: all-digital orders will receive the collage sheet as a pdf file! Learn more
RELATED SALE: the ENTIRE Catnip Designs Collage Sheets Section is On Sale for 50% off! Now through Monday, October 2nd! Over 200 to choose from!
And be sure to come back and enter the Giveaway, to see a fab sample using the new kit by Teri (and win the supplies)!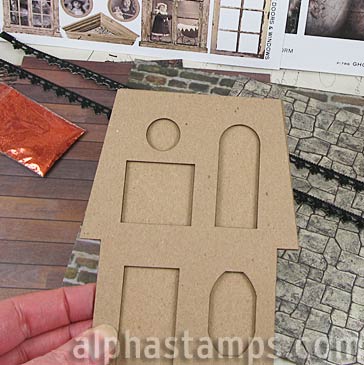 NEW Mini Haunted House Kit
Oooh! Time for a spooky haunted house? This kit includes a mini size of the new Small Haunted House Frame Set (with the same size windows so the collage sheets and trims for the small windows fit, too). Plus some papers with mini prints of bricks or wood… and 2 new collage sheets with some ghosts to lurk inside.
Note: there are TWO related Add-On Kits this month.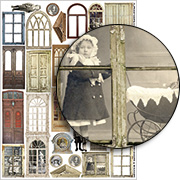 Beside the mini haunted house frame set (exclusive to this kit), this kit contains:
– New! The related Small Shabby Doors & Windows Collage Sheet
– New! Ghosts in Abandoned Rooms Collage Sheet (These are ATC size but would be good behind the window of a castle or haunted house, too.)
Paper:
– FOUR 6″ x 6″ scrapbook papers with brick, stone or wood patterns.
More info about the new kit is on the Mini Haunted House Kit page. And remember to scroll down to the Giveaway on this page to see Teri's artwork using this kit!

More Artwork! Halloween Row House Countdown Calendar (see the first wide photo below, and the photo at left) is by Design Team Member Kristin Batsel. Kristin used 2 of the Small Haunted House Frame Set and 1 Small Haunted House Shadowbox to make a wide house with a tiny door to open for every day in October!! (Such a clever idea!) More info in the Kristin's blog post. Here's Kristin's supply list — and see the photo at left for a preview of Kristins tutorial!
Halloween House Party (see the second wide photo below) is by Design Team Member Rhonda Secrist Thomas. Rhonda used the Large Haunted House Frame Set (and made TWO houses — she used the solid back side of the house, with the aid of extra window trims, to make a second haunted house scene). More info and photos in Rhonda's blog post, and here's a link to see all her supplies.

Hooray for the Mini Haunted House Kit Giveaway!
Isn't that little haunted house by Teri Calia fabulous! It's got everything you'd want in a spooky Halloween project, in a tiny space. Teri only added a couple little items to the new kit for her supplies:
I love the Mini Haunted House Kit because the haunted house frame set is perfect size for an afternoon art project. Plus you get almost every thing you need in the kit so you don't have to hunt down supplies! Just grab a pair of scissors and some glue and you'll be set for some fun 🙂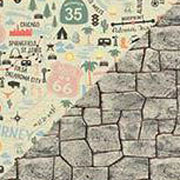 So to start off: one of the new Mini Haunted House Kits is included in today's Giveaway! The kit already includes the Travel Map & Rock Wall Scrapbook Paper (the stone background paper all over the art sample), the Small Shabby Doors & Windows Collage Sheet (for the creepy kids in the windows — and the shabby window frames, too), and the Black Thin Fleur Dresden Borders.
Here are a couple more things Teri added (that I'm also including in the Giveaway):
– Tim Holtz Remnant Rub-Ons – Halloween (see the faux dormer over the round window in upper left? and the bats nearby? they're both from this rub-ons set)
– Halloween Words Collage Sheet (Psst! That's one of the sale collage sheets!)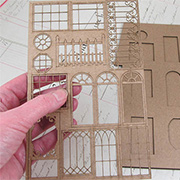 BONUS: I'm including a set of the new Small Haunted House Window Trims, as those window frames fit the mini haunted house, too!
To enter the Mini Haunted House Kit Giveaway drawing all you have to do is leave a comment BELOW on this blog post TODAY or TOMORROW (the deadline is 11:59 pm PST, Monday Night, October 2, 2017).
AND tell me: How will you decorate your mini haunted house?
Don't forget to leave your (hello! correct) email address, too, so I can contact the winner; your email address does not need to be made public. Note: I'm offering free shipping, too, but only within the USA. International shipping will still apply.
Please be patient! Spammers try to post crap here a lot so comments are moderated. So if you don't see your post in the comments section, be patient and check back in a few hours before re-posting it, please!
After midnight, I'll randomly pick the winner (via Random.org). So check your mailbox on Thursday morning to see who won and for the next Giveaway and Newsletter!
Hey, who won the Halloween Coffin Shadowbox Giveaway from Thursday's newsletter? That would be Mary Mac! Congrats! Check your email for info.
Posted by Leslie, October 1st, 2017