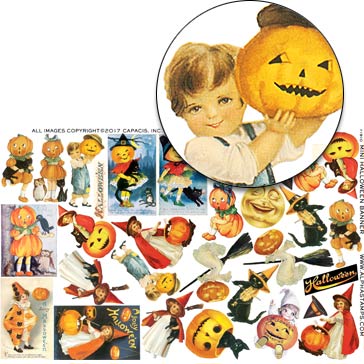 NEW Mini Potion Bottles Banner FREE Gift Kit!
Sweet! We have TWO Halloween projects by Teri Calia today. And I was inspired by the first project shown below, and made a little collage sheet AND a custom set of miniature chipboard potion bottles, so you could make a mini version of Teri's banner! Or maybe a set of Halloween gift tags?
The potion bottles in the gift kit are mini versions of the larger Chipboard Potion Bottles that Teri used in her banner (plus 2 extra bottle shapes). The largest is about 2″ tall.
And the new Mini Halloween Banner Half Sheet has tons of little pumpkin-headed children for Halloween (sized to fit on the mini bottles). I love the vintage postcards these came from!
The new collage sheet AND custom set of mini potion bottles is Free for ALL orders — through Monday night, October 2nd! Note: all-digital orders will receive the collage sheet as a pdf file!
You do not need to do anything to receive the new collage sheet. In fact, IF you add it to your order, I'll assume you're buying a second copy of the collage sheet.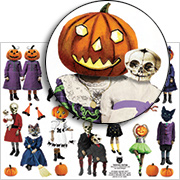 Potion Bottle Wall Hanging by Teri Calia
Such a cute idea (and execution)! See the wide photo below, or close-up at left, for Teri's project you'll want for your own! Quoting from Teri's blog:
I used two sets of Chipboard Potion Bottles to create the base. I simply glued the potion bottles side by side onto a piece of 12″x12″ cardstock (after papering the fronts of the bottles).
Note: See Teri's post for a mini tutorial on making the base.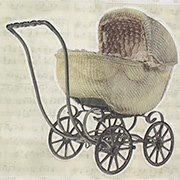 All of the cute pumpkin-headed children I used came from my Halloween Darlings Collage Sheet.
I fell in love with that Wicker Baby Carriage and really couldn't wait to use it in a piece of art 🙂
Read more (see more photos — of both of Teri's projects — and see her tutorial) in Teri's blog post. And here's a link to her Potion Bottle Wall Hanging supply list.
RELATED SALE: As today's new items (below) are Christmasy (and there are tons of options for both Halloween and Christmas in Teri's collage sheets)… the ENTIRE Catnip Designs Collage Sheets Section is On Sale for 50% off! Now through Monday, October 2nd! Over 200 to choose from!
And be sure to come back and enter the Giveaway, to see the second project by Teri!

Hooray for the Halloween Coffin Shadowbox Giveaway!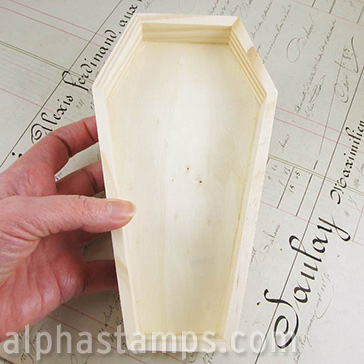 I love this shadowbox shrine that Teri made from the Unfinished Wooden Coffin Tray!
Again, from Teri's blog post:
This coffin shaped shrine/shadowbox features a little pumpkin-headed witch swinging on a broom under a happy moon. The quote reads:
When witches go riding,
and black cats are seen,
the moon laughs and whispers,
'tis near Halloween.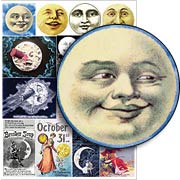 I used moss covered twigs, I found while hiking in the mountains, to make a tree. The moss had turned pale yellow as it dried out so I painted it bright green. The swing is a Miniature Rustic Broom tied to the tree with baker's twine. The sweet little witch is from my Little Demons Collage Sheet with a witch hat from my Halloween Dress Up Half Sheet.
EVERYTHING in Teri's Halloween Coffin Shadowbox Supply List is included in today's Giveaway!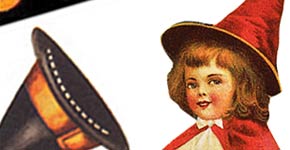 Plus I'm adding one of the Mini Potion Bottles Banner FREE Gift Kits!
To enter the Halloween Coffin Shadowbox Giveaway drawing all you have to do is leave a comment BELOW on this blog post TODAY OR TOMORROW (the deadline is 11:59 pm PST, FRIDAY, September 29, 2017)!
And tell me: How will you decorate your Unfinished Wooden Coffin Tray?
Don't forget to leave your (hello! correct) email address, too, so I can contact the winner; your email address does not need to be made public. Note: I'm offering free shipping, too, but only within the USA. International shipping will still apply.
Please be patient! Spammers try to post crap here a lot so comments are moderated. So if you don't see your post in the comments section, be patient and check back in a few hours before re-posting it, please!
After midnight, I'll randomly pick the winner (via Random.org). So check your mailbox on Sunday morning to see who won and for the next Giveaway and Newsletter!
Hey, who won the Coffin Shrines Giveaway? Gwen K! Congratulations! Check your email for more info.
Posted by Leslie, September 28th, 2017