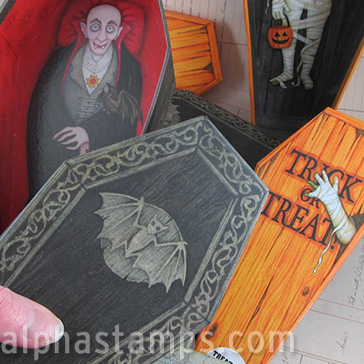 Continuing from Thursday and ENDS TOMORROW night, September 25th (2017): Colorful Coffins FREE Gift!
These are just silly fun. Well constructed little coffins, though (decorated with a vampire, a mummy or a skeleton — and you can paint or paper over the colorful designs if you'd like a different look). Each has a lid and is covered inside and out with printed paper.
And these would be fun to use for Coffin Shrines and Tags like those Design Team Member Nichola Battilana made in today's featured artwork.
Learn more (or buy a set of 3)
PLUS as I want to capture all the 3D Coffins Nicola used in today's artwork: ALL Die-Cut Shrines & 3D Items are on sale for 25% off through MONDAY night! More info below!

Coffin Shrines and Tags by Nichola Battilana
I was pleased to find a Half Scale Coffin with Lid in my Alpha Stamps design kit this month. I actually had a few 4 Inch Coffin Boxes on hand already, but this smaller version poked me in the ribs and prompted me to finish up all those bits and pieces.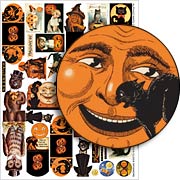 I am totally for making materials stretch and using every bit and bob. So I decided to use the box part of these coffins as a sort of shrine, and the lids as chunky tags. Two projects, one product. This also means no fiddling or fuss to ensure the top fits perfectly with the bottom. Huzzah!
For the shines… just embellish the exterior, fill with tulle, add a little dude like this guy from Little Darlings Collage Sheet and gussy him up with some doodads from the Halloween Dress Up Half Sheet.
A small bit of moss tucked into the bottom will give an extra something to help your wee person stand sturdy.

The tags are super simple, too (see wide photo below). Assemble, cover exterior, add some trim and some cute Halloweeny images from Halloween Clock Spinners Collage Sheet. Attach a little loop of ribbon and you're ready to go!
I've got a super duper fast video of the assembly of the tag on the far left above if any of that isn't clear.
Here's the list of goodies I used for making these cute Halloweeny doodads.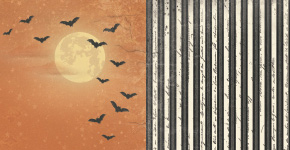 And here's Nichola's blog post link for more info and more photos.
Psst: the new papers below, especially the Warm Clothes from Grandma&#39s Attic Ephemera Sheet or The Witching Hour Mini Prints Scrapbook Paper Set would be super cute to use for coffin shrines, too!

Highlights from the New Goodies! – ALL on Sale!


The Witching Hour Mini Prints Scrapbook Paper Set

Hooray for the Coffin Shrines Giveaway!
EVERYTHING in Nichola's Coffin Shrines and Tags Supply List is included in today's Giveaway!
I'm only highlighting a few of the 14 spiffy items in the supply list/Giveaway:
– 4 Inch Coffin Boxes
– Transatlantic Travel 6×6 Paper Pad (I love Nichola's choices of stripes and tiny floral prints as background papers inside the coffins and lids)
– 1/2 Inch Loop Braid – Black (used as a hanging loop on one of the smaller coffins)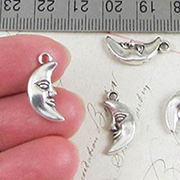 – Double-Sided Silver Moon Face Charms (there's one on the coffin at far left of the photo… on top of the bow made from some Orange Tiny Sheer Ribbon)
Just click on this Supply List link for photos and links to everything in Nichola's artwork, which is also all of the Giveaway items!
BONUS: I'm including one of the new Articulated Skeleton – 4 Inch Tall, as I think he'd be adorable posed in one of Nichola's coffin shrines!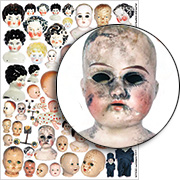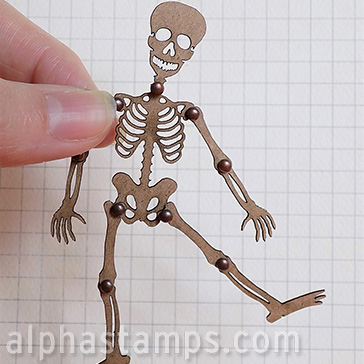 To enter the Coffin Shrines Giveaway drawing all you have to do is leave a comment BELOW on this blog post TODAY or TOMORROW (the deadline is 11:59 pm PST, Monday Night, September 25, 2017).
AND tell me: How will you decorate your coffin shrines and/or tags? How will you use them? (Decorate your own house, give them away, maybe hang them from a Halloween wreath or banner?)
Don't forget to leave your (hello! correct) email address, too, so I can contact the winner; your email address does not need to be made public. Note: I'm offering free shipping, too, but only within the USA. International shipping will still apply.
Please be patient! Spammers try to post crap here a lot so comments are moderated. So if you don't see your post in the comments section, be patient and check back in a few hours before re-posting it, please!
After midnight, I'll randomly pick the winner (via Random.org). So check your mailbox on Thursday morning to see who won and for the next Giveaway and Newsletter!
Hey, who won the Creepy Dolls Shrine Giveaway from Thursday's newsletter? That would be Laurie Staffaroni! Congrats! Check your email for info.
Posted by Leslie, September 24th, 2017