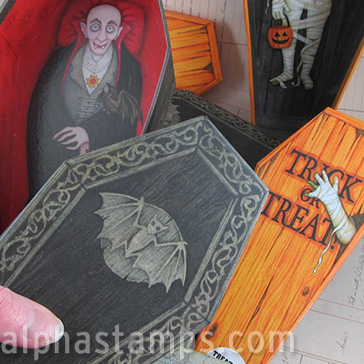 NEW Colorful Coffins FREE Gift!
Do you remember the free coffin gift kits we had last year? That was probably our most popular freebie all year! And… they're back! Updated this year with slightly different graphics (a vampire, a mummy or a skeleton).
These are just silly fun. Well constructed little coffins, though (and you can paint or paper over the colorful designs if you'd like a different look). Each has a lid and is covered inside and out with printed paper.
There are 3 different designs and each one comes in 3 sizes. The largest is 8-1/2″ tall and the smallest is 7″ tall — and they can be nested.
Learn more (or buy a set of 3)


Bwaahaahaa! Look at this perfectly creepy Positively Do Not Open shrine by Design Team Member Rhonda Secrist Thomas! First off: I love the GREEN color she painted the new Unfinished Dresser with Many Drawers!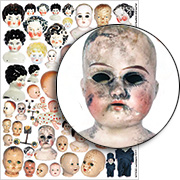 AND the new Creepy Dolls Collage Sheet used throughout is made from photos of dolls in Rhonda's collection!
On to Rhonda's intro:
There are physical items in this world, that aren't just matter, but hold the energy of long ago. You can find them in antique shops or advertised on eBay, but BEWARE! Even the nonbelievers will become believers, if they can get past the horror. Such is the case with this display at Rhonda's Haunted Artifacts. You couldn't even pay me to go near it, let alone let the spirits out.
This display, a Medium Frame Shadowbox, is haunted by tiny poltergeists that once inhabited the dolls around them, but are now tiny beings causing mischief and destruction.
As crazy and detailed as this shadowbox looks, it was actually really easy to create. After getting a rough idea of where I wanted to put everything, I used a simple drop of glue here and there to set everything into place. For the drawers, a dab on the bottom to hold into place, and a drop to hold each item in place. No poltergeist will be moving anything in reality.
But on a serious note, most of you know how much I love doll heads. It's very odd, because I hated all of my mother's beautiful dolls growing up. They scared the crap out of me. And now I have a studio full of heads, some worn down with no eyes, some with tiny teeth and tongues, and I hoard them, even though I want to use them in my art. And I do at times, but I'm so attached to them all.
Personally, I love all the real dolls gathered around the shrine with miniature versions of themselves inside (see that little guy in the skinny photo at left? His larger version is in the photo down in the Giveaway section). And check out that wide photo below with close-ups… don't all self-respecting poltergeists keep silverware in drawers… next to a wheelbarrow of eyeballs?
Read more (and see many more creepy photos, including some in the dark with the lights inside the shrine turned on) in Rhonda's blog post. And here's a link to her supply list.
And be sure to come back and enter the Giveaway, where you can enter to win tons of goodies from in her supply list!

Hooray for the Creepy Dolls Shrine Giveaway!
This Giveaway starts with these new items from Rhonda's Positively Do Not Open Supply List:
– Unfinished Dresser with Many Drawers
– Medium Frame Shadowbox
– Creepy Dolls Collage Sheet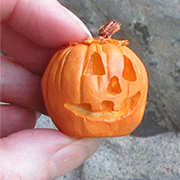 Then a few more items from her list that aren't new today:
– Mini Carved Jack O Lantern (is he throwing up or bleeding in those photos?)
– Mini Silverware – Set of 12
– Polymer Clay Cane – 5mm Halloween Gargoyle
Just click on this Supply List link for photos and links to everything I just mentioned!
Plus I'm adding one of the new Colorful Coffins!


To enter the Creepy Dolls Shrine Giveaway drawing all you have to do is leave a comment BELOW on this blog post TODAY OR TOMORROW (the deadline is 11:59 pm PST, FRIDAY, September 22, 2017)!
And tell me: How will you decorate your Unfinished Dresser with Many Drawers? And will you put the dresser inside your Medium Frame Shadowbox or use them in separate projects?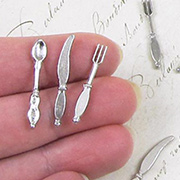 Don't forget to leave your (hello! correct) email address, too, so I can contact the winner; your email address does not need to be made public. Note: I'm offering free shipping, too, but only within the USA. International shipping will still apply.
Please be patient! Spammers try to post crap here a lot so comments are moderated. So if you don't see your post in the comments section, be patient and check back in a few hours before re-posting it, please!
After midnight, I'll randomly pick the winner (via Random.org). So check your mailbox on Sunday morning to see who won and for the next Giveaway and Newsletter!
Hey, who won the Forsaken Cemetery Giveaway? Babette Metheny! Congratulations! Check your email for more info.
Posted by Leslie, September 21st, 2017