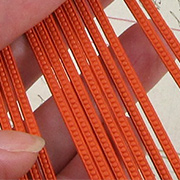 With all the wild colors in Miz Bella's fun & festive Mini Pinata Ornament, I thought a DRESDEN SALE was in order! EVERYTHING in the Color Dresden section is on sale for 40% off!
The sale ends Monday night, September 18th!
The sale includes the cute (and tiny!) Orange Tiny Dot Dresden Borders shown at left… perfect for decorating a sugar skull or a Little Ghouls ATC… hint, hint.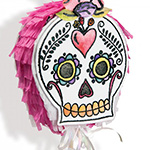 I love the Mini Pinata Ornament that Bella made for today's newsletter! She used just the dies from the new Framelits Die & Stamp Set – Sugar Skull to make this 3″ tall ornament (mini pinata).
The set comes with 4 clear stamps and 4 dies, so you could make a mini pinata with a sugar skull front that you color or paint using the rubber stamp… it would be a totally different look that the all-glitter version Bella made.
Here's are my favorite… um.. "tips" from her blog post (you'll see why that's in quote in a sec):
To make this I followed the video tutorial by the Crafty Chica (the designer of this die set). It's really quick — less than 2 minutes — but it's long enough for you to get an idea of what to do. Here are a few tips when putting your Pinata together that I learned:
To outline the eyes, the skull, the nose, and to draw designs on the skull Stickles works great and it doesn't run. (If you haven't guessed by now I love using Stickles for these projects; and may have an embarrassing amount of them.)
Give your Stickles and/or the glue under your glitter time to dry. My advice is to actually do the glittering
first thing, the day before you plan on working on the Pinata if you can. Letting it dry overnight is ideal and doing so will save you a lot of frustration. Says a "friend" of mine.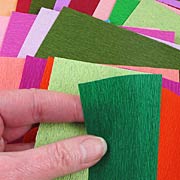 Uhuh. I think I know this impatient "friend." Moving on…
Bella made a pleated crepe paper border (ruff?) around the front and the back of the ornament. And just used seam binding (in 3 beautiful shades: Goldenrod, American Beauty and Strawberry Glaze (the last 2 are in the Spring Colors) to loop around the outside of the skull and then tie at the top for a hanging loop and at the bottom to secure (before letting the ends hang down as decorative streamers).
If that didn't make sense, just head on over to Bella's blog post… she can explain the seam binding better (and there are more photos). And be sure to come back and enter the Giveaway, where you can enter to win everything in her supply list plus a couple extras!


FREE Chipboard Potion Bottles Set!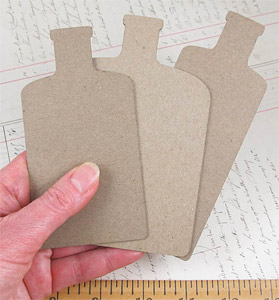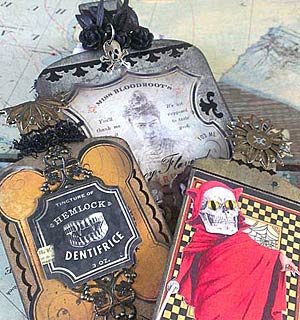 New FREE gift — through Monday night, September 18th!
Do you remember these bottles? Sturdy, raw, kraft chipboard. Not super heavy like bookboard: you could cut them with scissors with strong hands. You could use a (sharp) hole punch to add a hole to each for binding like a swatchbook. Or add more holes for an accordion book.
I think they might be fodder for a cute Day of the Dead banner… maybe use them with that new Day of the Dead La Catrina Thinlits Die?
A set of these 3 Chipboard Potion Bottles will automatically be added to ALL orders placed on September 14th through 18th, so you do not need to do anything special. (Those fab samples at left were by Rhea Freitag for the swap we held using the bottles… SPEAKING of swaps, you have until THIS SUNDAY to sign up for the current swap!)

Hooray for the Sugar Skull Pinata Giveaway!
This Giveaway starts with all the items in Bella's Mini Pinata Ornament Supply List:
– Framelits Die & Stamp Set – Sugar Skull
– Goldenrod, American Beauty and Strawberry Glaze Seam Binding
– Heavy Crepe Paper Sampler Set
Just click on this Supply List link for photos and links to everything I just mentioned!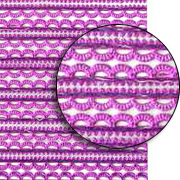 (And don't worry! If you don't have a die-cutting machine, we'll work something out. I'm sure we can find something on the site you'd like instead.)
Plus I'm adding these zippy colors from the Dresden sale:
– Thin Looped Dresden Borders – Fuchsia
– Red Zig Zag Dresden Borders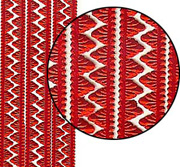 To enter the Sugar Skull Pinata Giveaway drawing all you have to do is leave a comment BELOW on this blog post TODAY OR TOMORROW (the deadline is 11:59 pm PST, FRIDAY, September 15, 2017)!
And tell me: How will you decorate your sugar skull pinata?
Don't forget to leave your (hello! correct) email address, too, so I can contact the winner; your email address does not need to be made public. Note: I'm offering free shipping, too, but only within the USA. International shipping will still apply.
Please be patient! Spammers try to post crap here a lot so comments are moderated. So if you don't see your post in the comments section, be patient and check back in a few hours before re-posting it, please!
After midnight, I'll randomly pick the winner (via Random.org). So check your mailbox on Sunday morning to see who won and for the next Giveaway and Newsletter!
Hey, who won the French Antiques Shadowbox Giveaway? Carolyn Bowlby! Congratulations! Check your email for more info.
Posted by Leslie, September 14th, 2017