NEW Little Ghouls Kit
Yay! It's time for full-on Halloween!
And, how cute is this: the combo of new ATC cards (FIVE of them!) and new Halloween collage sheets by Teri Calia (FOUR of them!) equals tons of fun for the September kit and… A Halloween Swap!
But first: the Little Ghouls Kit. A good mix of items to make ATCs or some small Halloween projects, starting with TWO of the new ATC cards:
– Wrought Iron ATC Card – Spider Web
– Bat Border ATC Card.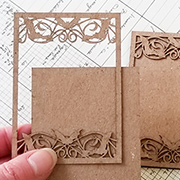 Both are sets of chipboard ATC cards (a solid back plus a shaped overlay). There is one of each card set in the kit.
Next up: 8 double-sided scrapbook papers (all the designs from the new Bewitched 6×6 Paper Pad — nice small prints for little projects like ATCs).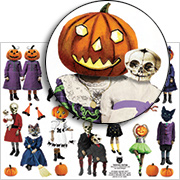 Then FOUR collage sheets: 3 new ones by Teri (2 with cute kids — some hand-tinted by Teri and with pumpkin heads (!) and some ready to be colored or accessorized as you see fit — and a mini sheet of Halloween accessories); the 4th sheet is a spiffied-up mini sheet with Familiars to pose with your Halloween tykes.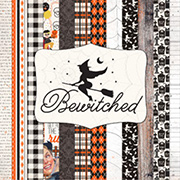 Plus a custom ribbon set (tiny!) and the cutest buttons you will ever see.
More info about the new kit is on the Little Ghouls Kit page.
And in honor of this new kit: ALL ATCs Collage Sheets are on sale! Now through Wednesday night, September 6, 2017. Over 70 to choose from! The sale includes lots of Halloween options… see below for 4 of my favorites. Note: there will be flash sales all month with goodies that could be used on ATCs.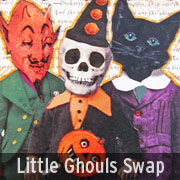 What? A Halloween Swap?! Yes, we have been having an annual Halloween swap for ages and I can't wait to see what fun artwork you will make! The Little Ghouls ATC Swap is a 3 for 3 swap (make 3 ATCs and receive 3 back). In a nutshell: Sign up by Sunday, September 17, 2017. and artwork should be postmarked by Monday, October 23, 2017.
But before I move on to showing cute artwork, we have some news: we are saying goodbye to one of our long-time Design Team Members, Caroline Ouzts Hay, who we are going to dearly miss. We have loved the beautiful projects Caroline has created for us over the years, and are thankful for all of the hard work she has done hostessing the swaps. Speaking of swaps, Caroline will still be hostessing them. Yay!
Wishing Caroline the best of luck moving forward! You can view her recent projects, and here are a couple specific projects to admire:
A Needle Book and Marie in Wonderland Mad Hatter Teacup.
Artwork! Trick-or-Treater's ATC Double Sided Triptych (see the first wide photo below) is by Design Team Member Laura Carson. More info and photos in Laura's blog post, and here's a link to see all her supplies.
Halloween Night ATCs (see the second wide photo below) are by Design Team Member Kristin Batsel. More info in the Kristin's blog post. Here's Kristin's supply list — and see the Giveaway below for another ATC Kristin made!
More info and photos about the new kit are on the Little Ghouls Kit page. Coordinating supplies are below and on the site.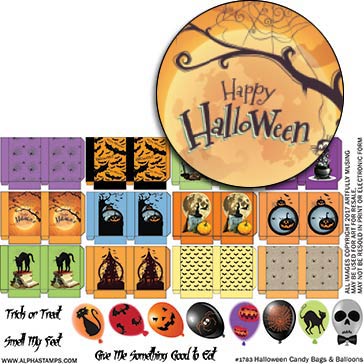 New FREE Gift: Halloween Candy Bags & Balloons Mini Sheet
Tiny candy bags for Trick-or-Treaters, approx. 1″ tall when folded together. Add a little ribbon for a handle and they're ready to use.
In honor of Laura Carson's fun Trick-or-Treater's ATC Double Sided Triptych using this collage sheet (also designed by Laura), ALL ORDERS on Sunday through Wednesday, September 3-6 (2017) will receive one of these collage sheets FREE!
The Halloween Candy Bags & Balloons Mini Sheet will automatically be added to all orders (physical or digital) placed on September 3rd through 6th, so you do not need to do anything special. Thanks!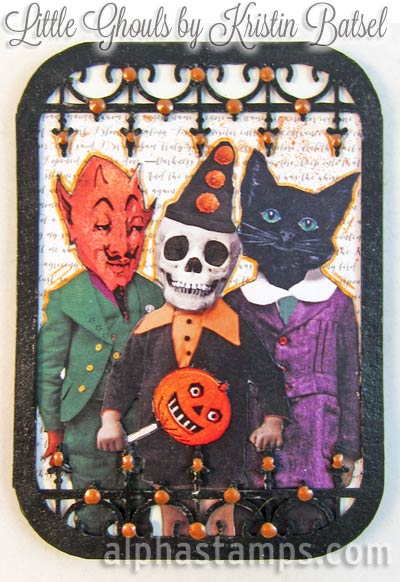 Hooray for the Little Ghouls Kit Giveaway!
Let's start with THE NEW KIT! That includes 4 collage sheets, 8 scrapbook papers, trims and TWO chipboard ATC card sets!
Next up in the Giveaway package: 2 items in Kristin's ATC at right that aren't in the kit:
– Little Demons Collage Sheet
– Wrought Iron ATC Card – 5 Points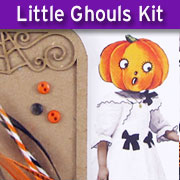 Note: there is another photo of 2 ATCs below (by Teri), using the new Bat Border ATC Card (already included in this Giveaway as it's in the kit) and the new Dragon Arch ATC Card — also include in the Giveaway! (That gives you 4 of the new ATC card sets!)
To enter the Little Ghouls Kit Giveaway drawing all you have to do is leave a comment BELOW on this blog post TODAY or TOMORROW or TUESDAY (the deadline is 11:59 pm PST, TUESDAY Night, September 5, 2017).
AND tell me: What will you make with all of these goodies?
Hey, who won the Star Fairies Tarot Cards Giveaway from Thursday's newsletter? That would be Leanne S! Congrats! Check your email for info.

Posted by Leslie, September 3rd, 2017