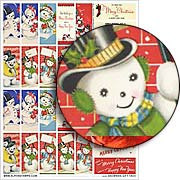 It's beginning to feel a lot like… hell? It was 103 yesterday and supposed to be hotter today. I'm hoping that all the cute new Christmas things (and the Christmas Collage Sheets sale ending tomorrow… AND a new FREE 1:12 scale toy train that would be perfect under a tiny tree) will convince me that it's snowing outside… hm.
Back to that collage sheet sale: ALL Christmas Collage Sheets on sale for 50% off, now through Monday Night, August 28th! This is a big group: Over 100 to choose from… like the Snowman Gift Tags Collage Sheet shown at left.
Shannon Cooper created Aunt Tess's Cupboard (using the Matchbox Cabinet and about a zillion tiny jars)… and I asked for comments about which tiny creation housed inside you'd like to have explained in a tutorial. Well… Shannon is going above and beyond again, as she made a tutorial for the top three requests!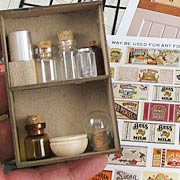 Before I preview the tutorials, if you scroll down just a bit, you can see a wide photo showing the finished foodstuffs inside the cupboard. And over on the far left of that photo is a jar of peaches (with red plaid fabric tied on top). That was the item with the most requests for a tutorial.

You can read the full process on Shannon's tutorial, but I'd like to point out my favorite part:
Spend 20 minutes meticulously arranging the peaches in the jar with a toothpick and then fill the jar with the mixed ICE Resin. Realize all of that arranging was fruitless (haha) because tiny air bubbles collected in the dimples of the peaches and spend another twenty minutes poking around at all of the bubbles with a stick pin, thus ruining the arrangement.
Aw… poor Shannon! At least she kept her sense of humor.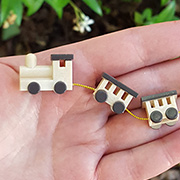 Here's the link to Shannon's original post; and read more about how Shannon made these teeny comestibles in Shannon's new blog post, and see the Giveaway below for more info on the supplies (and how to win them)!

New FREE Gift: Tiny Train Set!
Yes, I know… quite a treat. I normally have a new freebie once a week, but this week we'll have 2! Today and tomorrow only (August 27th & 28th, 2017): one of the new Tiny Train Sets will be sent FREE with every order! Such a cute little train… maybe for a Santa's workshop scene? There are some new Christmas papers that might get you in the mood, too…


Hooray for the Return of Tess's Cupboard Giveaway!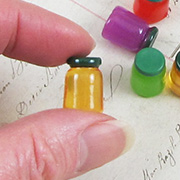 I'm starting the Giveaway with a few items I've picked out from Shannon's supply list. Starting with some of the tiny bottles in the top shelf:
– Baby Food Jars (psst! making the spice rack for the baby food jars is one of the tutorials!)
– Orange Marmalade Mini Resin Jar
– White Resin Cocoa Container
– Vintage Pantry Labels Half Sheet (you'll need some labels for the tiny jars!)
Then moving to the bottom shelf:
– Amber Resin Potions Bottle
– White Oatmeal Box
– White Resin Condiment Bottle
– A set of Even Tinier Bottles (the glass bottle in the peaches tutorial!)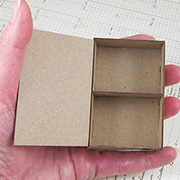 Well, I almost forgot: you'll need a Matchbox Cabinet, too!
Bonus #1: A new Tiny Train Set
Bonus #2: YOUR CHOICE: Pick out one of the Christmas Collage Sheets!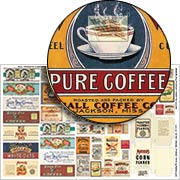 To enter the Return of Tess's Cupboard Giveaway drawing all you have to do is leave a comment BELOW on this blog post TODAY or TOMORROW (the deadline is 11:59 pm PST, Monday Night, August 28, 2017).
And tell me: Are you getting ready for Christmas? I know it may sound early, but quite a few orders last week included Christmas items… AND: what is your pick for the choose-your-own Christmas Collage Sheet?
Don't forget to leave your (hello! correct) email address, too, so I can contact the winner; your email address does not need to be made public. Note: I'm offering free shipping, too, but only within the USA. International shipping will still apply.
Please be patient! Spammers try to post crap here a lot so comments are moderated. So if you don't see your post in the comments section, be patient and check back in a few hours before re-posting it, please!
After midnight, I'll randomly pick the winner (via Random.org). So check your mailbox on Thursday morning to see who won and for the next Giveaway and Newsletter!
Hey, who won the Little Haunted House Book Giveaway from Thursday's newsletter? That would be Denise Humenik! Congrats! Check your email for info.

Posted by Leslie, August 27th, 2017