Note: most of the links on this post no longer work, as we moved to a new Web site in 2018. However, you can see the supply lists for Shannon's projects on the new site: Aunt Tess's Cupboard and Tiny Wishing Well.
Oooh! That talented Design Team Member Shannon Cooper has made TWO tiny wonders for us today! Before we ooo and ahhh, here's a reminder about the collage sheet sale and FREE kit, both ending tomorrow!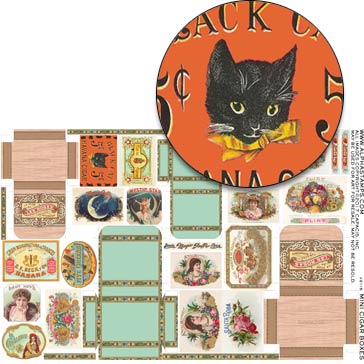 Continuing from Thursday and ENDS MONDAY night, July 24th:
NEW Mini Cigar Boxes FREE Collage Sheet!
In honor of Laura Carson's fab new addition to her Steamtown House (that includes some tiny cigar boxes amongst the many items in the study), I designed a new Mini Cigar Boxes Collage Sheet (with cigar boxes to fold together in 2 sizes plus a ton of options for tiny labels).
Free for ALL orders — through Monday night, July 24th! Note: all-digital orders will receive the collage sheet as a pdf file!
You do not need to do anything to receive the new collage sheet. In fact, IF you add it to your order, I'll assume you're buying a second copy.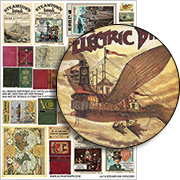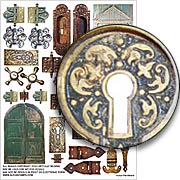 Also continuing from Thursday:
EVERYTHING in the Steampunk Collage Sheets section is on sale for 50% off!
The sale ends TOMORROW night, July 24th!
Note the sale also includes THREE new Collage Sheets by Design Team Member Laura Carson announced on Thursday (the new Steampunk Explorer Collage Sheet is shown at right)!
Over 30 to choose from! See them all

Aw… so darling! Shannon Cooper made a vintage cupboard (with paint appropriately cracked and with the "chicken wire" a little torn) using the Matchbox Cabinet and the new colors of mni resin jars (and a big bunch of other bottles and labels)!
(Psst! Scroll down just a little to the first wide photo to see the bottles on the inside shelves; there's also a photo of the full cabinet with the door open down in the Giveaway section.)
My cabinet decided it wanted to be old, well-used, and suitable for maybe an aging farmhouse. It was glued together, gessoed, then painted with beige paint. Finally, it was covered with white glue and a coating of white acrylic paint, creating the aged effect. The center of the door was cut out and "chicken wire" was added.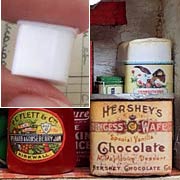 Inside the cupboard is every sort of pantry item you could think of. Even a condiment bottle and cocoa container! Having a few different collage sheets of labels made it really easy to fill the shelves. In about an hour, I had a handful of items after gluing on labels and occasionally painting a lid. There are two jars, one with peach halves and one with pickles, that were made from polymer clay, an even tinier jar, resin, and a scrap of fabric. There was still room to cram in a spice rack (thanks, Leslie!) and a few baby food jars worked perfectly as the spice containers. I love those jars. The lid comes off and you can fill it with (a tiny amount of) whatever you wish! I built a little rack from balsa wood and made concave sections to hold the jars at an angle by wrapping sandpaper around a thin dowel and sanding the wood. So simple.
The chicken wire is actually a piece of tulle netting that was colored with a silver Sharpie. The holes in the chicken wire were accidentally made with a heat gun, but I liked the look and left it.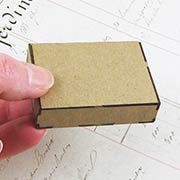 That Shannon is so inventive! Tulle as chicken wire is perfect, and making a tiny spice rack for "spice jars" from the (incredibly tiny) baby food jars!
Here's a link to Shannon's supply list for Aunt Tess's Cupboard, and stop by her blog to read more and see more photos.
Wait! There's more! Yes, Shannon was on a roll and created the tiniest wishing well you will ever see! (See the second wide photo below for some close-ups.) I don't know how she managed to get a wishing well, trees, tiny flowers and mossy rocks into a new Mini Cigar Box – Matchbox that's only 2-1/4″ tall! (That small photo at left is me holding one of these cigar boxes.) More info about it is also on Shannon's blog post, and here's a supply list just for the Tiny Wishing Well.


Hooray for the Vintage Kitchen Cupboard Giveaway!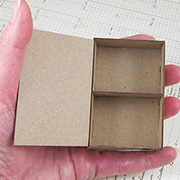 Here's a few highlights from Shannon's supply list. (Yes, all 21 items are included in today's Giveaway! Note: If an item is listed twice — if it's in the kit and also listed separately, for example — then you'll just be getting one of those items.) Starting with some of the tiny bottles in the top shelf:
– Baby Food Jars
– Orange Marmalade Mini Resin Jar – New
– White Resin Cocoa Container
Then moving to the bottom shelf:
– Amber Resin Potions Bottle
– White Oatmeal Box
– White Resin Condiment Bottle
– Vintage Pantry Labels Half Sheet (some of the varied labels!)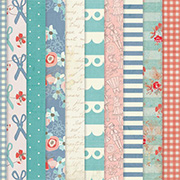 – Oh, and I almost forgot: That tiny red checked print as the shelf paper: Paper Dolls 6×6 Paper Pad
To enter the Vintage Kitchen Cupboard Giveaway drawing all you have to do is leave a comment BELOW on this blog post TODAY or TOMORROW (the deadline is 11:59 pm PST, Monday, July 24, 2017)!
AND tell me: Requests for tutorial(s) — or at least tips — from Shannon? Personally: I'm interested in how she made that tiny white paper bag (with the rolled-up top… bottom shelf in the cupboard) AND the tiny foliage and rocks at the base of the wishing well. But there are lots of options; just a few ideas: how she made the wishing well itself (and/or the tiny shingled roof), trees around the wishing well, spice rack (top of top shelf of cupboard), tiny peaches inside the jar with the red gingham fabric on top…. I'm sure there's more.
Don't forget to leave your (hello! correct) email address, too, so I can contact the winner; your email address does not need to be made public. Note: I'm offering free shipping, too, but only within the USA. International shipping will still apply.
Please be patient! Spammers try to post crap here a lot so comments are moderated. So if you don't see your post in the comments section, be patient and check back in a few hours before re-posting it, please!
After midnight, I'll randomly pick the winner (via Random.org). So check your mailbox on Thursday morning to see who won and for the next Giveaway and Newsletter!
Hey, who won the Victorian Study Giveaway from Thursday's newsletter? That would be Carol Slowik! Congrats! Check your email for info.
Posted by Leslie, July 23rd, 2017