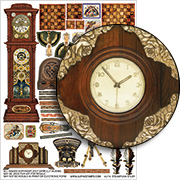 A new sale! EVERYTHING in the Steampunk Collage Sheets section is on sale for 50% off!
The sale ends Monday night, July 24th!
Note the sale also includes THREE new Collage Sheets by Design Team Member Laura Carson being announced today (the new Steampunk Study Collage Sheet is shown at left; more photos & info & artwork below)!
Over 30 to choose from! See them all

Wow! It's an action-packed newsletter so I'm plunging in!
First is this fun & witty The Wyrd Sisters School of Beauty by Design Team Member Lora Mahaffey. (The second project today is part two of the industrious Steamtown House by Laura Carson, and photos and more info is at the end of this post, down in the Giveaway zone!) Now back to Lora's fun project:
Welcome to the WYRD SISTERS SCHOOL OF BEAUTY!
Here at WySSBy we know that beauty goes deeper than skin!
Yes, indeed, and we are here to help you achieve your beauty goals. All you have to do is pick up the phone and call 1-800-555-WART and you'll be on your way to a beautiful new you!
New and REVOLUTIONARY Spider Lash Mascara, now in a Lush Leg Formula!
Updated and better-than-ever ADD-A-WART KIT! It's amazing!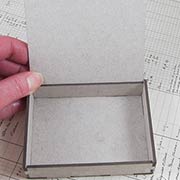 And just in case you are ever at a loss for a snappy comeback, we've included this new spell formula, THE SNARKY RETORT!
Wow! I think Lora may have had a bit too much caffeine (?). But I love the project! Kind of slyly sliding into Halloween art (in an unexpected palette of green and pink). I love the use of the 3″ x 4″ Mini Cigar Box as the box to house the "cosmetics", rotated and using the lid like a book cover. And that container of honey cream (with a pearl on top) is actually a paint can.
Curious about some item (mainly bottles & tiny boxes) you see in Lora's creation? Check out her supply list! And read more about The Wyrd Sisters School of Beauty on Lora's blog post!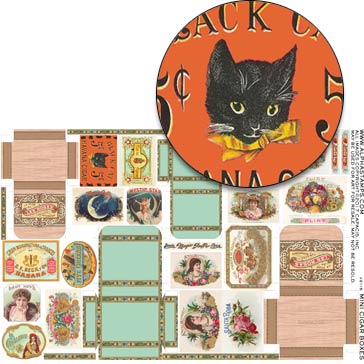 NEW Mini Cigar Boxes
FREE Collage Sheet!
In honor of Laura Carson's fab new addition to her Steamtown House (that includes some tiny cigar boxes amongst the many items in the study), I designed a new Mini Cigar Boxes Collage Sheet (with cigar boxes to fold together in 2 sizes plus a ton of options for tiny labels).
Free for ALL orders — through Monday night, July 24th! Note: all-digital orders will receive the collage sheet as a pdf file!
You do not need to do anything to receive the new collage sheet. In fact, IF you add it to your order, I'll assume you're buying a second copy.
BONUS: check below in the Giveaway for a chance to win one of these new collage sheets AND lots of supplies from Laura's artwork!

Hooray for the Victorian Study Giveaway!
But first! Let's talk (a little bit) about the Steampunk Explorer's Study that Laura Carson made in the bottom floor of her Steamtown House (here's a link to the last post from this series, with info on the house this study is built in). Remember the cello from a few week's ago? I can see a bit of it behind (and to the left of) the chair in the photo at right.
To start, I'll quote some of Laura's intro from her blog post: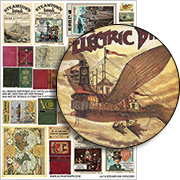 The wait is over, the identity of the new tenant of the house on Irongate Street is none other than H.G. Wells.
The Steamtown Weekly Journal has all the details with Amelia Goodbody snagging the exclusive interview. She covers topics like "Her Exciting Life in the Clouds", "Thrilling Adventures Traveling Around the World" and "What's Next For This Intrepid Explorer".
I love the brown chesterfield tufted chair with its velvet foot stool. Next to the chair are her favorite cigars (Lucky Fellow) and a decanter with her favorite brandy.
(Yes, that was "her exciting life…" and "her favorite cigars…")
And note: Laura's blog post has a lot more info and tips on building items (and more photos!) and includes a video tutorial.
OK… back to the Giveaway! I picked out a bunch of cool items that Laura used in her project (click here to see photos of her entire supply list, but only the ones listed below are in the Giveaway). Note: I constrained myself to just the chair scene shown in the larger photo above, and the cool chandelier hanging above the chair (close-up at left), but the whole room is shown in Laura's blog post.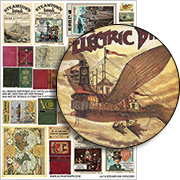 – Steampunk Explorer Collage Sheet – New
– Chesterfield Chair
– Victorian Table Kit – Black
– Brandy Decanter Kit
– Mini Wine Glasses – Set of 2
– Oval Metal Tea Tray
And Chandelier parts:
– Raw Brass Box Feet – Cones
– Amber Glass Globes – Set of 4
Plus the Mini Cigar Boxes Half Sheet (as promised!)
To enter the Victorian Study Giveaway drawing all you have to do is leave a comment BELOW on this blog post TODAY OR TOMORROW (the deadline is 11:59 pm PST, FRIDAY, July 21, 2017)!
And tell me: How will you use the chair & table and all these goodies? Bonus: What's your favorite tip in Laura tutorial video?
Don't forget to leave your (hello! correct) email address, too, so I can contact the winner; your email address does not need to be made public. Note: I'm offering free shipping, too, but only within the USA. International shipping will still apply.
Please be patient! Spammers try to post crap here a lot so comments are moderated. So if you don't see your post in the comments section, be patient and check back in a few hours before re-posting it, please!
After midnight, I'll randomly pick the winner (via Random.org). So check your mailbox on Sunday morning to see who won and for the next Giveaway and Newsletter!
Hey, who won the Fairy Apothecary Giveaway? Anne! Congratulations! Check your email for more info. (Note: we had 2 entries from women named Anne… this is comment #16, who signed simply "Anne".)
Posted by Leslie, July 20th, 2017