Let's take a brief break from all the potions & apothecary cabinets & impending Halloween-ness for… fairies! Before we look at TWO beautiful new projects and some flully clouds, here's a reminder about the miniatures sale and FREE kit, both ending tomorrow!
Continuing from Thursday and ENDS MONDAY night, July 17th:
Miniature Paint & Stamps FREE Gift Kit!
Since the artwork on Thursday used the Even Tinier Bottles (and Rhonda Thomas also made adorable miniature wood-mounted rubber stamps using a 3/8″ wide Basswood Strip) I'm including 1 of the bottles and a little sampler cut (3″) of each of the 3 widths of basswood strips! PLUS a custom mini collage sheet with a few of the labels from the new Tiny Craft Room Labels Collage Sheet (sized to make rubber stamps with the wood strips — and note: the wood is really easy to cut to size) plus a few labels that will fit the bottle (in a couple styles). You can get the A Witch's Grimoire or Secret Spell Book Labels Collage Sheets for more witchy labels to fit the same bottles (and both used by Teri). I also added some from the Tiny Magic Books & Potion Labels Collage Sheet.
Free for ALL orders — through Monday night, July 17th!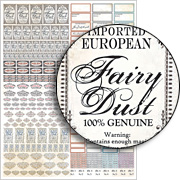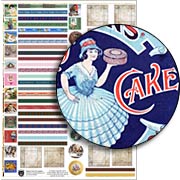 Also continuing from Thursday:
EVERYTHING in the Dollhouse Miniatures Collage Sheets section is on sale for 50% off!
The sale ends TOMORROW night, July 17th!
That includes the Teeny Tiny Tin Labels Collage Sheet and Fairy Dust Collage Sheet shown at left and right.
Over 80 to choose from! See them all

I know! Isn't that the cutest thing you've ever seen?! (And I bet you thought I was talking about Nichola when I said fairies… but just wait, she's got an adorable project today, too!)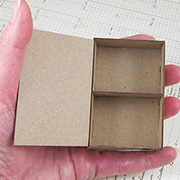 Design Team Member Kristin Batsel made this charming Lucky Stars project with the Matchbox Cabinet that's also included in this month's kit.
Did you ever wish upon a star, or thank your lucky stars? Well, then you're going to want to meet this little pixie, who sits up near the moon and collects those stars, making them available to those of us who need them. I made this tiny shadowbox using a Matchbox Cabinet from Alpha Stamps. Here's the little pixie, perched on a shelf, removing stars from the sky. He'll fill that bottle and store it below with previously harvested stars.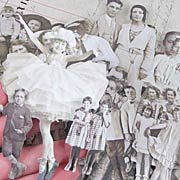 I love everything about this star-filled little shadowbox, from the teeny 3mm Gold & Silver Stars at the top to the Bronze Pentagram Charm hanging from the bottom!
Here's a link to Kristin's supply list, and stop by her blog to read more about this pixie and see more photos (and some tips about using sticky foam to elevate one floor of the cabinet).
What? There's more? Yes, Design Team Member Nichola Battilana has made a miniature version of a Fairy Apothecary she showed off earlier this week, using a new Mini Cigar Box – 3×4… you'll want to check out the Giveaway below for a photo and a chance to win EVERYTHING in her supply list! But first, look at those fluffy clouds and starry skies! I picked out some scrapbook papers perfect for the background of a pixie project.

Hooray for the Fairy Apothecary Giveaway!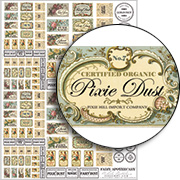 Oooo! Not only a fabulous (and fabulously busy) little shadowbox (note: that clever Nichola left the lid off the new cigar box, stood it on end and used it as a shadowbox), and a new collage sheet, made by Nichola, with all the sweet labels for the bottles, but… Nichola also made a video tutorial! She explains "recreating the look of authentic old glass. It's not over the top grungy… but it absolutely replicates the appearance fairly accurately."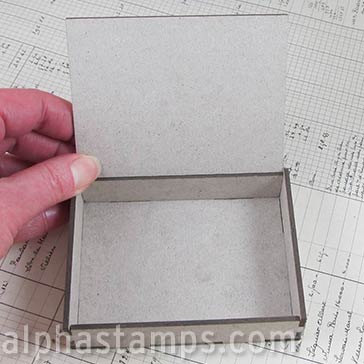 But before you run off and get engrossed in that video, here's a few highlights from Nichola's supply list (and. yes, all 16 items are included in today's Giveaway!) Starting with some of the tiny bottles down on the bottom row:
– Amber Resin Potions Bottle, a smaller version of same, and a Pickle Jar with Lid
– Corked Vials (the tall bottles)
– English Fairy Garden Collage Sheet (the butterflies!)
To enter the Fairy Apothecary Giveaway drawing all you have to do is leave a comment BELOW on this blog post TODAY or TOMORROW (the deadline is 11:59 pm PST, Monday, July 17, 2017)!
AND tell me: What will you do with all of those bottles? Will you use them in one project? Or do you have multiple ideas for using them?
Don't forget to leave your (hello! correct) email address, too, so I can contact the winner; your email address does not need to be made public. Note: I'm offering free shipping, too, but only within the USA. International shipping will still apply.
Please be patient! Spammers try to post crap here a lot so comments are moderated. So if you don't see your post in the comments section, be patient and check back in a few hours before re-posting it, please!
After midnight, I'll randomly pick the winner (via Random.org). So check your mailbox on Thursday morning to see who won and for the next Giveaway and Newsletter!
Hey, who won the Wise Woman's Giveaway from Thursday's newsletter? That would be Gilda McCain! Congrats! Check your email for info.

Posted by Leslie, July 16th, 2017