Note: as this is a holiday weekend here in the US: FREE shipping on orders over $50 (for orders shipping to USA) now through Tuesday night, July 4th!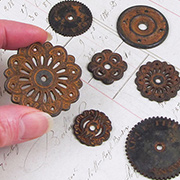 Continuing from Thursday and ENDS TUESDAY night: EVERYTHING in the Decorative Metal section is on sale for 25% off!
75 to choose from! Like the Finnabair Mechanicals Metals – Rustic Washers shown (and quite a few Tim Holtz items, too).
And the sale also includes all the gears, including 2 new rustic sets announced Thursday and used in Lora's fabulous mermaid artwork!
Some are being discontinued, so get 'em while you can, and while on sale! View all


NEW Matchbox Cabinet Kit
What a great little kit! And a haul of tiny bottles & tins to get you started filling your Matchbox Cabinet (that's also included in the kit)!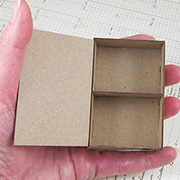 The Matchbox Cabinet is a chipboard set to put together a miniature cabinet with one shelf. Deceptively simple but has lots of uses (like: leave off the cover/door and use it as a small bookcase (or a shrine), or use one of the door (or doorframe with window insert) options on the related collage sheets in place of the chipboard door). See artwork below showing 2 door options.
AND the kit includes THREE collage sheets:
– Matchbox Cabinet Doors Half Sheet
– Vintage Pantry Labels Half Sheet
– Matchbox Cabinet Windows Half Sheet (printed on clear transparency!)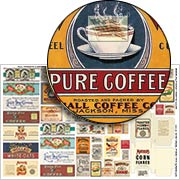 And all those bottles? There are so many things in the kit (13, actually!) that it's easier to just show you all of them.
Artwork! I love how this kit can be used in so many styles! The Pantry Is Full (see the first wide photo below) by Design Team Member Rhonda Secrist Thomas. More info (and more of that tutorial for making faux canned food — mini preview in the photo) in Rhonda's blog post and see the Giveaway below for some of her supplies.
Pocket Grimoire (see the second wide photo below) by Teri Calia, using two new collage sheets also designed for the Matchbox Cabinet! More info in the Teri's blog post and see the Giveaway below for some of her supplies.
More info and photos about the new kit are on the Matchbox Cabinet Kit page. And coordinating supplies are below and on the site.

Witchy & Kitchy FREE Gift Kit!
New FREE gift — through Tuesday night, July 4th!
In honor of the 2 diverse styles of artwork using the new Matchbox Cabinet, I picked out items that could be witchy or kitchen-y (that's "kitchy" not "kitschy")!
For ALL orders:
– one placesetting (3 pieces) of the new Mini Silverware,
– 3 pumpkin beads (a custom item, not available on the site), and
– one of the Miniature Rustic Brooms!

Hooray for the Matchbox Cabinet Kit Giveaway!
Let's start with THE NEW KIT! That includes a zillion little bottles, labels and the cabinet itself!
Next: some (more) items from Rhonda's supply list: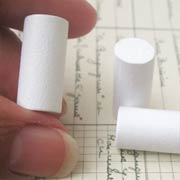 – White Oatmeal Box – New!
– White Resin Cocoa Container – New!
– Tiny Labels for Crates, Jars, & Cans Collage Sheet
– Little Household Goods Collage Sheet
– Small Square Brass Hinges

Then, some (more) items from Teri's supply list — all new!:
– Tiny Little Grimoires Collage Sheet
– A Witch's Grimoire Collage Sheet
– White Resin Condiment Bottle
– Mini Cigar Box Set
To enter the Matchbox Cabinet Kit Giveaway drawing all you have to do is leave a comment BELOW on this blog post TODAY, TOMORROW OR TUESDAY (the deadline is 11:59 pm PST, TUESDAY, July 4, 2017)!
AND tell me: What will you make in your Matchbox Cabinet?
Don't forget to leave your (hello! correct) email address, too, so I can contact the winner; your email address does not need to be made public. Note: I'm offering free shipping, too, but only within the USA. International shipping will still apply.
Please be patient! Spammers try to post crap here a lot so comments are moderated. So if you don't see your post in the comments section, be patient and check back in a few hours before re-posting it, please!
After midnight, I'll randomly pick the winner (via Random.org). So check your mailbox on Thursday morning to see who won and for the next Giveaway and Newsletter!
Hey, who won the Captured Mermaid Shrine Giveaway from Thursday's newsletter? That would be Nadine! Congrats! Check your email for info.

Posted by Leslie, July 2nd, 2017