Before we look at a really WOW project (with some new zingy colors), here's a reminder about the miniatures sale and FREE kit, both ending tomorrow!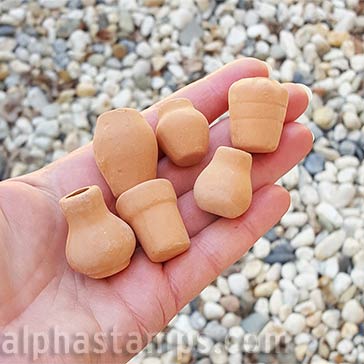 Continuing from Thursday and ENDS MONDAY night:
FREE Mini Clay Pot or Tiny Dog? Your choice or we'll pick!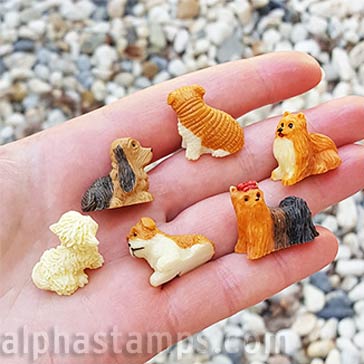 I just couldn't decide between these 2 new miniatures… each of which could be used on/near the new chaise or another 1:12 scale chair. Maybe you're not a dog fan? Then pick a clay pot (maybe leave the pot bare in a potting shed? Or (oh my!) check out Teri Calia's artwork below, 'cause those PURPLE pots are these clay pots, colored with the new Nuvo Embellishment Mousse – Royal Aubergine!

And orders over $50.00 can pick TWO (your choice… 2 dogs? 2 pots? 1 of each?)
Just leave your choice in the comments section when you check out. If you don't leave a comment, we'll pick one for you.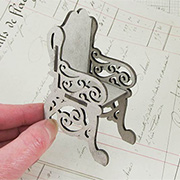 Also continuing from Thursday:
EVERYTHING in the 1:12 Scale Dollhouse Furniture section is on sale for 25% off!
The sale ends MONDAY night, June 26th!
Over 70 to choose from! Like the Fancy Chair 1:12 Scale shown.
And the sale also includes the new Chaise Lounge used by Shannon Cooper in Thursday's artwork!)
Some are being discontinued, so get 'em while you can, and while on sale! View all


See what I mean about WOW!? Teri Calia has made a crazy, colorful Dia de los Muertos Cat Mermaid Shrine! And a new collage sheet with parts to make an articulated cat mermaid paper doll of your own!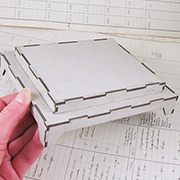 And before I turn this description over to Teri, her shrine is sitting on the new Stairstep Shrine Base! A base (with built-in feet) designed to use with the Arched Shrine Shadowbox, but is just a cool platform by itself! As you can see, it has lots of room for adding a little scene in front of the shrine.
A dia de los muertos (day of the dead) cat mermaid shrine?? Well, why the heck not? I love cats, day of the dead shrines and mermaids are really apropos right now. So, I created a collage sheet with mermaid parts to fit the awesome Articulated Mermaid Paper Doll so you can make this…
Isn't she cute?? I love her, she has so much attitude! Anyway, you could just make a mermaid (or two) with the new collage sheet and be done with the whole thing… or you could make a whole day of the dead shrine to house her in!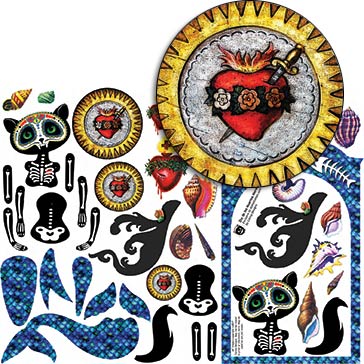 I made a shrine because I really do love day of the dead shrines and never need an excuse to make one.
The shrine is composed of an Arched Shrine Shadowbox, a Balcony Balustrade – 12 Inch, and a brand new Stairstep Shrine Base. Plus a whole bunch of brightly painted doodads…
I used the Tiny Scalloped Shingles or Scales Stencil – 5×5 Size to add some texture to the top of the shrine base…
Of course I used Nuvo Embellishment Mousse – Aquamarine to push through the stencil because this stuff is the most amazing thing on the planet! Not only is it awesome to paint with and dimensional enough to hold its shape through a stencil, it is iridescent and comes in some luscious colors too!!! It's now available in nine colors at Alpha Stamps. (To see the colors I used click on my supply list for this project.)
Read more in Teri's blog post! AND come back to enter today's Giveaway, as it includes tons of items from Teri's supply list! (Psst… check out those PURPLE clay pots below! And an offering of chocolate mice on the cat altar!)

Hooray for the Mermaid with Attitude Giveaway!
I picked out lots of the supplies used in Teri's artwork to include in today's Giveaway:
– Articulated Mermaid Paper Doll
– Arched Shrine Shadowbox
– Stairstep Shrine Base
– Dia de los Muertos Mermaid Collage Sheet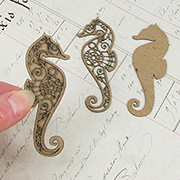 – Mini Steampunk Seahorse – Set of 2
– Coral Chipboard Set – 4 pieces
– Resin Tall Single Shell Applique (did you recognize them painted? see the close-up at right)
– Assorted Clay Pots – Set of 6
– Tiny Paper Roses – Orange
See photos of everything from Teri's project (including the subset in today's Giveaway) in her supply list.
Bonus: Not in Teri's artwork, but super cute (and just put on clearance!): I'm including a Tiny Window & Corners Silicone Mold! Lots of new things have been put on sale, so check the clearance section (or the sale section to see them sorted with the newest first)!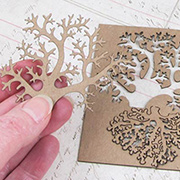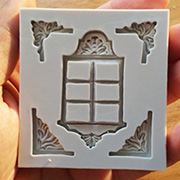 To enter the Mermaid with Attitude Giveaway drawing all you have to do is leave a comment BELOW on this blog post TODAY OR TOMORROW (the deadline is 11:59 pm PST, MONDAY, June 26, 2017)!
AND tell me: What zany mermaid will you make with your Articulated Mermaid Paper Doll and and your Arched Shrine Shadowbox?

Don't forget to leave your (hello! correct) email address, too, so I can contact the winner; your email address does not need to be made public. Note: I'm offering free shipping, too, but only within the USA. International shipping will still apply.
Please be patient! Spammers try to post crap here a lot so comments are moderated. So if you don't see your post in the comments section, be patient and check back in a few hours before re-posting it, please!
After midnight, I'll randomly pick the winner (via Random.org). So check your mailbox on Thursday morning to see who won and for the next Giveaway and Newsletter!
Hey, who won the Witchy Little Chaise Giveaway from Thursday's newsletter? That would be Carla! Congrats! Check your email for info.
Posted by Leslie, June 25th, 2017