It's the unofficial start of summer… there are new beachy brads (plus see beachy rubber stamps & paper sets added last Thursday). Before fun new artwork, new items (and a new sale section!) here's some sales and a FREE gift that started on Thursday.
Note: as this is a holiday weekend here in the US: 1/2 off shipping! YES! Now through Wednesday night (March 31, 2017) shipping will only cost $2.95 for orders over $50! Plus shipping is always free on orders over $100! (Both prices for orders only in the USA.)
New FREE GIFT with All Orders through Monday, May 29th (Memorial Day)!
Spider Web FREE Gift Kit! I was inspired by Teri Calia's Spiderweb Halloween Shadowbox, and put together this little spider web-themed kit! It includes mini sheets of FIVE Scrapbook papers (four at that link, 1 custom, and all on sale — see below), plus a snip of the Tim Holtz Jute String – Halloween (which is on clearance sale) and 2 spider webs: Antique Brass Spider Web and Chipboard Corner Spider Webs.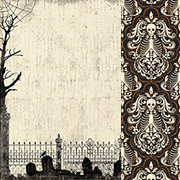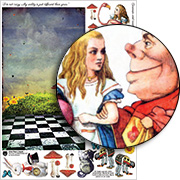 TWO Related Sales! The Catnip Designs Collage Sheets AND ALL Scrapbook Paper (Single Sheets) are on sale for 50% off!
Wow! Yes, this is the first time that all collage sheets designed by Teri Calia aka: Catnip Designs Collage Sheets are on sale! The collage sheet sale sale ends MONDAY night, May 29th!
Over 200 sheets to choose from (from Christmas and Halloween to tons of Alice in Wonderland)! Go see!
Plus ALL Scrapbook Paper (Single Sheets) are 50% off – Through Wednesday night, May 31st! Woohoo! That is a lot of paper to choose from. A couple are in the new gift kit (above). Over 200 options (and bunches of Halloween options, like that Mysterious Skeleton Damask one at right)! Go check 'em out!

NEW sale (actually TWO): Cast Metal Miniatures and Bead Caps are 50% off! That choice of the beads caps will make sense when you see the cool new Brandy Decanter Kit! Plus a bunch of new beads caps announced today are included in the sale!
Plus see that teaser at right for an idea of how easily you can turn the raw metal minis into painted props!
These 2 new sales (and the scrapbook paper sale) all end Wednesday night, May 31st! See the new sales: Cast Metal Miniatures and Bead Caps


Design Team Coordinator Miz Bella (Kim Ayers) has outdone herself with a TINY little scene in a Small Frame Shadowbox: Parfumerie Grenouille Shadowbox. I'm showing the little table used in the scene so you can get an idea of how tiny it all is.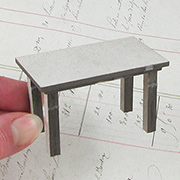 I sooo love the artwork today! Bella really excels at Halloween (actually, I think the entire Design Team does… can't it be Halloween all the time?!) I'll just let Bella introduce her piece, as she has the gift of gab:

Perfume: The Story of A Murderer by Patrick Suskind has long been one of my all-time favorite books. I've never seen the movie, I just don't know how they could even come close to the broken & diabolical mind of Jean-Baptiste Grenouille. If you are not familiar with the storyline, here is a brief description without giving away too much of the story, courtesy of Amazon: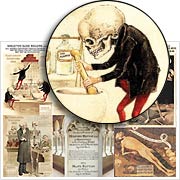 "In the slums of eighteenth-century France, the infant Jean-Baptiste Grenouille is born with one sublime gift — an absolute sense of smell. As a boy, he lives to decipher the odors of Paris, and apprentices himself to a prominent perfumer who teaches him the ancient art of mixing precious oils and herbs. But Grenouille's genius is such that he is not satisfied to stop there, and he becomes obsessed with capturing the smells of objects such as brass doorknobs and fresh-cut wood. Then one day he catches a hint of a scent that will drive him on an ever-more-terrifying quest to create the 'ultimate perfume'…"
The theme for the month of May has been "The Collector's Room" or what you imagined one would look like.
What better room for me to create than what I imagine Parfumerie Grenouille might look like. Well, it was either that or something related to Poe. (Poe won out for my Halloween project idea, I can't wait to get started on that!)
For more on Monsieur Grenouille, visit Bella's blog post! AND see everything in her crazy supply list (and lots from this list is included in today's Giveaway)!

Hooray for the Parfumerie Shadowbox Giveaway!
So many wonderful supplies to choose from! I'm including these items from Bella's Parfumerie Grenouille Shadowbox to include in today's Giveaway:
– Mini Clear Resin Whiskey Bottle (I spy a couple of them, colored with Copic pens to look pastel)
– Mini Mason Jars – Set of 3
– Ghoulish Green Mini Resin Jars
– Mini Resin Honey Jars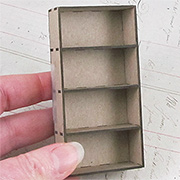 – 1:24 Bookcase (Bella gave it a wee haircut and made it with 3 shelves)
– Simple 1:24 Table
– DIY Potion Bottles Bead Mix
– DIY Tiny Bottle Stoppers Mix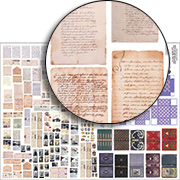 – A Ladys Boudoir Ephemera Collage Sheet
– Skeleton Slide Mailers Collage Sheet
– Victorian Tiny Little Books Collage Sheet
– Mini Perfume Labels Collage Sheet
– Secret Spell Book Labels Collage Sheet
– Witchy Little Labels & Ephemera Collage Sheet
– Red Czech Glass 4mm Smooth Rondelles
– Jet Black 4mm Smooth Rondelles

See photos of everything from Bella's project (including the big subset in today's Giveaway) in her supply list.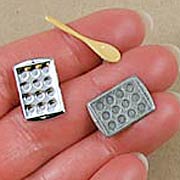 And I'm also including a set of the Muffin Pans & Mixing Spoons Metal Brads!
(Back in stock; Snip off the brad back and could be kitchen props in dollhouse scale. )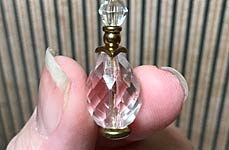 AND a Brandy Decanter Kit! (Not in bella's artwork, but new and really nice!)
To enter the Parfumerie Shadowbox Giveaway drawing all you have to do is leave a comment BELOW on this blog post TODAY OR TOMORROW (the deadline is 11:59 pm PST, MONDAY, May 29, 2017)!
AND tell me: What all will you make with this (odd) group of items? You could go sweet and make a lady's dressing table. Or spooky and make potions. Or both with this much stuff!
Don't forget to leave your (hello! correct) email address, too, so I can contact the winner; your email address does not need to be made public. Note: I'm offering free shipping, too, but only within the USA. International shipping will still apply.
Please be patient! Spammers try to post crap here a lot so comments are moderated. So if you don't see your post in the comments section, be patient and check back in a few hours before re-posting it, please!
After midnight, I'll randomly pick the winner (via Random.org). So check your mailbox on Thursday morning to see who won and for the next Giveaway and Newsletter!
Hey, who won the Spiderweb Shadowbox Giveaway from Thursday's newsletter? That would be Gail S! Congrats! Check your email for info.
Posted by Leslie, May 28th, 2017