Note: most of the links on this post no longer work, as we moved to a new Web site in 2018. But you can try searching on the same names (as links below) on the new site.
Before fun new artwork, new items (and a new sale section!) here's some sales and a FREE gift that started on Thursday.
New FREE GIFT with All Orders through Monday, May 22nd!
Wizard Potions FREE Mini Kit! I was inspired by all the fabulous little potion bottles in Teri Calia's Wizard's Potion Making Table artwork, and put together this little set of beads (with tinier beads to use as stoppers), bronze charms, a mini resin jar, and a miniature book! Plus I included a miniature wooden block that you could decorate to appear like the parcels under Teri's table. Some items are custom, some are available to purchase separately — and the Tiny Bronze Shield Connectors and Antique Bronze Owl Charms were just put on clearance sale!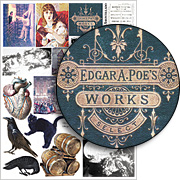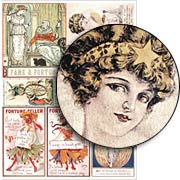 Related Sale! The Halloween Collage Sheets are on sale for 50% off!
Yes, it is getting to be THAT time! And with all the wonderful items in Teri's artwork (that could be used as sweet perfume bottles or as spookier poison bottles) it seemed a good match to put the Halloween Collage Sheets on sale!
The collage sheet sale is also ending MONDAY night!
148 sheets to choose from! Go check out the sale

NEW sale: ALL Scrapbook Paper Pads and Sets are 50% off! Perfect timing for papers to use with the new Quote Bubbles for Altoids Tins Collage Sheet Set, to make a Pocket Affirmation Altered Tin like Kristin's altered tin below! And it even includes the 3 new pads being announced today!
The paper sale ends Wednesday night, May 24th! See them all now!


Design Team Member Kristin Batsel
made an adorable little giftie: a Pocket Affirmation Altered Tin. Soooo clever: she made a cover with a tab that hides a pocket for cards with different phrases (affirmations). It was made with a tiny tin (smaller than the Blank Altoids Tins) but I've gone crazy and created a 2-collage-sheet set so you can make your own altered tin (with changeable quotes in a pocket), too.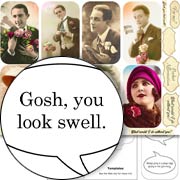 My version (Quote Bubbles for Altoids Tins Collage Sheet Set) includes a template so you can cut the papers on the left (pocket side) from scrapbook paper, TWELVE different quotes (and mine are not all as sweet as in Kristin's project… though she suggested some of my snippier quotes…), AND my version includes 8 silly vintage photos of guys and gals who could be giving the encouragement.
Some of the nice (and not so nice) quotes:
You're so darn creative!
Gosh, you look swell.
What would I do without you?
I love you like I've been drinking all day.
Whatever you say, darling.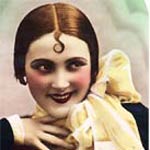 I added directions (via photos with captions) on the collage sheet page. But I think after seeing Kristin's tin at right, you'll be able to imagine how to put one of these together with ease.

Psst! Another great altered tin by Kristin (see the wide photo below with the sweet kids and puppy dog)! And perfect timing as the long-out-of-stock Tim Holtz Sepia Vintage Paper Dolls that she used are back in stock! More info on Kristin blog post.

Highlights of the Scrapbook Paper Pads and Sets
50% off Sale!
I like how Kristin used a small (busy) pattern in the background of her tin (I think it kind of hides the "seam" where the overlay tucks into the pocket). So while I was checking stock before the sale, I took some photos of some pads with small prints I think would be perfect for an altered tin (using the template for the tin to show scale). Just click on any of the photos to jump to that sale paper.


Hooray for the Pocket Affirmation Tin Giveaway!
A little this and a little that… you should be able to make a couple gift altered tins (or maybe one to gift and one to keep) from the goodies included in today's Giveaway: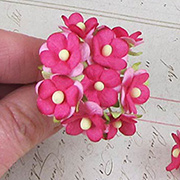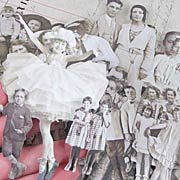 – Quote Bubbles for Altoids Tins Collage Sheet Set – new
– TWO Blank Altoids Tins
– Tim Holtz Sepia Vintage Paper Dolls
– Scrap Yard 6×6 Paper Pad – new and half price!
– Dapper 6×6 Paper Pad (the teal blue prints should make good backgrounds for the images in the new collage sheets)
– Small Bright Pink Mulberry Blossoms (there seems to be a lot of pink in the photos in the new collage sheet set, so these should be useful)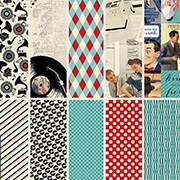 And I'm also including one of the Wizard Potions Mini Kits! See Thursday's newsletter for what this is all about (and to see Teri's art that inspired it).
To enter the Pocket Affirmation Tin Giveaway drawing all you have to do is leave a comment BELOW on this blog post TODAY OR TOMORROW (the deadline is 11:59 pm PST, MONDAY, May 22, 2017)!
AND tell me: What quotes will you use in your altered tins?
Don't forget to leave your (hello! correct) email address, too, so I can contact the winner; your email address does not need to be made public. Note: I'm offering free shipping, too, but only within the USA. International shipping will still apply.
Please be patient! Spammers try to post crap here a lot so comments are moderated. So if you don't see your post in the comments section, be patient and check back in a few hours before re-posting it, please!
After midnight, I'll randomly pick the winner (via Random.org). So check your mailbox on Thursday morning to see who won and for the next Giveaway and Newsletter!
Hey, who won the Wizard's Table Giveaway from Thursday's newsletter? That would be Lynne! Congrats! Check your email for info.
Posted by Leslie, May 21st, 2017