Before lovely new artwork, new items (and a new sale section!) here's some sales and a FREE gift that started on Thursday.
New FREE GIFT with All Orders through Monday, May 15th!
Games People Played FREE Gift Kit including the fun new Games People Played Collage Sheet!
AND 2 of the Narrow Blank Matchboxes (so you can make some dollhouse scale game boxes of your own)! Instructions are on the new collage sheet page.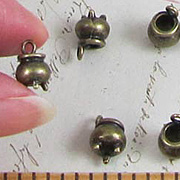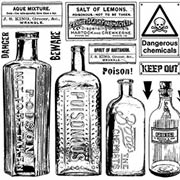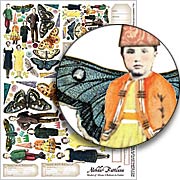 Related Sales! The Children Collage Sheets are on sale for 50% off!
AND the 1:12 Dollhouse Toys and Holiday Decor sections (both of which include lots of miniature toys… and Halloween and Christmas) are on sale for 25% off!
NEW sale: Alchemy Rubber Stamps are 50% off!
The sales are through MONDAY night, too!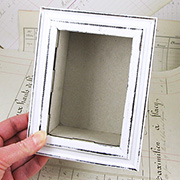 Oooh! Another fab project using the new Small Frame Shadowbox! This project is SO tiny. (One of Design Team Member Shannon Cooper's specialties!) The inside shadowbox area is approx. 3-1/4″ x 4-3/4″ and 2″ deep… and see that little pic (below) of Shannon holding a Half Scale Liquor Bottle for an idea of how small these half scale bottles are (and also that wide photo below showing some of the steps for turning a green wine bottle into a potion bottle).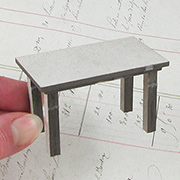 I started with a wee Simple 1:24 Table, a few glass bottles, and basswood strips and eventually ended up with Odd Doctor Olaf's room of hodgepodgery.
The table might be my favorite part because I wonder what that queer doc is concocting! The wooden tray is made from a 1/4″ wide Basswood Strip, and the syringe is a ball-end head pin with thin wire wrapped around the top and then glued into a small glass bugle bead. (Aside: that girl is SO clever!)
I'm going to point out a couple more wee things from the top of the photo at right:
– The Half Scale Metal Tea Set (a plate, spoon and a creamer from this set are on the table),
– Jet Black 4mm Smooth Rondelles (they look almost chunky as bottle stoppers in this scale (3 are on the shelf above table… a closeup is below, too), but these are quite small… AND they're 50% off!)

I used a 3/8″ wide basswood strip and a toothpick to build a shelf along the length of the shadowbox to have a place for books, vials, tonics, serums, medicines, a scalpel… you know, all the things you'd expect an odd doctor to have.

And Shannon posted a tutorial for turning TINY half scale wine bottles into potion bottles! Be sure to visit Shannon's blog post for more photos and tips! And scroll down to enter the Giveaway to win lots of the goodies from Shannon's Supply List!

Psst! Another aside… the new Chesterville Scrapbook Papers would make quick grungy/distressed walls for a mad scientist's lair…

Hooray for the Tiny Room of Hodgepodgery Giveaway!
Oh my… so many cute (and TINY) items are in Shannon's supply list… i almost didn't know when to stop! All of these items from her supplies are included in today's Giveaway: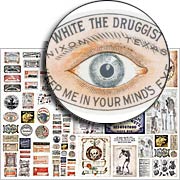 – Simple 1:24 Table
– Witchy Little Labels & Ephemera Collage Sheet
– Half Scale Cocktail Shaker (oh, check the photo… it's used as 2 separate parts… of some kind of science-y looking contraption)
– Half Scale Green Wine Bottle
– White Turquoise Skull Beads – 12mm
– Basswood Strips – 3/8 Inches Wide (used as the shelf)
– Basswood Strips – 1/4 Inches Wide (used to make the tray on the table, and used as baseboards, too)
– Secret Spell Book Labels Collage Sheet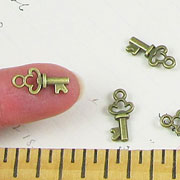 Just click on this supply list link to see photos of everything (including this spiffy subset in the Giveaway).
And these bonus items (not in Shannon's artwork):
– 17mm Bronze Diary Keys – just put on clearance! And check the sale page as lots of nice items have also just been put on sale.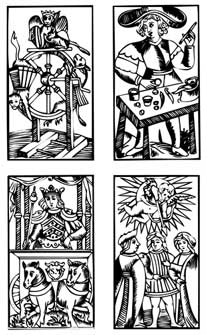 – Tarot Cards 4-Stamp Set (as a set of unmounted stamps… and part of the new sale: Alchemy Rubber Stamps are 50% off!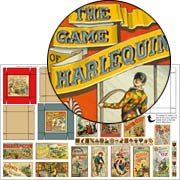 And I'm also including one of the Games People Played FREE Gift Kits! See Thursday's newsletter for what this is all about.
To enter the Tiny Room of Hodgepodgery Giveaway drawing all you have to do is leave a comment BELOW on this blog post TODAY OR TOMORROW (the deadline is 11:59 pm PST, MONDAY, May 15, 2017)!
AND tell me: What will you make with your Simple 1:24 Table? And what repurposed item from Shannon's project gives you ideas?

Don't forget to leave your (hello! correct) email address, too, so I can contact the winner; your email address does not need to be made public. Note: I'm offering free shipping, too, but only within the USA. International shipping will still apply.
Please be patient! Spammers try to post crap here a lot so comments are moderated. So if you don't see your post in the comments section, be patient and check back in a few hours before re-posting it, please!
After midnight, I'll randomly pick the winner (via Random.org). So check your mailbox on Thursday morning to see who won and for the next Giveaway and Newsletter!
Hey, who won the Make Your Own Game Giveaway from Thursday's newsletter? That would be Jan K! Congrats! Check your email for info.
Posted by Leslie, May 14th, 2017