New FREE GIFT with All Orders through Monday, May 8th!
Mini Game Spinners FREE Gift Kit including the fun new Mini Game Spinners Collage Sheet!
The Gypsy & Playing Cards Collage Sheets are on sale for 50% off
AND the Game Pieces and Miscellaneous Items (HUGE) section is on sale for 25% off!
Both sales are through MONDAY night, too!


I LOVE what Design Team Member Nichola Battilana has made with the NEW Small Frame Shadowbox! That shadowbox is actually a set: a heavy chipboard shadowbox made to fit the back of a shabby chic white wooden picture frame (both parts are included). It's pretty tiny (the inside shadowbox is approx. 3-1/4″ x 4-3/4″ and 2″ deep). And the shadowbox kind of extends this month's theme into a mini 3D form.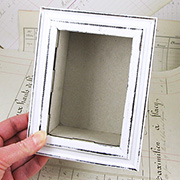 I wanted to create a space filled with bits that might have been collected on adventures, an assortment of oddities. A sort of kooky gentleman's library, or study.
Every gentleman's library needs books. These new shelves are filled with them! Well… not really… they're simply facades cut from the Window Card Cabinets Collage Sheet.
Another 'must have' in a real gentleman's study is a stag head and the Mini Deer Head Trophy is perfect!
There are A LOT of amazing little oddities in my collectors room. All of the products used are listed below but some of my very favourites that deserve and extra shout out: Miniature Flying Bats, Pewter Candlesticks, Ceramic Gargoyle Bead and perhaps my favourite little bauble of all the wee Ceramic Red Devil Bead.
That wee American Crow ain't so bad either!
[Aside: I love that this gentleman's study includes Tiddledy Winks!]
Here's the full list of supplies if you want to create your own collectors room, or if you just see something you might fancy.
And be sure to visit Nichola's blog post for more photos! And scroll down on this post to enter the Giveaway and win lots of the goodies Nichola used!


Hooray for The Collector's Room Box Giveaway!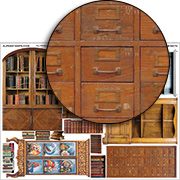 Oh my… so many cute little items are in Nichola's supply list… i almost didn't know when to stop! All of these items from her supplies are included in today's Giveaway:
– Amber Resin Potions Bottle
– Antique Bronze Bird Skull Pendant
– Bronze Binoculars Charm
– Ceramic Gargoyle Bead
– Small Ceramic Skull Bead
– Ceramic Red Devil Bead
– Kitchen Wall Shelf Unit – Chipboard (New and just fits in the new shadowbox!)
– Miniature Flying Bats
– Set of Metal Ginger Jars
– Window Card Cabinets Collage Sheet (for those faux books)
– Small Frame Shadowbox (New!)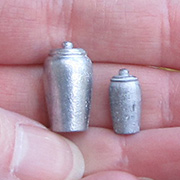 Just click on this supply list link to see photos of everything (including this spiffy subset in the Giveaway).
To enter The Collector's Room Box Giveaway drawing all you have to do is leave a comment BELOW on this blog post TODAY OR TOMORROW (the deadline is 11:59 pm PST, MONDAY, May 8, 2017)!
AND tell me: What will you make with your Small Frame Shadowbox? Will you use some of the other Giveaway items in the same project (or in another)?
Don't forget to leave your (hello! correct) email address, too, so I can contact the winner; your email address does not need to be made public. Note: I'm offering free shipping, too, but only within the USA. International shipping will still apply.
Please be patient! Spammers try to post crap here a lot so comments are moderated. So if you don't see your post in the comments section, be patient and check back in a few hours before re-posting it, please!
After midnight, I'll randomly pick the winner (via Random.org). So check your mailbox on Thursday morning to see who won and for the next Giveaway and Newsletter!
Hey, who won the Make Your Own Game Giveaway from Thursday's newsletter? That would be Kathlene Ford-Walters! Congrats! Check your email for info.
Posted by Leslie, May 7th, 2017