Note: most of the links on this post no longer work, as we moved to a new Web site in 2018. However, you can see the supply list items from Teri's and Caroline's projects that are still available on the new site.
Before we look at new artwork, new collage sheets, 2 new paper sets and a new kit (!) a reminder about the current sales and FREE kit!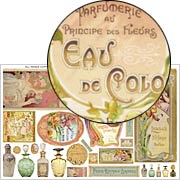 Continuing from Thursday and ENDS MONDAY night:
Nouveau Perfume FREE Gift Kit!
In honor of the Portrait of a Lady collection — and artwork by Teri Calia (both including beautiful perfume bottles) ALL ORDERS through Monday, May 1st (2017) will receive a FREE Gift Kit!
More info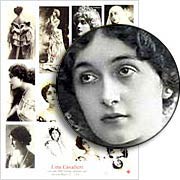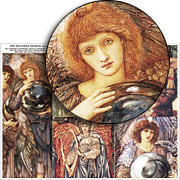 Also continuing from Thursday: TWO sales!
The Tallulah's AND Art Nouveau Collage Sheets are on sale for 50% off through MONDAY night, too! Over 60 sheets… from Moulin Rouge to Fall and Christmas images. And the lovely Caroline Otero and Cléo de Mérode, too!
The sale ends Monday night, May 1, 2017.
See the Tallulah's & Art Nouveau Collage Sheet Sections.


This kit started with the new Architextures 8×8 Paper Pad. It's a fun set of images… all kinds of shabby chic things, from picture frames (with odd portraits) to doors and windows (and some big things like the side of an old building and a car). By the way, the page of doors in this pad is a good size for making a little scene seen through the window in the new Gatefold Window Card (the window card is also in the kit).
Speaking of the window card, see below for 2 wide photos showing off artwork made with the card (each of which is a different idea). Teri Calia made a double-sided standing card (on a wood rubber stamp mount as a base) with inside/outside scenes. And Caroline Ouzts-Hay made a gatefold mini book with a surprise "reveal" inside. Both unique and clever ideas!
I created 3 new collage sheets in the kit (plus a bonus mini collage sheet exclusive to the kit):
– Window Card Cabinets Collage Sheet
– Gatefold Window Curtains Collage Sheet
– In My Art Studio Collage Sheet (Wow! This is a big bunch of odd things! I thought about my craft room and some of my friends before I gathered this group of items (all sized small enough to work with the Gatefold Window Card).)
Back to that question: What do you collect?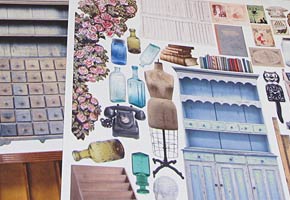 I'm going to be creating collage sheets all month based on what YOU collect! What other little props (or furniture?) would you want to use in a window card showing YOUR studio (things you actually collect or your fantasy art studio). So what do you collect? Comment in the today's Giveaway and give me some ideas!
Alice in the Library… and Outside (see the first wide photo below) by Teri Calia. More info in the Teri's blog post and/or see her supply list.
Secrets of a Library (see the second wide photo below) by Design Team Member Caroline Ouzts-Hay. More info in the Caroline's blog post and/or see her supply list.
More info and photos about the new kit are on the Collector's Room Kit page. And coordinating supplies are below and on the site.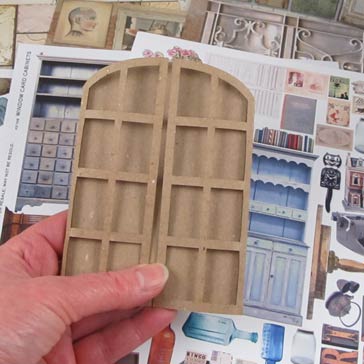 Hooray for the Collector's Room Kit Giveaway!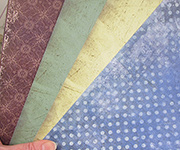 Let's start with THE NEW KIT! That includes 4 new collage sheets, 12 sheets of paper, and the chipboard window card!
New Junk Collector's 12×12 Paper Set (not in the kit but certainly related… and used by both Teri and Caroline as background papers in their projects!) That's 8 more papers!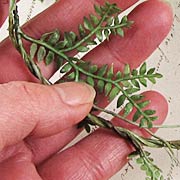 Since both art projects use greenery around the outside window frame, Fern Garland.
AND finally (as Teri has an Alice in Wonderland themed project… and Alice is eternal) these Alice-y items from Teri's supply list: Alice Plays Croquet Collage Sheet and a Micro Mini Flamingo.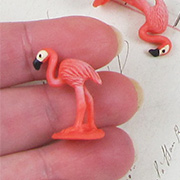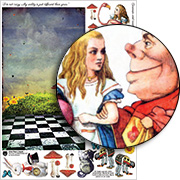 To enter the Collector's Room Kit Giveaway drawing all you have to do is leave a comment BELOW on this blog post TODAY OR TOMORROW (the deadline is 11:59 pm PST, MONDAY, May 1, 2017)!
AND tell me: What other little props (or furniture?) would you want to use in a window card showing YOUR studio (things you actually collect or your fantasy art studio). What do you collect?
Don't forget to leave your (hello! correct) email address, too, so I can contact the winner; your email address does not need to be made public. Note: I'm offering free shipping, too, but only within the USA. International shipping will still apply.
Please be patient! Spammers try to post crap here a lot so comments are moderated. So if you don't see your post in the comments section, be patient and check back in a few hours before re-posting it, please!
After midnight, I'll randomly pick the winner (via Random.org). So check your mailbox on Thursday morning to see who won and for the next Giveaway and Newsletter!
Hey, who won the Pretty Little Perfumey Things Giveaway from Thursday's newsletter? That would be Traci! Congrats! Check your email for info.
Posted by Leslie, April 30th, 2017