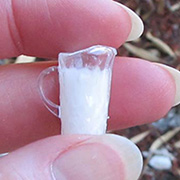 A NEW SALE: Inspired by today's new cooking-themed items: ALL Food & Beverage Miniatures are 30% off! Over 50 items! And that sale includes the Pitcher of Milk shown at left (and used by Teri Calia in today's artwork)! The sale ends TUESDAY night, April 25th at midnight PST (April 25, 2017). See below for a few highlights or go check 'em out now!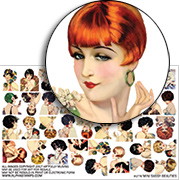 Continuing from Thursday and ENDS MONDAY night: SPECIAL FREE GIFT! In honor of Laura Carson's Art Deco Style Paper Fans, ALL ORDERS through TOMORROW NIGHT, April 24th (2017) will receive one of the new Mini Sassy Beauties Collage Sheets FREE!
AND all orders over $24 will receive one of the mini collage sheets AND a set of the new Mini Fan Blades FREE! They're a mini version of the Venetian Fan Blades… only 3″ tall! Perfect for making a little fan that fits in an ATC pocket (or attach the blades to an ATC with a brad so you can unfurl your fan). And I love that mini fan at right that Laura made! More info (or to buy additional sets!)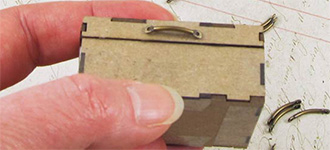 Also continuing from Thursday: ALL Findings are 30% off! Over 50 items! All those little bits and bobs… connectors, clasps, jump rings… and it includes the Small Antique Brass Suitcase Handles shown at left! The sale ends MONDAY night, April 24th at midnight PST (April 24, 2017). View them all!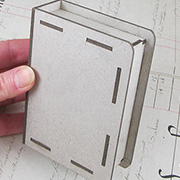 It's a nice change of pace to see the Hidden Drawer Book Box – ATC Size used as a hidden shrine (instead of an ATC box)… with a snappy retro food theme, by Teri Calia. See the photo below for how the hidden drawer slides out (and you can just see the 3D Pitcher of Milk inside the drawer).
I've been doing a lot of multi media and three dimensional art lately and felt the need to do something a bit simpler and more collage-y. So, I grabbed one of the adorable Hidden Drawer Book Box – ATC Size and a brand spankin' new Saucy 6×6 Paper Pad and got to work creating this sweet "Let's Eat" shrine.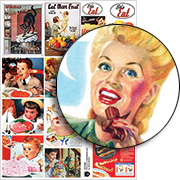 (That new paper pad is really sweet(!): A retro-themed pad with some nice small prints for making ATCs or cards, like tiny aprons and brightly-colored dishes (and cakes).)
With the exception of one tiny little pitcher of milk, the whole thing is made of paper. Some of the paper is from a new collage sheet I created just for this project. It has lots of kitschy images of food and people eating and goes great with the Saucy paper.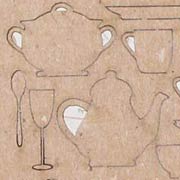 I also begged Leslie to have a little set of chipboard kitchen shapes cut, thus giving birth to Tiny Kitchen Items 🙂
(Note: that chipboard set has 29 pieces! Just a close-up of a portion is shown here. Pots & pans, teapots, silverware, cups, wine glasses, plates, coffee pot…)
Don't they look adorable painted black?
Inside my little shrine is a darling little girl, dressed for Sunday dinner, with a straw hat perched jauntily on her head. It appears dinner is just being served…

(Aside: I'm going to butt in here and say that little girl looks manic from too much sugar… not "darling"!)
Haha! Looks like my kind of dinner! Yummy cupcakes and a glass of milk, what could be sweeter? And there's that tiny Pitcher of Milk I spoke of earlier.
I hope you enjoyed my kitschy sweet Let's Eat shrine and it will inspire you to either go out and eat a dozen doughnuts or, better yet, make a shrine of your very own!
Read more in Teri's blog post. See photos of everything used in Teri's project (most of which are also in today's Giveaway!) in her supply list.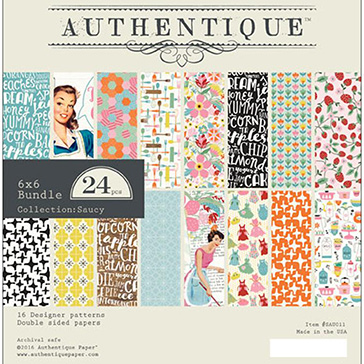 Hooray for the Saucy Giveaway!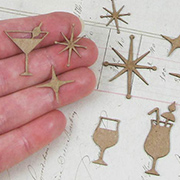 Oooh! Let's start with a big bunch of items from Teri's supply list:
– Hidden Drawer Book Box – ATC Size
– Saucy 6×6 Paper Pad (New!)
– Let's Eat Collage Sheet (New!)
– Tiny Kitchen Items (New!)
– Retro Cocktails & Dingbats Chipboard Set
– Pitcher of Milk (Part of the 30% off sale on Mini Food & Bev!)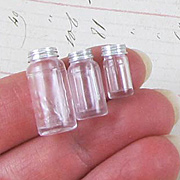 Next, did you notice in the "New" section above that we're now carrying the 3 separate sizes of the popular Mini Mason Jar Set (Maybe you need a bunch of one size for a tiny pantry?) Well, you may not know which size fits your need so I'm including the set of all 3 sizes! These are so cool as they are hollow and you can put stuff inside!
AND finally: a set of Mini Fan Blades – Set of 5 AND a Mini Sassy Beauties Collage Sheet… both are currently on offer FREE for orders over $24 (click either link for more info, and photos of both are at the top of this page).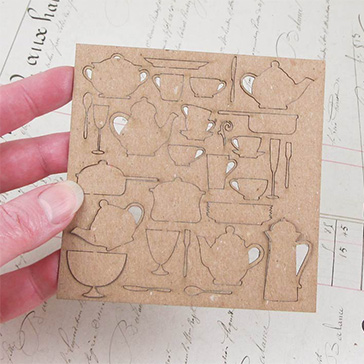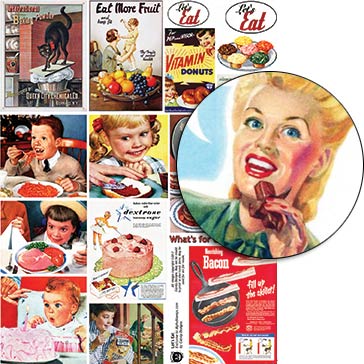 To enter the Saucy Giveaway drawing all you have to do is leave a comment BELOW on this blog post TODAY OR TOMORROW (the deadline is 11:59 pm PST, MONDAY, April 24, 2017)!
AND tell me: What plans do you have for the goodies in this Giveaway package? Maybe turn that Hidden Drawer Book Box into a recipe box?
Don't forget to leave your (hello! correct) email address, too, so I can contact the winner; your email address does not need to be made public. Note: I'm offering free shipping, too, but only within the USA. International shipping will still apply.
Please be patient! Spammers try to post crap here a lot so comments are moderated. So if you don't see your post in the comments section, be patient and check back in a few hours before re-posting it, please!
After midnight, I'll randomly pick the winner (via Random.org). So check your mailbox on Thursday morning to see who won and for the next Giveaway and Newsletter!
Hey, who won the Mini Art Deco Paper Fan Giveaway from last Thursday's newsletter? That would be Jen R! Congrats! Check your email for info.
Posted by Leslie, April 23rd, 2017