Note: most of the links on this post no longer work, as we moved to a new Web site in 2018. However, you can see the supply list items from
Laura's
projects that are still available on the new site.
What? 1/2 off shipping! YES! Now through FRIDAY night (April 21, 2017) shipping will cost only $2.95 for orders over $50! Plus shipping is always free on orders over $100! (Both prices for orders only in the USA.)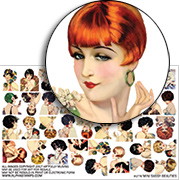 SPECIAL FREE GIFT! In honor of Design Team Member Laura Carson's Art Deco Style Paper Fans, ALL ORDERS on Thursday through Monday, April 20th through 24th (2017) will receive one of the new Mini Sassy Beauties Collage Sheets FREE!
AND all orders over $24 will receive one of the mini collage sheets AND a set of the new Mini Fan Blades FREE! They're a mini version of the Venetian Fan Blades (more info on those below)… only 3″ tall! Perfect for making a little fan that fits in an ATC pocket (or attach the blades to an ATC with a brad so you can unfurl your fan). And I love that mini fan at right that Laura made!
More info (or to buy additional sets!)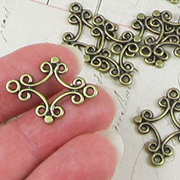 A BIG NEW SALE: ALL Findings are 30% off! Over 50 items! All those little bits and bobs… connectors, clasps, jump rings… and it includes the new 4-Leaf Clover Connector shown at left! The sale ends MONDAY night, April 24th at midnight PST (April 24, 2017). See below for a few more highlights or go shopping now!


I'm pretty sure Laura Carson and I are in agreement that we both love fans. Laura has made some lovely fans for Alpha Stamps in the past (see the bottom of her blog post for this new fan for links to some of them).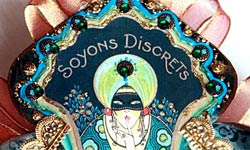 Do you remember the Fan-Shaped Book Swap we hosted a few years ago? (And we got some great submissions so check out that Gallery link.) Well, the new Venetian Fan Blades are reviving the same size & shape fan blades from that swap!
Laura's new (large) fan today is built on these revivals (and inspired by the colors in the new Vintage Hollywood Paper Pads). Plus Laura created THREE new collage sheets with Deco babes to coordinate with the new papers and with both sizes of fans.
Here's a bit from Laura's tutorial (but visit her blog post, too, as she shows step-by-step photos):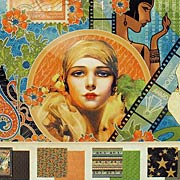 I started by covering both sides of a set of large and small fan blades with the Vintage Hollywood decorative paper.
Next, I used a black marker to draw a border around the blades
I glued the smaller fan blades to the bottom of the larger blades. (Note that the smaller fan blades are upside-down… you can see one at right, just above the red button at the bottom of the fan.)
I then punched a hole in one of the blades and used it as a template to mark and punch the holes in the remaining blades.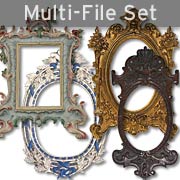 I cut out fans from the Deco Dames Collage Sheet and attached a Abez Drop/Connector to each fan. (Note: these connectors are almost sold out, but the Vintaj Metamorphosis Drop/Connectors are the same size and design, just in a different finish.)
I used a frame from the Elegant Frames Download set backed by more of the decorative paper to showcases lades from the Deco Dames Collage Sheet.
I decided to glue the fan blades in place instead of making it a working fan as this fan was for display. With gluing the blades in place you can add more dimensional embellishments.

More info (and tips and more photos!) in Laura's blog and/or see her supply list for both fans.


Hooray for the Mini Art Deco Paper Fan Giveaway!

I did mention I love this little fan? So, EVERYTHING Laura used to make this little beauty is in today's Giveaway!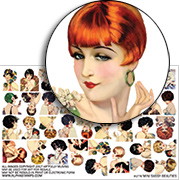 – Mini Sassy Beauties Collage Sheet
– Vintage Hollywood 8×8 Paper Pad
– Mini Fan Blades – Set of 5
– Flat-Back Gold Star Studs – 12mm
– Flat-Back Bold Star Studs – 8mm
– 1 Inch Mini Tassel – Black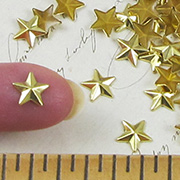 To enter the Mini Art Deco Paper Fan Giveaway drawing all you have to do is leave a comment BELOW on this blog post TODAY OR TOMORROW (the deadline is 11:59 pm PST, FRIDAY, April 21, 2017)!
And tell me: You are going to have a ton of pretty papers left over from that 8×8 pad (after you make a mini fan)… so what else are you going to make?

Don't forget to leave your (hello! correct) email address, too, so I can contact the winner; your email address does not need to be made public. Note: I'm offering free shipping, too, but only within the USA. International shipping will still apply.
Please be patient! Spammers try to post crap here a lot so comments are moderated. So if you don't see your post in the comments section, be patient and check back in a few hours before re-posting it, please!
After midnight, I'll randomly pick the winner (via Random.org). So check your mailbox on Sunday morning to see who won and for the next Giveaway and Newsletter!
Hey, who won the Best of This & That Giveaway? That would be Kee Ostler! Congratulations! Check your email for more info.
Posted by Leslie, April 20th, 2017