Note: most of the links on this post no longer work, as we moved to a new Web site in 2018. But you can try searching on the same names (as links below) on the new site.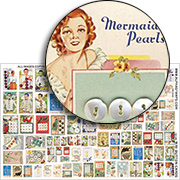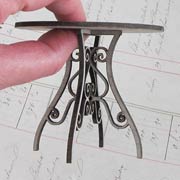 A NEW SALE: Inspired by a couple new garden miniatures — and just because it should be getting on Spring already: ALL Fairy Garden Miniatures are 25% off! Over 100 items! And that sale includes the 2 new items, like the Wrought Iron Patio Table shown at left! The sale ends MONDAY night, April 10th at midnight PST (April 10, 2017). See below for a few highlights or go check 'em out now!
Continuing from Thursday and ENDS MONDAY night: Mini Button Cards FREE Gift Collage Sheet! In honor of Shannon Cooper's fabulously detailed Mini Quilter's Nook I created this mini set of vintage button cards.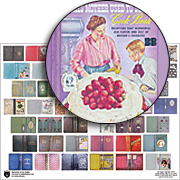 ALL ORDERS on Thursday through Monday, April 6th through 10th (2017) will receive one of these collage sheets FREE!
More info

Also continuing from Thursday: It's been ages since this section was on sale (!): ALL Vintage Sewing & Cooking Collage Sheets are 50% off! Over 40 sheets plus some of those ladies would be a great combo with the men in this month's kit! The sale ends MONDAY night, April 10th at midnight PST (April 10, 2017). View them all!
Yes, all three of these promos end tomorrow night.

Design Team Member Nichola Battilana has made some fun, embellished ATCs with images and papers from the Dapper Gents Kit (plus some extras… more info below).
I like the dimensional additions (pearls, ribbons, buttons — and sticky foam tape to give the captions a little shadow). Plus the non-dimensional ones, like washi tape and Dresden borders.
I really didn't fancy at all with these guys. Just Men Collage Sheet and Satisfying Text Collage Sheet images, paper from the Dapper Paper Pad, and mounted on a Chipboard ATC base.
Any other additions are just tiny scraps of dresden, washi tape and other little bobs.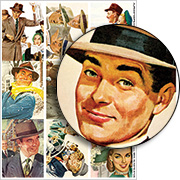 They're really just very cute and super fast crafty something. Nothing too fussy going on here and they're swell nonetheless.
I'm going to chime in here: the X-rated ones are great! But you are warned!

More photos of Nichola's PG-rated ATCs (the ones shown here) are on her blog post.
Nichola also made a beautiful silk-covered version (oooh… fancy!) of the Hidden Drawer Book Box – ATC Size as a Dirty Little Secrets Box (see that really wide photo below).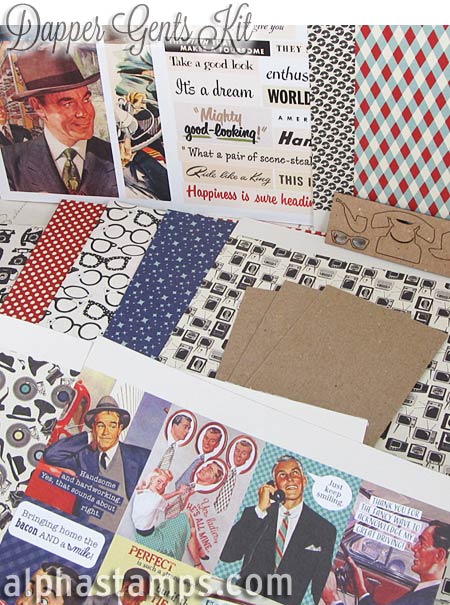 Hooray for the April Showers Giveaway!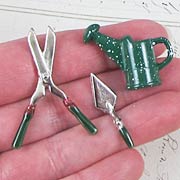 April showers?! I think we've gone back to Winter 'cause it has been storming here!
So I've picked out a mix of things (from Nichola's supplies or from the new items, or the Fairy Garden Miniatures Sale) that will let you make art with a Spring or Summer feel.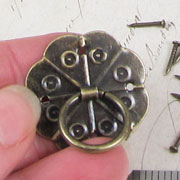 Let's start with Dapper Gents Kit! That includes 2 new collage sheets, 10 sheets of paper, and chipboard shapes!
Next, a Fancy Bronze Metal Drawer Pulls – Large (I think that is the pull on the spine of Nichola's silk-covered box).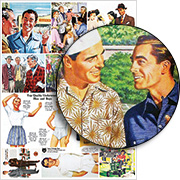 New Sexy Vintage Men Collage Sheet. Nice! More retro men… and some backyard barbeques.
How about a Rusted Wheelbarrow? That would look grand with some tiny potted plants sitting in it.

AND finally: a 3 Inch Garden Gnome… Those certainly say "Fairy Garden"! (Plus, a set of Mini Gardening Hand Tools… photo above.)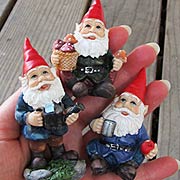 To enter the April Showers Giveaway drawing all you have to do is leave a comment BELOW on this blog post TODAY OR TOMORROW (the deadline is 11:59 pm PST, MONDAY, April 10, 2017)!
AND tell me: What plans do you have for the goodies in this Giveaway package?
Don't forget to leave your (hello! correct) email address, too, so I can contact the winner; your email address does not need to be made public. Note: I'm offering free shipping, too, but only within the USA. International shipping will still apply.
Please be patient! Spammers try to post crap here a lot so comments are moderated. So if you don't see your post in the comments section, be patient and check back in a few hours before re-posting it, please!
After midnight, I'll randomly pick the winner (via Random.org). So check your mailbox on Thursday morning to see who won and for the next Giveaway and Newsletter!
Hey, who won The Mini Quilter's Nook Giveaway from last Thursday's newsletter? That would be LizD! Congrats! Check your email for info.
Posted by Leslie, April 9th, 2017