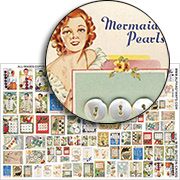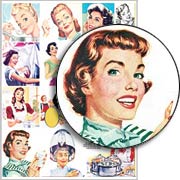 NEW Mini Button Cards FREE Gift Collage Sheet!
In honor of Design Team Member Shannon Cooper's Mini Quilter's Nook (see below — and the related new sale) I created this mini set of vintage button cards.
ALL ORDERS on Thursday through Monday, April 6th through 10th (2017) will receive one of these collage sheets FREE!
More info (plus photos of some of the button cards cut out, with dimensional glue used to "pop" the little buttons!)

A BIG NEW SALE: It's been ages since this section was on sale (!): ALL Vintage Sewing & Cooking Collage Sheets are on sale! Over 40 sheets plus some of those ladies would be a great combo with the men in this month's kit! The sale ends MONDAY night, April 10th at midnight PST (April 10, 2017). See below for a few more highlights!


Wow! I am amazed by Design Team Member Shannon Cooper's The Mini Quilter's Nook!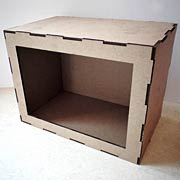 For the past couple of months, I have been been assembling a miniature craft room inside an 8″ x 6″ x 5″ deep room box. It is a pretty small space but there are so many things going on inside. It started with a Treadle Sewing Machine, then a (new) Sewing Room Thread Cabinet, along with a Library Table that worked out great as a place to store bolts of fabric, and finally half of a Chipboard Steamer Trunk for a bookcase…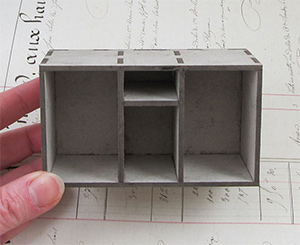 Personally, I love the bolts of fabric Shannon made (you can spy a couple with a cat lounging on them in the wide photo below… and more are stashed under that "cutting table").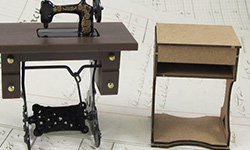 And (of course!), I also love the new Sewing Room Thread Cabinet (that Shannon is holding open in the photo at right). She did such a good job decorating it (and distressing it… the cat must have been scratching at it). Plus that orange-y "leather" box of thread on the bottom shelf is made from the (recently added) 1 inch Faux Book Box!

More info (and more photos!) in Shannon's blog and/or see her supply list. You won't believe some of the photos like the teeny, tiny knitting sample Shannon made (see the red knitting in the basket in the lower left corner of the wide photo directly below?!) Or the tiny embroidery in that basket at right?
Plus, Shannon posted a separate Floor Lamp Tutorial blog post (to make a working lamp from LED Balloon Lights!)
I've been threatening to have an easter egg hunt in one of these (ahem) busier projects (and today I am: check down in the Giveaway for an item to find and a special prize).

Hooray for The Mini Quilter's Nook Giveaway!

All of these items from Shannon's artwork are in the Giveaway package:
– Sewing Room Thread Cabinet
– Small Brass Scissors Charms (in the oval basket, and inside the top of the cabinet, so look at photo above to see that 2nd one)
– Small Oval Basket
– Antique Brass Mini Oval Drop Handle (on front of the cabinet)
– Tiny Thread Spools- Set of 5
– Treadle Sewing Machine on Table
– Fancy Gold Stork Scissor (on the sewing machine table)
– LED Balloon Light (used in lamp)
– Polymer Clay Cane – 5mm Halloween Gargoyle (a free digital collage sheet to the first person who posts a comment correctly naming where this item is in Shannon's room!)
Here is Shannon's The Mini Quilter's Nook supply list (Psst! That link is to the supply list, with photos and links to all of the goodies used, including the subset in this Giveaway.)
Plus I added these 2 items (not in the artwork, but on clearance!):
– White Plant Stand with Plant
– Superior Thread Rubber Stamp (unmounted)
AND one of the Mini Button Cards FREE Collage Sheets!

To enter The Mini Quilter's Nook Giveaway drawing all you have to do is leave a comment BELOW on this blog post TODAY OR TOMORROW (the deadline is 11:59 pm PST, FRIDAY, April 7, 2017)!
And tell me: What inspires you most in Shannon's artwork? OR: how will you use the items in the Giveaway prize?

Don't forget to leave your (hello! correct) email address, too, so I can contact the winner; your email address does not need to be made public. Note: I'm offering free shipping, too, but only within the USA. International shipping will still apply.
Please be patient! Spammers try to post crap here a lot so comments are moderated. So if you don't see your post in the comments section, be patient and check back in a few hours before re-posting it, please!
After midnight, I'll randomly pick the winner (via Random.org). So check your mailbox on Sunday morning to see who won and for the next Giveaway and Newsletter!
Hey, who won the Dapper Gents Kit Giveaway? That would be Nancy E! Congratulations! Check your email for more info.
Posted by Leslie, April 6th, 2017