Time for a new kit with some attitude? Plus some quick and easy ATC art projects? (And supplies for small collages like ATCs.)
And time for some fab artwork from Design Team Members Kristin Batsel and Lora Mahaffey?! Both of them used the new Hidden Drawer Book Box – ATC Size — not included in the kit, but perfect for showcasing some ATCs.
These Dapper Gents are post-WW II "gents". This all started with the Dapper Pad from Authentique… plus I've added a couple more papers (with an eyeglasses pattern and a telephone pattern).
Plus 2 new collage sheets (omg, there are some expressions on these guys…), 3 chipboard ATCs, AND a new custom mini set of chipboard shapes!
The kit includes TEN 6″ x 6″ sheets of scrapbook paper (one each of all 8 designs in the Dapper 6×6 Paper Pad). PLUS quarter page cuts (also 6″ x 6″) from the 2 new '50s pattern sheets.

Back to those new collage sheets!
Men in Hats ATCs Collage Sheet – New!
Wow… just look at these guys. So full of themselves! Great images just waiting you you to add a snarky quote.

Satisfying Text Collage Sheet – New!
I was staring at vintage ads while under the influence of cough medicine… a quirky set that is perfect for a snarky ATC. (Hm… those boastful quotes sound a lot like the current political regime.)
Finally: a mini chipboard shapes set! This is a subset of the Dapper Gent Shape Set With a pipe, fedora, telephone and 2 pair of eyeglasses.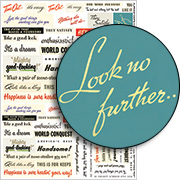 Now back to the spiffy artwork featured today. Kristin's The Little Book of Perfect Men (photo above, plus the first wide photo below) is so fun (and colorful)! I love how Kristin used snips of text from both of the new text collage sheets throughout (and added the gold numerals on her cards… of course, #1 being her husband)! More photos and a tutorial on putting the book together are on Kristin's blog.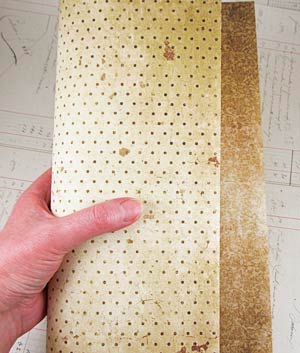 And see the 2nd wide photo below for some darker, more intense colors in Lora's version of The Little Book of Perfect Men! Love the colors (Lora cut out the figures and mounted them on her own selection of background papers…. including some back in stock Double Dot Vintage Scrapbook Papers).
Oh, yes. We are going there. Back to the nostalgic days of the 1950's and 60's. Barbasol, Brylcreem and macho males in beautifully tailored suits. Think Rock Hudson and Cary Grant. William Holden, Burt Lancaster….did I mention Cary Grant?
And those hats. Men always look good in hats.
See more photos (and more witty prose) on Lora's blog post!
Lots of coordinating supplies are below and on the site.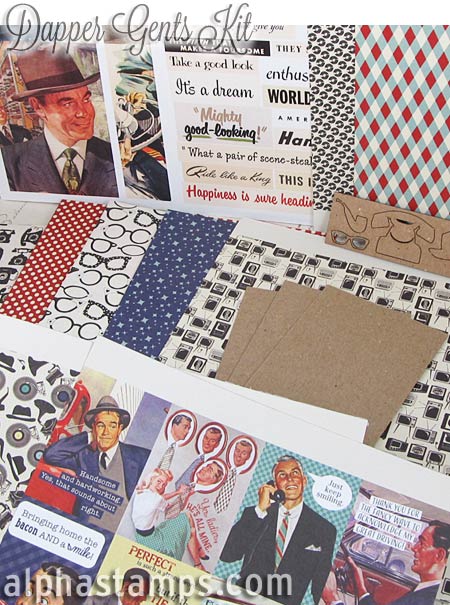 Hooray for the Dapper Gents Kit Giveaway!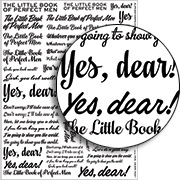 Let's start with THE NEW KIT! That includes 2 new collage sheets, 10 sheets of paper, and chipboard shapes!
New Yes, Dear! Text Collage Sheet (not in the kit but certainly related… and used by Kristin in her ATCs shown above — plus the titles on both books!)
New Hidden Drawer Book Box – ATC Size. Nice! And used in both art projects above.
ALL FOUR of the collage sheets above in the "Highlights from the NEW Collage Sheet SALE" section! (Including that fab new Fifties Floating Heads Collage Sheet!)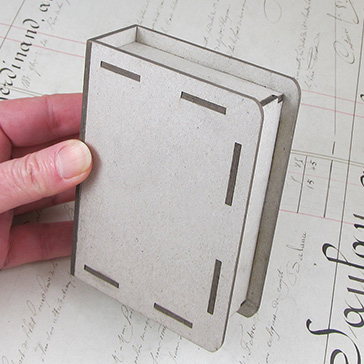 AND finally (not in the kit nor in the artwork, but just put on clearance): Dapper Hat Erasers – Set of 4… Those hats would be fun in a project with the new kit!

To enter the Dapper Gents Kit Giveaway drawing all you have to do is leave a comment BELOW on this blog post TODAY OR TOMORROW (the deadline is 11:59 pm PST, MONDAY, April 3, 2017)!

AND tell me: How will you decorate that new size of the Hidden Drawer Book Box?
Don't forget to leave your (hello! correct) email address, too, so I can contact the winner; your email address does not need to be made public. Note: I'm offering free shipping, too, but only within the USA. International shipping will still apply.
Please be patient! Spammers try to post crap here a lot so comments are moderated. So if you don't see your post in the comments section, be patient and check back in a few hours before re-posting it, please!
After midnight, I'll randomly pick the winner (via Random.org). So check your mailbox on Thursday morning to see who won and for the next Giveaway and Newsletter
Hey, who won the Cinderella's Room Giveaway from Thursday's newsletter? That would be Pattie Walters! Congrats! Check your email for info.
Posted by Leslie, April 2nd, 2017