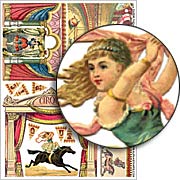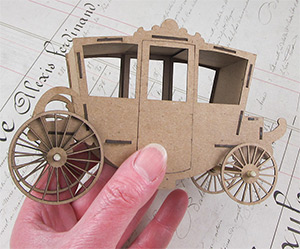 How cute is this?! Design Team Member Kristin Batsel turned the mini size of the 3D Cinderella Coach into a Circus Coach!
FLASH SALE! Inspired by Kristin's artwork, the ENTIRE Circus & Clowns Collage Sheets Section is on sale! That's over 40 collage sheets! The sale ends Monday night, March 13th (2017) at midnight PST! Psst! The sale includes the costumes Kristin designed herself for her peg people in the coach!

I can't help but be a little sad that the Ringling Bros. and Barnum & Bailey circus will be closing for good this year. I have always loved the circus, and making circus art. It just so happens that the mini 3D Cinderella Coach, with a change of color and adornments, makes the perfect little circus wagon for little peg people. It's been almost two years since I made my Tiny Peg Circus, and it was time for those little performers to have a means of reliable transportation.
The wagon is just the right size to hold six members of the circus. For safety reasons, no one wanted to ride with the lions, so I constructed a little cage to tag along with the wagon.
And Kristin posted a tutorial showing how to turn one of the gates from the 2 Sets of Chipboard Gates into her Lion Cage! (Safety first!)
More info in Kristin's blog post. And see her full supply list.

Highlights from Today's New Goodies – ALL on Sale!

Hooray for the Big Red Circus Wagon Giveaway!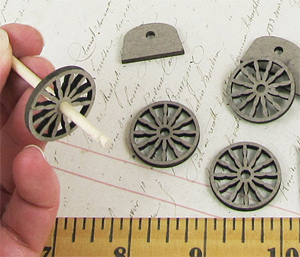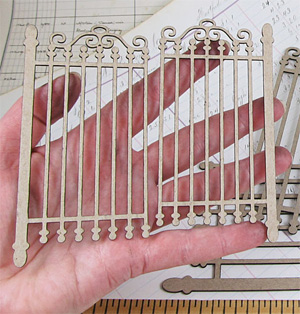 Yes! EVERYTHING in Kristin's Big Red Circus Wagon, with Lion Cage Tutorial Supply List is included in today's Giveaway!
I'm only highlighting 4 of the TWELVE items in the supply list/Giveaway:
– 2 Sets of Chipboard Gates
– 3D Cinderella Coach – Mini Size
– Dazzles Gold Thin Lines Stickers
– Tiny Fancy Wheels Set
See photos and links of everything from Kristin's project (which is also what's in this Giveaway) in her supply list.

To enter the Big Red Circus Wagon Giveaway drawing all you have to do is leave a comment BELOW on this blog post TODAY OR TOMORROW (the deadline is 11:59 pm PST, MONDAY, March 13, 2017)!
AND tell me: What inspires you most from Kristin's project? Could be a small thing or the whole project. Personally, I love how she fit together the filigree and brass leaves to make the fancy flourish at the top of the coach.
Don't forget to leave your (hello! correct) email address, too, so I can contact the winner; your email address does not need to be made public. Note: I'm offering free shipping, too, but only within the USA. International shipping will still apply.
Please be patient! Spammers try to post crap here a lot so comments are moderated. So if you don't see your post in the comments section, be patient and check back in a few hours before re-posting it, please!
After midnight, I'll randomly pick the winner (via Random.org). So check your mailbox on Thursday morning to see who won and for the next Giveaway and Newsletter
Hey, who won the Manly Men Giveaway? That would be Jean Marmo! Congrats! Check your email for info.
Posted by Leslie, March 12th, 2017