Remember all those new collage sheets by Jessica Armstrong a few weeks ago? Well (and oh, my) she has been such a such a busy bee designing with them!
She made The Library of Bartholomew Pendragon using the Mythological Dictionary Pages Collage Sheet on the bundles of research scattered around the study (and she used my favorite chair).
It seems Bartholomew was quite the explorer. See the preview of a mini tutorial at right (mounting a bat from her Shadow Box Bugs & Bats Collage Sheet).
And Jessica posted a tutorial on making "Wizard Paper Stacks" (distressed stacked of antiqued papers) in preparation for a new project (see a preview at left). I love the curled edges on some of the papers (it really makes them look worn and handled). The photo shows images from the Antique Maps and Miniature Cabinet Card Photos Collage Sheets.


And today! We have a new project (with more new collage sheets) by Jessica!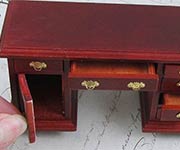 Aldraths Academy is Jessica's homage to Hogwarts. Beside loving the overall feel, I love all the distressing she did to the new desk. (Doesn't look so new now, does it?)
And more scrolls and bundles of paper — the ones topped with pages from the Spell Pages Collage Sheet are so good (and the books with covers from The Vampire Slayer Library Collage Sheet Set look perfectly at home — see the wide photo below with the magnifying glass on the desk).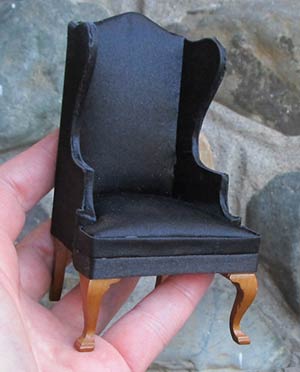 Is that a new leather chair? (See the close-up below.) Nope. It's the Black Wingback Chair, painted brown and distressed (great job, Jessica!)
Don't forget, the Die-Cut Shrines & 3D Items SALE announced on Thursday runs through tomorrow night (Monday, February 27th) and that includes the stairs Jessica used in Bartholomew Pendragon's study and the Small Chipboard Victorian Wall Shelf (shown in that photo with the faux leather chair) from Aldraths Academy. (And 108 other items!!)
So, run off and see bunches more inspiring photos on Jessica's blog, but don't forget to come back and enter the Giveaway!


Hooray for the Aldraths Academy Giveaway!
Beside all the lovely collage sheets by Jessica, I decided to pick out some of the unsung heroes from her project (at least not mentioned above in my introduction).
Here are the collage sheets shown (and in the Giveaway):
– The Vampire Slayer Library Set
– Aldraths Academy
– Antique Maps
– Spell Pages
– Miniature Cabinet Card Photos
And here are the other bits and bobs (and a big thing: the corner room box):
– Tall Bulb Perfume Bottle (did you notice it colored red? Check Jessica's blog for a quick inking technique)
– Miniature Magnifying Glass
– Fancy Glass Domes – Fluted Glass

– Tiny Cup of Black Coffee
– Stout Kitchen Jar with Lid
– Mini Mason Jars – Set of 3
– 7×7 Corner Room Box
Here is Jessica's Aldraths Academy supply list (Psst! That link is to the supply list, with photos and links to all of the goodies Jessica used, including the subset in this Giveaway.)
To enter the Aldraths Academy Giveaway drawing all you have to do is leave a comment BELOW on this blog post TODAY OR TOMORROW (the deadline is 11:59 pm PST, MONDAY, February 27, 2017)!
AND tell me: What inspires you most from Jessica's Aldraths Academy project?
Don't forget to leave your (hello! correct) email address, too, so I can contact the winner; your email address does not need to be made public. Note: I'm offering free shipping, too, but only within the USA. International shipping will still apply.
Please be patient! Spammers try to post crap here a lot so comments are moderated. So if you don't see your post in the comments section, be patient and check back in a few hours before re-posting it, please!
After midnight, I'll randomly pick the winner (via Random.org). So check your mailbox on Thursday morning to see who won and for the next Giveaway and Newsletter!
Hey, who won the Springy Floral 3D Coach Kit? That would be Dragontears! Congrats! Check your email for info.
Posted by Leslie, February 26th, 2017