What's New Today? Pretty Artwork & Scrapbook Paper Sale!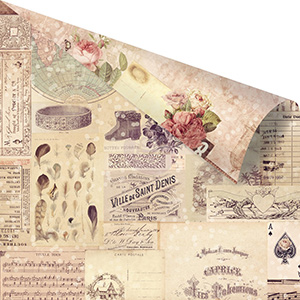 Scrapbook Paper 40% off! We need to make room for some new things that will be arriving for Spring! Sale ends Monday night at midnight, February 20th (2017). See the sale items — over 150!
Plus see below for beautiful artwork by TWO Design Team Members (and some cute new miniatures… and new papers that are also included in the 40% off sale!) Plus a Giveaway that includes all 3 pretty papers from the Wild & Free line — also in the sale!
And what's this petite embroidery at right?! A preview of a future project by Design Team Member Shannon Cooper, inside one of the new Small Oval Baskets!


I soooo love this shrine by Design Team Member Kristin Batsel. I was also about 11 when I learned to sew…
I learned to sew when I was around 11. I used to sew lots of my own clothing, and when my girls were small, I used to sew most of their clothes. Now I generally only pull my machine out occasionally, sewing things like pillow covers or fabric bowls. I still enjoy sewing, and often wonder why I don't do it more. Here's a little shrine to those who still sew frequently. To me, you are the Sewing Queens.
This piece was made almost exclusively from Alpha Stamps supplies, with the exception of some vintage buttons and an old button card. Because the buttons are "American Maid Pearls", I gave the Sewing Queen a pearl brooch and a pearl-encrusted crown
Such attention to detail… great job, Kristin! Plus, so inventive: see the fancy swirls around the round niche at the top? That's actually one of the Round Frame with Dragons upside down!
And speaking of that niche, Kristin provides a tutorial on building it (with enough depth for that 3D sewing machine).

Read more and see more photos in Kristins's blog post. And see her supply list, too.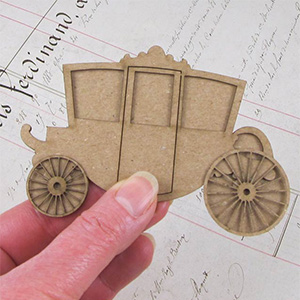 Next we have another beautiful project: a petite Cinderella coach that forms the covers of an enclosed accordion book, by Design Team Member Rhonda Secrist Thomas. (See the wide photo below… so many pretty pictures that I couldn't decide which to show!)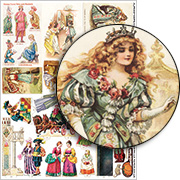 The contrast of the periwinkle blue/purple papers with the gold trims is so regal (Rhonda used a couple of the new papers on the sides of the coach: Faded Periwinkle Grey Dots Scrapbook Paper and Courtship Lane East Plaza Scrapbook Paper). And see Cinderella in the window? She's from the new Small Cinderella Paper Dolls Collage Sheet.
And the piece really is Cinderella In The Palm of Your Hand, as the Cinderella Coach Mini Album is just 4″ wide.
See more photos & learn more in Rhonda's blog post. And find out what all those papers and flowers and trims are in her supply list!


Hooray for the Wild Bruised Pink Giveaway!
This is a special Giveaway. I was putting things away and noticed these Wild & Free Scrapbook Papers and some of the Cinderalla Collage Sheets look swell together. So I decided not to put them away! All 4 of these 40% off sale papers are included in today's Giveaway! (The 4th one is Bruised Pink Antique Scrapbook Paper.)
Did you notice the metallic copper foiling on the Wild & Free Scrapbook Papers? A square medallion is foiling in the lower right of the photo.
Here are the collage sheets shown (and in the Giveaway):
– Cinderella Pining Collage Sheet
– Happily Ever After Collage Sheet
– Midnight #1 Collage Sheet
– Fairy Tale Costumes Collage Sheet
To enter the Wild Bruised Pink Giveaway drawing all you have to do is leave a comment BELOW on this blog post TODAY OR TOMORROW (the deadline is 11:59 pm PST, MONDAY, February 20, 2017)!
AND tell me: What are you inspired to create? (Inspired by the colors in the Giveaway or by either of the art projects above.)
Don't forget to leave your (hello! correct) email address, too, so I can contact the winner; your email address does not need to be made public. Note: I'm offering free shipping, too, but only within the USA. International shipping will still apply.
Please be patient! Spammers try to post crap here a lot so comments are moderated. So if you don't see your post in the comments section, be patient and check back in a few hours before re-posting it, please!
After midnight, I'll randomly pick the winner (via Random.org). So check your mailbox on Thursday morning to see who won and for the next Giveaway and Newsletter!
Hey, who won the Cat Tales Paper Dolls Giveaway? That would be Debbie Stine! Congrats! Check your email for info.
Posted by Leslie, February 19th, 2017