What's New Today? New Collage Sheets & New Colors!
Woohoo! 5 new collage sheets (or sets!) by Jessica Armstrong! Plus twelve new colors of Liquid Pearls or Stickles arriving soon! More info below.
Plus a bonus! (And the details are only here on this newletter.) If you spend $25 today or tomorrow (this offer ends Monday night, February 13, 2017 — the same closing date as entering the Giveaway below) I'll include a FREE bottle of Liquid Pearls! It's dealer's choice on the colors, but if you purchase any Liquid Pearls in your order, I'll pick out a different color. Shipping and tax do not count as part of your $25 minimum order. Go check out all the colors available.


Design Team Member Lora Mahaffey has made a set of 3 fairy tale tins that are so richly colored and detailed… and to think they're just made of blank tins, chipboard, paper and paint! Here's a bit from Lora's blog post before I point out some of my favorite bits. And note: there is another photo down in the Giveaway section.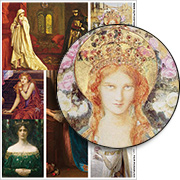 A trio of lovely fairy tale ladies to brighten your day. Or not.
The interesting thing about these ladies is that all the images are a bit ambiguous.
Lets take the one called 'The Fairest'. She's beautiful, but does she really look like a nice person?
And what about 'Poison Apple'? Is she about to bite into that apple or give it to some unsuspecting princess?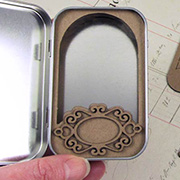 Hmmmm. The Queen has a rather pleasant face. She may not be evil. Who can tell?
There is always more than one way to tell a story. I'll let you create your own!

It seems fitting we're announcing new colors of Liquid Pearls today, as Lora uses Liquid Pearls all over her Fairy Tale Trio. I love how she decorated the chipboard frames, name plates, and filigree with dots and lines of Liquid Pearls. It beads up nicely and dries keeping its shape (like little round studs or half-pearls, in any size you'd like to make them). Plus, see the Giveaway below for a chance to wins lots of colors of Liquid Pearls!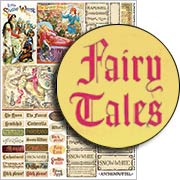 Here's some more info from Lora, about the collage sheet images in the tins:
I started out with three of the Blank Altoid Tins without the lids and used the Fairy Tale Frames Altoid Insert Set to create the outer frames around each tin. I painted the frames with pearlescent paints for richness and set them aside to apply after the background were in.
The backgrounds inside the tins are as follows: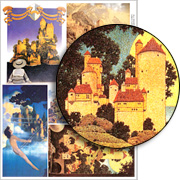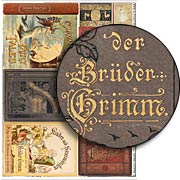 Poison Apple is Forest Theatre Backdrops Collage Sheet
The Queen is Parrish Castles Collage Sheet
The Fairest is Grimm Covers #3 Collage Sheet
All the ladies are from the Fair Rosamund Collage Sheet
See more photos & learn more in Lora's blog post. And be sure to come back to enter today's Giveaway — that includes EVERYTHING in Lora's supply list!


Hooray for the Fairy Tale Trio Giveaway!

Yes, I said it! EVERYTHING in Lora's Fairy Tale Trio Supply List is included in today's Giveaway!
I'm only highlighting 4 of the 15 spiffy items in the supply list/Giveway*:
– A Blank Altoids Tin (well, of course!)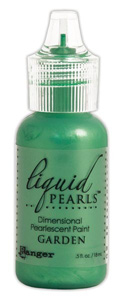 – Fairy Tale Frames Altoid Inserts Set (I love how Lora decorated them with dots of Liquid Pearls)
– 1 Inch Wide Wooden Finials (ditto on fancying them up with dots & lines of Liquid Pearls)
– Liquid Pearls – Neutral Colors Set (Note: that's FOUR colors, including the Gold one Lora used!)
Just click on this Supply List link for photos and links to everything in Lora's artwork, which is also all of the Giveaway items!
*Yes, 16 items show in the supply list link… but one is the single bottle of Gold Liquid Pearls, and you'll receive a whole set of 4 Neutral Colors including that color.
To enter the Fairy Tale Trio Giveaway drawing all you have to do is leave a comment BELOW on this blog post TODAY OR TOMORROW (the deadline is 11:59 pm PST, MONDAY, February 13, 2017)!
AND tell me: How do you use Liquid Pearls? Or: what colors do you wish I could find? (in Liquid Pearls or Stickles or other paints)
Don't forget to leave your (hello! correct) email address, too, so I can contact the winner; your email address does not need to be made public. Note: I'm offering free shipping, too, but only within the USA. International shipping will still apply.
Please be patient! Spammers try to post crap here a lot so comments are moderated. So if you don't see your post in the comments section, be patient and check back in a few hours before re-posting it, please!
After midnight, I'll randomly pick the winner (via Random.org). So check your mailbox on Thursday morning to see who won and for the next Giveaway and Newsletter!
Hey, who won the Cinderella Shadowbox Giveaway? That would be chark! Congrats! Check your email for info.
Posted by Leslie, February 12th, 2017